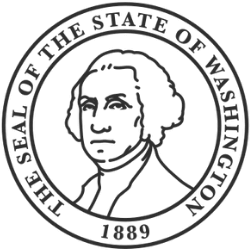 To obtain EIN for Washington State foreign LLC one has to follow a few steps. Limited Liability Companies are easier to form than other structures of business. However, it is a bit tricky for the LLCs to form a foreign LLC in any of the states. There can be some restrictions for the Foreign LLCs to form a Washington State LLC. Take a look at this article to know about how to obtain EIN for your foreign LLC. It will answer all your questions related to EIN, including the procedure for a foreign entity to obtain EIN, the filing cost, etc.
What is a Foreign Limited Liability Company?
An LLC is always formed in accordance with the state rules. The state where the LLC is formed is often referred to as the main state for the LLC. It is where the LLC has its main operational center. When the LLC business members are trying to expand the LLC & wish to form it in some other states as well, the LLC is a foreign entity in the new state. The LLC is formed in the new state will be referred to as "Foreign Entity" or "Foreign Corporation" or "Foreign LLC." Forming the Washington State Foreign LLC is easier & involves obtaining an EIN.
What is an EIN (Employer Identification Number)?
An EIN or Employer Identification Number works as a Social Security Number for your business. An EIN is a unique 9 digit identification code issued to businesses, by the Internal Revenue Service (IRS) of the U.S.S., for tax filing & reporting purposes.
Are EIN, FTIN & FEIN the same?
An Employer Identification Number (EIN) is also called a Federal Employer Identification Number (FEIN) or a Federal Tax Identification Number (FTIN). So, there is no difference between these three.
Why Does a Business Need EIN?
An LLC will require EIN for the following reasons:
To file Tax returns – EIN makes it easy to file the tax returns with the IRS. The IRS uses EIN to supervise all the business finances of the LLC.
To Hire Employees – To hire employees in the LLC, an Employer will need the EIN. EIN lets the employers set the payrolls of the employee fo every month. IRS tracks the employee's payroll taxes with the help of the EIN.
To maintain the corporate veil – In an event where someone has sued the LLC or has filed a lawsuit against it, the EIN protects members' assets. EIN is an essential part of the company's corporate veil, which differentiates the business entity from its members.
To protect the individual Identity of the member – The Limited Liability Company uses EON for all its taxation & finances. Nowhere in the financial process does an LLC use an individual's Social Security Number; hence the Identity of individual members is kept safe.
To open a business bank account – Without the EIN, an LLC can't open a business account. It is essential to get an EIN even for the business credits & business licenses.
When Does IRS Ask for EIN (Employer Identification Number)?
The taxation documents & reports are filed with the IRS, which requires an LLC about its EIN in the following circumstances.
An EIN is mandatory for an LLC with employees for tax filing & tax returns.
If the LLC is a multi-member business entity, EIN is required for drawing the partnership return files.
An EIN is also asked for excise tax filing.
EIN for a Foreign Entity or Foreign LLC
If someone is a foreign person or if the LLC is a foreign LLC, EIN allows them to start the LLC even without the Social Security Number. EIN allows the member of the foreign LLC to collect a payment, distribute the cash in the company & out of the company, hire employees & report or file taxes.
How to Obtain EIN for a Foreign LLC or a Foreign-Owned Corporation?
Following is a step-by-step guide for obtaining an EIN for a Foreign LLC:
Eligibility – Any person applying for the EIN must have a valid Taxpayer Identification Number, e.g., SSN or ITIN; only then can he apply for EIN.
FORM SS-4 – If a foreign entity does not have a Tax Identification Number, it will have to fill-up the Form SS-4, an EIN application. This form is for foreign applicants who do not have a social security number or a physical address
Filing the form with the required information – To be able to apply for the EIN, the following information has to be filled out correctly in the application form:
– Legal Name & Address of the Business
– The type of Business Entity
– Reason for the application for an EIN- The name of the country where the business is incorporated
– Number of employees
– The industry in which the LLC does its business
– Accounting Information
Ways to apply for EIN Washington State–

Online – An EIN can be obtained by applying online on the IRS website.
By phone – A foreign entity or LLC can apply for EIN by calling on 267-941-1099, which is NOT a toll-free number.
By Fax – An EIN can also be obtained by fax. The LLC willing to obtain the EIN can fax Form SS-4 to 304-707-9471
By Mail – A completed form can be mailed to the Internal Revenue Service (IRS), Attn: EIN Operation, Cincinnati, OH 45999.
Restriction In Business For Foreign Entities In Washington
According to the Washington Limited Liability Companies Act, the Washington Foreign business LLCs must register themselves with the State of Washington if they intend to transact business operations in the State.
Transacting Business In Washington State
After the incorporation of LLCs, the issue of taxation must also be determined. According to state rules, foreign LLCs must collect state sales taxes in their home state. A foreign LLC can collect State sales tax when it has a physical presence in—or a connection with—the State to be liable to collect state sales tax on sales to its residents. For instance, if a foreign LLC opens a store, an office, or a warehouse in Washington or hires a sales representative, it is regarded as having a physical presence.
Registering The Business
The foreign LLC must file for a Certificate of Authority with the Washington Secretary of State to register a foreign corporation in Washington.
The Washington Secretary of State requires a certificate of good standing or its equivalent issued by the home state in order to approve a foreign qualification application. In addition, the foreign entity must also hire a registered agent in Washington to manage their communication with the Secretary of State office.
Effect Of Non-Registration
If the Washington Foreign LLC does not register itself with the Secretary of State office, then it may have to face the following drawbacks:
The unregistered foreign LLC doing business in Washington shall lose its right to legal representation or filing any action, suit, or maintaining proceeding in any Court of Law in Washington.
In addition, the LLC will be responsible for all registration costs it would have otherwise paid, as well as any penalties.
Nevertheless, the failure of a foreign LLC to register in Washington has no influence on the legitimacy of any contract or activity entered into by the foreign LLC, nor does it bar the foreign corporation from defending any lawsuit, suit, or process in a Washington court.
Washington State Deceptive Trade Act
Washington has not enforced the federal Uniform Deceptive Trade Techniques Act (UDTPA); however, consumer fraud practices such as misleading advertising, odometer tampering, and other deceptive trade practices are prohibited.
Individuals and corporations who engage in unfair or deceptive commercial practices possess the right to file private lawsuits in Washington state. A customer may file a civil case under the Washington Consumer Protection Act (CPA) to halt further deceit, collect monetary damages, and recoup litigation expenses and attorney fees from the violator.
How Fast Can You Obtain EIN for Foreign LLC in Washington
An EIN for foreign LLC in Washington can be obtained by immediately if applying online and by mail or fax it may take up to 1 week.
If you have a foreign limited liability company that is looking to register in Washington, you have two options. You can either sign up with a professional LLC registration service, or you can apply for an EIN on your own. The latter will provide you with an EIN, along with a few other benefits.

Obtaining an EIN is a great way to separate your personal finances from those of your business. It also allows you to set up a payroll system if you hire employees. Aside from that, it also provides you with some protection from identity theft.

To obtain an EIN, you'll need to fill out Form SS-4PDF, and pay a $24 filing fee. Once you've submitted your application, you'll get a verification letter by mail. This letter will tell you the number of days it will take for your application to process. Normally, the processing time is four weeks, but there's a special program for new Washington LLCs, which allows for expedited processing. In addition to the time, you'll need to have a passport and a Social Security number.

The easiest way to get an EIN is to use the online EIN application system on the IRS website. You'll be able to complete the process in less than 15 minutes. Alternatively, you can print out a PDF file of your EIN application and send it to the IRS by mail. However, this option is only available Monday through Friday.

For the first part of the EIN application, you'll need to enter the legal name of your LLC, its principal, and the mailing address of your business. On the following page, you'll need to enter the number of members and select the appropriate option for your business. Your LLC should be formed with a legal name that is unique in Washington.

The IRS recommends taking a screenshot of the EIN application's final page. This page provides you with a link to the EIN confirmation letter. Since you cannot change this information once it's entered, the screenshot is probably a good idea.

If you have a hefty tax bill, you may want to check out one of the many tax incentive programs offered by the Washington Department of Revenue. This department will help you to reduce your tax burden by offering tax credits and rebates for companies that meet certain criteria. There are even tax credits for companies that hire people from designated empowerment zones and international services districts.

When determining how fast you can obtain an EIN for your foreign LLC, you'll need to look at the type of entity you're forming. Usually, the IRS will treat LLCs with two or more members like partnerships for business tax purposes. An LLC with just one member will likely need a different number of requirements, such as a UBI number. But regardless of the number of members, you'll need to be prepared to provide your IRS contact information, and your business's name and street address.
FAQ
How to obtain EIN for foreign LLC in Washington State?
To obtain EIN for your foreign LLC, you have to apply for it from IRS. Fill up the Form-SS4 and send it via phone, fax mail or submit it online.
Do I need to obtain EIN for foreign LLC always?
If you're a self-employed individual then you do not have to obtain EIN, you can use your social security number to form an LLC.
Are EIN and TIN the same or different?
EIN and TIN (Tax Identification Number) are the same things. IRS issues both the identification numbers to the businesses. It is an eight-digit identification number issued by the IRS.
Do I need a Third Party Designee to obtain EIN for Foreign LLC?
It is not mandatory to have a third-party designee obtain EIN. A third-party designee is an individual appointed by the LLC. That person will be responsible for fill-up the form SS-4 by answering all the questions and also can receive the issued EIN if applied by phone.
In Conclusion
Obtaining EIN for any Washington State foreign LLC is a must. This number is required to conduct business, open up a business bank account, report the Taxes to IRS, and so on. EIN is any business entity's Social Security Number that is mandatory to transact business.