TailorBrands LLC Formation Review: Forming an LLC (Limited Liability Company) is always a desirable choice when you are willing to establish your small business with a limited budget. You get a professional hand, pay them, and you are done! The rest will be taken care of. TailorBrands is one such professional help that any small business can rely on. Not-so-old, the LLC formation service provider, TailorBrands started off to support the small businesses to grow further. In my TailorBrands review, I have tried to elaborate on their pros and cons to show a clear picture.
Before I get into the LLC service, some context about TailorBrands is necessary. They're a company that puts "small business setup made easy" at the forefront of every product and service they offer. Though they initially began as a logo maker, they used their AI technology to expand their offering into an entire toolbox. They are here to help anyone with a business idea launch and grow.
That's where the LLC service comes in. Not only the automated form helps the layperson in navigating legal complexities, but also the is integrated with the rest of the business services TailorBrands offers.
In other words, while you're spending a little time creating your logo and setting up your website, TailorBrands is taking care of your LLC for you in the background. They'll be in touch with you throughout every step of the process so that you're kept up-to-date without having to lift a finger. TailorBrands is truly a one-stop solution for all your business needs, and they don't break the bank while providing these services for you. So, here is my take on TailorBrands' LLC service and why you may or may not choose their service.
TailorBrands LLC Formation Service Review: A Quick Summary
The Good👍
Low-cost LLC services
Exceptional customer support
Personalized service
Positive customer reviews (TrustPilot)
Hassle and stress-free LLC formation
The Bad👎
No business domain (separate package)
Not BBB Accredited

Service Quality: 5/5
Turnaround Time: 4.5/5
Pricing: 5/5
Customer Feedback: 5/5
User Friendly: 5/5
---
Overall Rating: 4.9/5

TailorBrands: About The Company
TailorBrands was founded in 2015 in New York City, by a group of business owners looking to democratize branding and create an affordable space for small business owners to grow. Through this idea, TailorBrands was created.
The idea of automating the branding and marketing process for small businesses was a hit among investors and business owners. Since 2015, the company has raised over $70 million in funds. These investors include GoDaddy, OurCrowd, Mangrove Capital Partners, and Armat Group, among others.
Today, TailorBrands is continuing to expand, offering a wide range of automated services including LLC formation, logo creation, social media and merchandise design, and more. Over 30 million people have used TailorBrands to start a business worldwide. As their services continue to expand, small businesses will be able to find everything they need to start and grow their business with TailorBrands.
Note: The credit for TailorBrands being in the top position can be attributed to its best budget service. Also, the company offers a flat price for a basic LLC formation service.
Services Offered by TailorBrands
TailorBrands do not have prolonged packages to offer. The company offers one single package at $49/- for some of the main basic LLC formation services. Along with these services, the company offers add-ons. The price range is diverse. As you add services over the basic package, you may have to pay the additional cost of that service over your final bill. Here are the services that are offered when forming your LLC with TailorBrands. They include:
LLC Filing
Priority Support
The rest of the services can be added to the list while checking out. You can add these services according to your needs. Here are the services and prices of them,
Apart from the above-mentioned services, the company offers the following services too. Depending on the state and requirement of the Annual Report, you can select the service.
TailorBrands Service Plans: At a Glance
| | | |
| --- | --- | --- |
| Services | Basic Plan | Add-on |
| LLC Formation | Included | x |
| Name Availablity Search | Included | x |
| Registered Agent | Not Included | $199/year |
| Employer Identity Number | Not Included | $99 (one time) |
| Annual Compliance | Not Included | $199/year |
| Operating Agreement | Not Included | $29 (one time) |
| Expedited Filing | Not Included | $49 (one time) |
Verdict: Should You Choose TailorBrands or Not?
Let us see the bigger picture here before we conclude anything. TailorBrands does not provide a free service. You have to spend a minimum of $49 over the state filing fees to get their services. Compared to other best LLC services, no doubt, TailorBrands offer a very reasonable price. Now, you can wonder why not then a free service? The problem with Incfile and Inc Authority is they don't offer all the basic requirements for free. You probably have to spend a fortune to get additional services from these companies.
On the contrary, TailorBrands have everything and anything you need to establish an LLC under one roof. So, that's definitely a big plus. TailorBrands will take care of much of the "additional" paperwork around your LLC, including LLC filing, name availability search, priority support, acting as your registered agent, getting your business's EIN, annual compliance, operating agreement, and more. However, a reputed company like Zenbusiness offers everything at $0. TailorBrand offers basic LLC formation at $49.
From an automated brand design (think websites, social media design, and printed swag) to secure your business identity (getting your domain name, setting up your business email address, and publishing a digital business card all through the platform), TailorBrands lends a hand throughout. Personally, I would choose TailorBrands over any other paid or free service simply because they truly are a one-stop-shop for starting your business. Above all, the company has a flat rate and no hidden charges.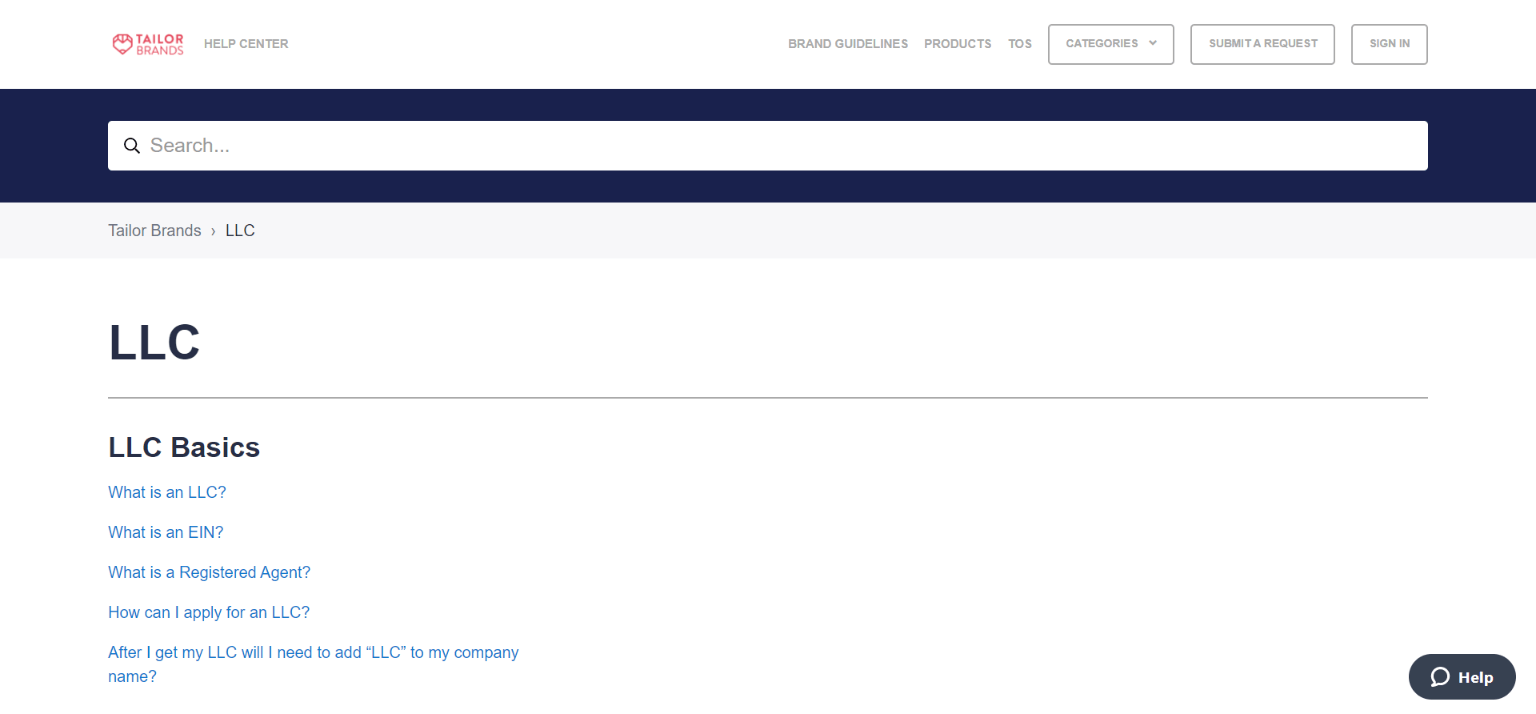 When Should You Choose TailorBrands?
TailorBrands is the type of company you can go with whether you have a small or medium-sized business, are a startup, or have a limited budget to work with. Because TailorBrands focuses on small businesses, their LLC prices are extremely affordable while offering high-quality services to help legalize your business.
When Should You Not Choose TailorBrands?
If you don't have a domain and are looking to purchase a domain with an LLC, TailorBrands currently does not offer that service. TailorBrands is ideal for small businesses that either already has a domain or know how to purchase a domain separately. Additionally, if you're any kind of legal expert, you likely won't need TailorBrands to take care of these services for you.
TailorBrands Alternatives
TailorBrands offer LLC formation at the same price as ZenBusiness. So, if there is a question about using an alternative service, then you can choose ZenBusiness. In my personal opinion, if you are running a small business then TailorBrands doesn't need to be replaced. Also, the company has other services that help you build a business more appropriately. However, the last call should be yours. We made things a little easier for you as we have selected the best LLC service for you. You can always compare and decide which one to choose for your business.
TailorBrands Review: Summary
If you're looking to build a business, TailorBrands is one company that really defines being a one-stop-shop. Whether forming an LLC or creating a logo, TailorBrands can do everything for you. I recommend going online and looking up TailorBrands on TrustPilot, where you'll see what customers have to say about them.
The LLC prices and services offered are affordable and user-friendly. TailorBrands guides you through each step of the process, ensuring they have everything they need from you to register your business as an LLC. Through my research, I found that people had great things to say about creating an LLC through TailorBrands. Some people commented on the user-friendly interface, transparency, and customer support, but the main takeaway was that they're experts in helping newbies launch their businesses.
I did see a complaint that the pricing for the different LLC packages was hard to find, but I went through the LLC funnel myself and saw that everything is clearly outlined in each step of the flow. For example, they'll ask you if you want to add a Registered Agent or appoint one yourself, listing the price accordingly if you do decide to use the TailorBrands Registered Agent service. The price is clearly reflected at checkout, with a summary of the items you want to add to your order. If you have any questions, you can always contact their customer support via email or social media, and you will get a response within 24 hours.
TailorBrands vs Others
How to Use TailorBrands
You need to set up your account by providing all the necessary details. You can use the TailorBrands services for business name search, registered agent services, LLC filing tax planning, etc.
One of the most impressive features of Tailor Brands is its simplicity and ease of use. Gone are the days when you needed to spend countless hours immersed in complicated software programs or hire a professional designer to create a logo. With just a few clicks, anyone can navigate through the platform's intuitive interface and access a vast array of design templates, fonts, and colors. It feels like having a personal digital designer at your disposal 24/7.

Not only does Tailor Brands streamline the design process, but it also ensures a high level of creativity and customization. Users can experiment with a wide range of design options, enabling them to create a tailored look that reflects their vision and brand identity. From typography to color palettes, every aspect can be personalized to achieve the desired aesthetic effect. The platform constantly generates new and unique logo designs, making sure that your brand stands out amongst the competition.

One remarkable aspect of Tailor Brands is its powerful AI technology. Leveraging the latest advances in machine learning, this innovative tool is capable of analyzing your input, preferences, and industry trends to deliver logos that perfectly depict your brand's essence. The AI algorithms adapt and improve over time, allowing you to fine-tune and adjust your designs until they are truly captivating. This dynamic and iterative process ensures that your brand evolves with the rapidly changing market dynamics.

An additional benefit of using Tailor Brands is the cost-effectiveness it brings to the table. Small businesses and startups often face a tight budget, and allocating resources for design purposes can be daunting. By providing an affordable alternative to traditional designers, this platform democratizes visual branding. Access to professional-quality visuals at a fraction of the cost is a game-changer, allowing businesses of all sizes to brand themselves effectively. That means more resources available to invest in other crucial aspects of your venture's success.

Moreover, Tailor Brands has a built-in analytics feature that provides valuable insights into your brand's performance. Tracking metrics such as engagement, reach, and recognition helps in gauging the effectiveness of your designs and making informed decisions about your visual identity. Having this data readily available ensures that you are continually refining your branding strategies and staying ahead of the curve.

In a world increasingly driven by visual appeal and saturated markets where differentiation is vital, Tailor Brands has emerged as a powerful ally. Its user-friendly interface, creative customization options, AI technology, affordability, and analytics tools make it a standout choice for anyone looking to develop a strong brand presence. Whether you are an entrepreneur, freelancer, or a large corporation, don't miss out on the opportunity to unlock the potential of Tailor Brands and take your branding to the next level.
F.A.Qs
Is TailorBrands legit?
Yes, TailorBrands is a legitimate and trustworthy business founded in 2015. It's rated 4 stars on Trustpilot. It is not BBB Accredited.
Is it essential to have a Registered Agent?
It is not mandatory to have a registered agent for your LLC. But, it is highly advisable to have one for proper & timely filing of various documents & taxes. So that you don't have to bear late fees or penalties.
How do I discontinue the TailorBrands service?
To cancel your current plan with TailorBrands, you need to log in to your account. Go to the Plan Page, and under your plan, press the Deactivate button. You can delete your account from that page as well.
What is Tailor Brand's refund policy?
TailorBrands do not have a refund policy. Once they offered a service it is done and dusted. The possession of their products and services goes to the user. Hence, there is no refund of money paid to the company.
How much does it cost to form an LLC with TailorBrands?
Through TailorBrands, forming an LLC starts from $49, and you'll have to pay your state fee. For additional services, they cost extra.
In Conclusion
Overall, I think TailorBrands offers the best services for an affordable price to business owners looking to form an LLC. Since many business owners don't know the steps needed to form an LLC, TailorBrands makes sure everything is checked off the list. Plus, during the LLC process, they're fully transparent and make sure you know what's going on every step of the way.