At LLCBuddy, we don't just offer information; we provide a curated experience backed by extensive research and expertise. Led by Steve Goldstein, a seasoned expert in the LLC formation sector, our platform is built on years of hands-on experience and a deep understanding of the nuances involved in establishing and running an LLC. We've navigated the intricacies of the industry, sifted through the complexities, and packaged our knowledge into a comprehensive, user-friendly guide. Our commitment is to empower you with reliable, up-to-date, and actionable insights, ensuring you make informed decisions. With LLCBuddy, you're not just getting a tutorial; you're gaining a trustworthy partner for your entrepreneurial journey.

BetterLegal Review: Are you looking for a fast LLC formation service at a flat rate? Then here is BetterLegal served on your plate. This Texas-based company offers corporation and limited liability company formation services in 2 business days. Isn't it great? Yes, it is! BetterLegal offers registered agent service along with other business key services at a flat rate. In my BetterLegal review, I have shared their service and pricing information along with other factors as much as possible. In general, when you search for a professional service, you look for their service, price, and turnaround time. BetterLegal serves almost all the essential services to form an LLC at a single rate in the quickest time.
The company claims to be the fastest LLC formation company in the industry. Compared to other competitors, BetterLegal has a quick turnaround time, and also, it claims to have a reasonable price. Transparency is the key feature of the company.
BetterLegal Review: Quick Summary
The Good👍
Formation within 10 minutes to 2 days
Flat price with no hidden charges
Basic business filing services
Single formation package for incorporation
Positive customer review
A+ BBB Accredited
The Bad👎
Limited customer care service
No refund
Additional cost for EIN
No package includes registered agent service
No legal advice or attorney

Service Quality: 3.5/5
Turnaround Time: 4.5/5
Pricing: 3.5/5
Customer Feedback: 4/5
User Friendly: 3.5/5
---
Overall Rating: 3.8/5

When it comes to forming a business, you focus on a few important factors. These factors are price, services, turnaround time, and above all positive reviews from the users. These are needed because you don't want to play with your money. While talking about BetterLegal, I have found all of these under one roof. Read my honest BetterLegal review in detail to know if BetterLegal is the right choice for your organization or not.
Note: In comparison with competitors, BetterLegal is a small company in the business formation industry. But, their online LLC filing service is top-notch. Customers receive their documents within 2 days.
BetterLegal Review: About Company
BetterLegal was founded in the year 2016 in Austin, Texas. It is an online business formation company that talks about speed and transparency. That means they profess to be the fastest business formation company with liner and transparent pricing. If we talk about the formation package offerings, BetterLegal offers a single package at a single price.
The company started with a small team, and in all these years it didn't really bother to increase their circle. However, even being a small company, it has achieved big by serving more than thousands of customers in the last few years. Because it is a small team, it has transparent pricing and fast service. But because it is a small team, it has limited customer care service options. There is a lack of service reps to attend when you need them the most. Their customer service includes online chat service and on-call support. However, their customer service line is almost always busy as they don't have enough people to sit behind the phone.
In this review, I shared the alternatives to BetterLegal. ZenBusiness is one such company that offers LLC formation at $0. Moreover, the company has excellent customer service. That adds additional points to ZenBusiness.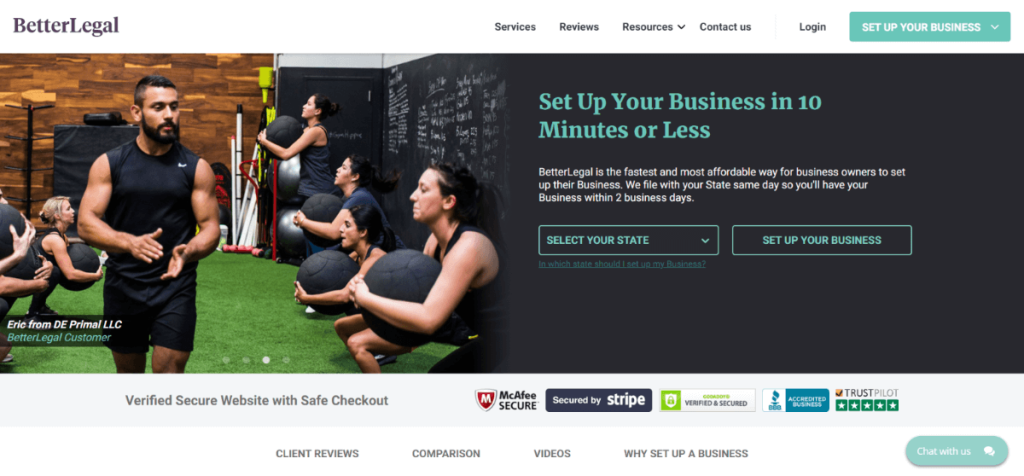 BetterLegal is an LLC formation service company that offers a single package with a lot of services at a single rate. You will get basic formation services along with some unnecessary services that might not be useful for your LLC. On the other side, the company provides a corporation formation service as well. For the corporation formation, they too have a single package. Hence, it is a bit loss to pay for services you don't need at all.
The company offers al-a-carte services though. In their add-on menu, you may get what you need outside their package by paying the single cost. You can cancel their service at any point in time you want. All you have to do is write an email to them stating the reason and cancel your service. If there is any subscription fee due, you need to pay that before you cancel your service. It is easy. Although, they don't have any refund policy. All of their sales are final and no refund will take place.
Note: BetterLegal does not provide an Attorney service because it is not a law firm. It only provides LLC and corporation formation services to its customers.
BetterLegal Review: Packages and Pricing
As I mentioned above, BetterLegal has one lean package to offer to its customers. This standard formation package is for all levels of business owners. Whether you are going to start an LLC or a corporation, this formation and incorporation package is there for you. The package pricing is $299 + State filing fee. As there are no separate packages here, you can add services from their add-on menu. If you are looking for different packages for different services, then you can go for other companies. Read the Northwest Registered Agent LLC review on this site. Below are the service offerings BetterLegal has under their single package,
Package Pricing: $299 + State filing fee (Tax deduction may apply)
Service Description:
LLC filing
Operating Agreement Draft
Banking Resolution & other documentation
These services are available for both LLCs and corporations. Along with these services, their package includes some free services. They are Insurance service, business website builder service, business checking, and business tax analysis. These services come for free with the package along with Payroll, benefits, and HR platform services. Their package does not offer registered agent service unlike other companies like Incfile and ZenBusiness. If you want to know about their services and pricing, read my take on Incfile Review and ZenBusiness Review.
Before you buy their formation service, you need to have a bank account. It is mandatory for both LLC and corporation to have a business or a personal bank account before start filing the documents.
Add-ons By BetterLegal
BetterLegal, like other LLC service providers, offers add-on services. You can select any of these services (or all of them) according to the need of your LLC or corporation. You can add them to the existing package. The final bill would be calculated on the basis of the services you have selected to add. Here is a list of add-ons BetterLegal offers,
Registered Agent Service – $10/month or $90/year
State Annual compliance services – $10/month or $90/year
Permit & License Search Service – $125
Amendment & document research – Free with the core formation service package
Unlike other companies that have diverse formation package tiers, BetterLegal's package pricing is quite straightforward. They do not have any hidden cost or several price layers.
BetterLegal Service Plans: At a Glance
| | | |
| --- | --- | --- |
| Services | Package | Add-Ons |
| Registered Agent | Not Available | Available |
| LLC filing | Available | Not Available |
| EIN | Available | Not Available |
| Operating Agreement | Available | Not Available |
| Banking resolution | Available | Not Available |
| License Search | Not Available | Available |
| State compliance service | Not Available | Available |
BetterLegal Review: Whether You Need it Or Not
While I compare BetterLegal with other biggies in the market, BetterLegal stands out a little behind. The reason is its age and experience. It started in 2016 with a small team that is still not as big enough to serve more than a thousand users. It sums up to very little experience the company has. However, even with very little experience and a small team, it has managed to compete with the biggies in the formation industry.
One of the essential features of this company is its formation turnaround time. It forms a business within a maximum of 2 business days which is the fastest for any service provider. Other service providers charge an additional price to speed up the process. But BetterLegal offers it without any additional cost. It does not have a list of business formation packages. It only offers a single package along with additional services. On the service side, BetterLegal has again fewer options than others. For example, Incfile offers a free 1-year registered agent service whereas BetterLegal costs $90/year. Also, this service is not included in their business formation service plan.
Some of the services like website building, insurance service, virtual tax service and analysis, and business checking, are done by the partners. BetterLegal outsources these services. Though they mention that these services come for free with the package, anyhow you are paying $299 for these services along with the basic ones. For companies like ZenBusiness, Incfile, and Northwest Registered Agent the registered agent service is included in their standard formation package. But for BetterLegal it is not a part of their essential services.
BetterLegal's additional services include EIN. This service is basically useless as it can be obtained for free if applied directly on the IRS website. However, service like Operating Agreement is available in this plan which is a plus for the users.
On the other side, customer support is not as swift as others. With a small team, it is difficult for them to serve their all customers on time. However, their online chat feature is quite a catch. Even if you do not get someone on call, you will surely get a response from their chat window. The website has their contact details that include a phone number and a chatbox. You can either call them or leave a message in their chatbox. They also have a form where you can add the relevant info and submit it.
As a whole, in my view, BetterLegal is a young yet growing company. It may not have a series of packages or plans, but its impressive turnaround times are enough to gain more attention. Apart from the document filing services, BetterLegal has additional features that help an LLC to set up and grow.
When Should You Hire BetterLegal
If you want your LLC to form in no time then BetterLegal should be your choice. Depending on the state and nature of the business, the company can file your documents within 10 minutes. That's what the company claims. Comparatively, BetterLegal has an expensive formation package that does not include registered agent service. Hence, this package is apt for a mid-sized company.
When Should You Not Hire BetterLegal
In my honest opinion, BetteLegal does not offer anything that any other LLC formation service does not offer. Other than the fast processing times, BetterLegal does not have any services that are not available with other services. The pricing of the same services with other companies is much lower than what BetterLegal offers. So, if you are a small business or a larger one then BetterLegal is not your choice.
BetterLegal Review: Available Alternatives
ZenBusiness can be a perfect alternative for BetterLegal. It offers basic formation services at $49 + State fees. ZenBusiness' basic package includes registered agent service. Besides, Incfile offers a free LLC formation service and also a free registered agent service for a year. Hence, for BetterLegal alternatives, ZenBusiness and Incfile can be your options.
BetterLegal Review: Summary
In my BetterLegal review, I have tried to list down all the information that you need to know about the company. Briefly, the company has one package and other add-ons. Other than the state filing fee, the company charges a flat rate of $299 for all the basic LLC formation services. Though the company, BetterLegal, charges little extra than other companies the turnaround time is incredible for this company. Without charging any additional fee, BetterLegal offers LLC formation document within 2 business days.
If the turnaround time is a plus, the registered agent service is a minus in BetterLegal. They do not have the registered agent service included in their package. You need to buy it separately as an add-on service. The price is reasonable though. If we look at the customer side, BetterLegal has a flat and transparent pricing and there is no hidden fee anywhere.
Other than the turnaround time, BetterLegal does not offer anything that other companies don't. For example, ZenBusiness is the closest competitor and the alternative company for BetterLegal. It offers all the basic LLC formation services at only $49. As a whole, BetterLegal could be an option for a customer who is looking for a few services at a flat price. People who are looking for much lesser price but more options BetterLegal is definitely not for them. If you like my BetterLegal review, do let me know by commenting below.
BetterLegal vs Others
How to Use BetterLegal
You need to set up your account by providing all the necessary details. You can use the BetterLegal services for business name search, registered agent services, LLC filing tax planning, etc.
In today's fast-paced world, legal services are essential in ensuring individuals have access to reliable and trustworthy guidance when navigating complex legal matters. However, finding the right legal service provider can often be overwhelming and time-consuming. This is where BetterLegal comes into the picture, revolutionizing the way we approach legal services.

BetterLegal is a leading platform that offers a convenient and user-friendly approach to accessing legal assistance. With its array of comprehensive and reliable legal services, it simplifies the process of obtaining legal support for individuals, businesses, and professionals alike. Gone are the days of scouring the phone book or spending countless hours searching online for legal expertise; BetterLegal provides a one-stop-shop for all your legal service needs.

One of the standout features of BetterLegal is its intuitive and user-friendly website, making it effortless for users to navigate and find the assistance they require. The platform understands that legal matters can be complex and intimidating, especially for those without legal backgrounds. Hence, they have created a streamlined and straightforward process that allows users to quickly select the legal service they need and move forward with confidence.

What sets BetterLegal apart from traditional legal service providers is its dedicated focus on customer experience. At the core of this platform is a team of knowledgeable and experienced legal professionals who are committed to helping clients every step of the way. BetterLegal recognizes that legal matters can be daunting and seeks to alleviate this burden by offering personalized assistance based on each individual's unique situation. Whether you require help with incorporations, intellectual property, or legal advice, BetterLegal ensures that you receive tailored guidance specific to your needs.

Moreover, BetterLegal prides itself on transparency and affordability. Before committing to any service, users can easily access clear and concise information regarding costs and expectations, ensuring complete understanding and full control. Sometimes, legal services can lead to unexpected expenses, creating unnecessary financial stress. However, BetterLegal takes great care to provide cost-effective options while ensuring the highest level of professionalism.

Another commendable feature of BetterLegal is its commitment to staying up to date with the ever-changing legal landscape. The platform leads the way in providing the most current legal resources and information, empowering users with knowledge to make informed decisions. Whether it's new legislation updates or industry-specific legal insights, BetterLegal ensures that clients have access to the latest legal developments.

An additional benefit of leveraging BetterLegal is its ability to connect individuals with a vast network of legal professionals. Users can count on finding knowledgeable lawyers with a diverse range of expertise. This not only broadens options but also creates a collaborative environment in which users can find the most suitable legal expertise for their specific needs.

In conclusion, BetterLegal is revolutionizing the legal service industry by offering a streamlined and user-friendly platform that eliminates the complexities often associated with seeking legal assistance. With its dedication to transparency, customer experience, affordability, and up-to-date legal resources, BetterLegal truly sets a new standard in the legal services landscape. So whether you're an individual facing a personal legal matter or a business owner in need of professional guidance, BetterLegal is here to navigate these complex terrains with you.
F.A.Qs
Is BetterLegal legit?
Yes, BetterLegal is 100% legit. This company was started in 2016 and continue serving their customers. It is BBB accredited and has incredible positive customer reviews.
Is it essential to have a registered agent?
It is not mandatory to have a registered agent for your LLC. But, it is highly advisable to have one for proper & timely filing of various documents & taxes. So that you don't have to bear late fees or penalties.
How do I discontinue the BetterLegal service?
Users can discontinue the Registered Agent service from BetterLegal at any point in time. To discontinue or cancel their service you can log in to your account and cancel your service. Or you can send an email to [email protected]. One can cancel RA service over the phone call as well by calling them on this number (855) 612-0480.
What is the refund policy of BetterLegal?
Unfortunately, all the sales they made are final. There is no refund policy for BetterLegal. If you or BetterLegal cancels the RA service, the service will be discontinued finally once the dues are cleared by the user.
How much does it cost to form an LLC with BetterLegal?
To form an LLC with BetterLegal, one has to spend $299 + State fee. Besides, users can purchase additional filing services.
In Conclusion
BetterLegal started off late but really well. With a small team, the company has reached a position where it can compete with the industry's best companies. This company has almost all the basic filing services including Annual Reports, compliance services, and other filing services. Their partner services include website, tax analysis, and business checking. To sum it up, BetterLegal is a growing company but yet to reach the top.