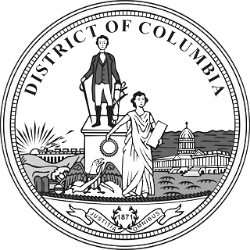 Forming an LLC requires a different business name, which must be unique and adhere to the guidelines. The great thing is DC's Secretary of State page includes a name availability checker. Check out LLC Name Search to learn more.
Meanwhile, if you're interested in learning more about starting an LLC in DC or forming an LLC in general, you can check out How to Start an LLC.
On this page, you'll learn about the following:
How to Name an LLC in DC
Time needed: 5 minutes.
There are guidelines to follow in doing a DC LLC name search. To learn more, check out LLC Naming Guidelines or read Foreign LLC Application for Registration if you're planning to register a foreign LLC.
Check Name Availability

Search the Business Entity Records in DC's Official Secretary of State page to check if your chosen business name is available. You may also try typing your trademark, business, or domain name on any search engine to generate businesses with similar names and to ensure your trademark is unique and meets the state's requirements.

Check out How to File a DBA to learn more about registering a DBA or trademark. For social media pages, use Social Searcher to avoid using similar page names.

Check Domain Availability

If your business name is still available, you must register for a domain name using Namecheap, Google Workspace, or other domain name sites. So customers can easily find your business over the Internet. Use the Kinsta app to manage your domains efficiently.

File Name Reservation

A Name Reservation Certificate is required along with a Certificate of Formation. You can reserve a name online, by mail, or in-person with a $50 filing fee (plus tax for online).

File your Certificate of Formation and Name Reservation online on the Secretary of State Online Services page of DC. You may also download the pdf file of the Name reservation form and submit it with the processing fee to the Department of Consumer and Regulatory Affairs, Corporations Division, PO Box 92300, Washington, DC 20090.
Guidelines to Follow in Naming LLC
Use a business name with the abbreviation "LLC" or the phrase "Limited Liability Company."
Your decided business name must not coincide with any existing government entity. Otherwise, you might have to face legal lawsuits when filing your LLC.
Use the LLC name availability checker to ensure your business name is unique.
Get a license first if you plan on using restricted words to avoid any complications.
Note that you must put adequate effort into naming your LLC because this name will be with your business for a long time. Making your LLC name unique is vital as it would prevent people from confusing your business with others, not to mention it would be easier for them to recall your business, products, or services.
How to do a DC LLC Online Name Search
As a part of the registration process, it is important to have a suitable name for your LLC in accordance with the guidelines of the State. When you are selecting a name for your LLC, you need to search on the DC State website if the chosen name is unique and available for registration or not. Look at the following points and know about them.
Register your Account
Visit the official page of the District of Columbia Secretary of State. Register your account on the DCRA CorpOnline Web Portal by selecting the "sign-up" option. Or click on "Sign-in with Access DC" if you have already registered your account with DC.gov.
After clicking on the "Sign-up" option, the page for registration of your account will look like this. Fill in your details for user registration such as your name and address and confirm your username and password and submit the form.
Enter the name
After you navigate to the search page, type your proposed name in the "Inquiry" box. You can also choose among the different available filters and conduct a broad search or narrow down your search entry by applying filters by choosing radio buttons.
Perform the Search
Search the availability of the chosen name on the website. If the proposed business name is already in use, the page will display the relevant details of the competing business. Upon performing any name search on the given page, a list of entities with the relevant name, their file number, effective date, status, locale, and qualifier shall pop up on the screen. Conduct thorough research of the name by using the provided filters such as entity name, business ID, etc. before filing it with the Authorities.
You can also visit the D.C. Trademark records or the USPTO's Federal Electronic Records to search if your business name is already in use by some other trademark slogans or logos in the DC.
After selecting a name, you can file an application for reservation of your LLC Name for 120 days with the DCRA.
How Do I Reserve an LLC Name in District of Columbia
To reserve an LLC name in District of Columbia you need to submit a name reservation request form to the Department of Consumer and Regulatory Affairs by mail or online by paying a filing fee of $50.
If you are thinking about starting a Limited Liability Company (LLC) in District of Columbia, then one of the very first things you need to do is ensure that the name you have in mind is available. Fortunately, reserving an LLC name in District of Columbia is a simple and uncomplicated process.

The first step towards reserving an LLC name in District of Columbia is selecting a unique business name. It is important to select a name that no other business in the District of Columbia has occupied before as the registration of the name previously can make the name inapplicable to use for others. Therefore, it is advisable to search the database of existing business entities in the state before submitting an application for business name reservation. All LLC names in DC should end in some form of "Limited Liability Company," "LLC" or another acceptable abbreviation such as "L.L.C." or "Ltd. Liability Co."

After successfully finding a unique name or one claimed by you through doing DCRA name analysisor some other channels, you can then opt to reserve it to extend the use validity by filing a reservation application with the DCRA. The reservation application is be an integral TDPID wherein applicant desiring visibility to be sponsored is urged to enlist one from Vendor List received from the DC. It is convenient to submit a streamlined paperless application available on DCRA website formatted as "Incorporation/Formation". To safeguard the name availability against someone else registering it beforehand DMV allows keeping it on one side for up to 120 days so reservation initiation is a crucial fundamental implementation. The Reservation of trade name application during the duration permits only the individual who successfully filed for the reservation and no other can claim a concurrent application.

While applying for name registration the information required is a legal name, address of registration, phone number, e-mail, and a proposed name. It takes nearly an hour and $60 to complete the procedure and also an extra dime for background checks. Additionally, according to business regulations each name cycle should confer a separate reservation application soon after the induction of the current registration ends otherwise the name may tumble forward becoming applicable hence this necessitates potential awareness and renewals accordingly in a timely fashion to safeguard the name ownership.

Moreover, reserving a name will likely make filing articles of organization easier and save on rebranding costs. An entrepreneur strongly desiring for the terms "LLC" or "Limited Liability Company" in an enterprise name reservation should explicitly dispense those explicitly throughout and applicant having the foreign implication can oblige by submitting a Certificate of Existence (or official document indicating "good standing") from the jurisdiction of formal patronage along with the Reservation registration application.

Starting a business is an exciting endeavor of transformation from an idea to a functional conveyor. The name is an essential element to describe or represent a brand so it is significant to search thoroughly simply by going to sites presenting open trademark registry information available online to ensure distinguishing markers or searching "free name checker" for companies having an online utility to check firm titles works the same way e.g.Nomicz etc. Companies desisting this name reservation order dictum should be wary, as choosing not to reserve a name can result in time wasted searching for a new name only after discovering your original idea is no longer usable. A defined advantageous name alias signature more reinforced implies reliability, shielding, memorability, scope, and easy formulation of the decree. Appropriate Deligate agency regulatory process activity entails prompt decision punctuality and precision the small effort effort offers.
F.A.Qs
What is a Trade Name?
A trade name (doing business as (DBA) name) is the official name under which a proprietor or company chooses to do business.
Is having a domain name necessary?
Having a domain isn't necessary, but it is recommended. If you have a domain name, customers will find you more accessible through online means with your online website.
What if my name is unavailable?
For domestic LLC, you can simply brainstorm for another name if the one you pick is no longer available. For foreign LLC, you must think up a "fictitious name," which you'll use only in the state.
In Conclusion
LLC names are important as it is the main identity of your business. While naming your LLC make sure to choose the one that suits the nature of your business. Follow the naming guidelines before you start filing your LLC name