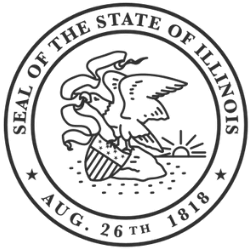 Forming an LLC requires a different business name, which must be unique and adheres to the guidelines. The great thing is Illinois' Secretary of State page includes a name availability checker. Check out LLC Name Search to learn more.
Meanwhile, if you're interested in learning more about starting an Illinois LLC or forming an LLC in general, you can check out How to Start an LLC.
On this page, you'll learn about the following:
How to Name an LLC in Illinois
Time needed: 5 minutes.
There are guidelines to follow in doing an Illinois LLC name search. To learn more, check out LLC Naming Guidelines or read Foreign LLC Application for Registration if you're planning to register a foreign LLC.
Check Name Availability

Search the Business Entity Records in Illinois' Official Secretary of State page to check if your chosen business name is available. You may also try typing your trademark, business, or domain name on any search engine to generate businesses with similar names and to ensure your trademark is unique and meets the state's requirements.

Check out How to File a DBA to learn more about registering a DBA or trademark. For social media pages, use Social Searcher to avoid using similar page names.

Check Domain Availability

If your business name is still available, you must register for a domain name using Namecheap, Google Workspace, or other domain name sites. So customers can easily find your business over the Internet. Use the Kinsta app to manage your domains efficiently.

File Name Reservation

A Name Reservation Certificate is required along with a Certificate of Formation. You can reserve a name online, by mail, or in person with a $25 filing fee (plus tax for online).

File your Certificate of Formation and Name Reservation online on the Secretary of State Online Services page of Illinois. You may also download the pdf file of the Name reservation form and submit it with the processing fee to the Secretary of State Department of Business Services Limited Liability Division 501 S 2nd Street, Room 351, Springfield, IL 62756.
Guidelines to Follow in Naming LLC
Use a business name with the abbreviation "LLC" or the phrase "Limited Liability Company."
Your decided business name must not coincide with any existing government entity. Otherwise, you might have to face legal lawsuits when filing your LLC.
Use the LLC name availability checker to ensure your business name is unique.
Get a license first if you plan on using restricted words to avoid any complications.
Note that you must put adequate effort into naming your LLC because this name will be with your business for a long time. Making your LLC name unique is vital as it would prevent people from confusing your business with others, not to mention it would be easier for them to recall your business, products, or services.
How To Do an Illinois LLC Online Name Search
As a part of your LLC registration process, it is important to have a suitable name for your LLC in accordance with the State naming guidelines. So, when you select a name for your LLC, you also need to run a quick search on the Illinois Business Entity Search page to check whether the name is unique and there is no other business running in the State with the same name.
1. Access the Business Entity Search Tool on the State website
The Illinois Secretary of State website offers a Business Entity Search Tool to assist you in finalizing a name for your business LLC. This tool is helpful in deciding the uniqueness and availability of the name. Also, keep a list of backup names ready, so you can select a final name in a few attempts.
2. Run the Search
After you navigate to the Search page, you can run the search by Business name. To begin the search process, you need to enter the name in the blank space under the 'Entity name' heading and then click on the "Search" tab after clearing the captcha.
Perform the Search
You can also conduct the search using other available options, such as Name, Keyword, or partial word. Using such filters can give you more refined results such as giving you the list of businesses running with exact names, or having similar keywords, or even a single matching word.
While conducting the search, you can exclude usage of identifiers such as "LLC" to access wider results from different forms of business structures running in a similar name. Conduct thorough research of the name by using the provided filters before filing it with the Authorities. You can also refer to the 'Search instructions' provided on the search tool page.
If you also wish to use a Trademark for the distinct identity of your business in the State, you can run a trademark search on the Trademark Database of the U.S. Patent and Trademark Office to see whether the chosen name is already in use by any other business entity.
If you also plan on conducting your business online through a website, you should also check if a domain name similar to your chosen business name is available or not.
How Do I Reserve an LLC Name in Illinois
To reserve an LLC name in Illinois you need to submit a name reservation request form to the Illinois Secretary of State by mail or online by paying a filing fee of $25.
The world of business ownership can be complex, particularly when determining the legal formation of a new enterprise. In the state of Illinois, a popular option for set up is the Limited Liability Company (LLC), affording flexibility, plenty of tax benefits, and liability protection. However, before delving into creating an LLC in Illinois, it's crucial to reserve a company name.

Reserving an LLC name simply means protecting your preferred name from being used by other businesses. This must be taken care of before your LLC is formed, and not practicing precaution could prove costly as securing a name down the road may be unfair and expensive. Thankfully, the process of reserving an LLC name in Illinois is streamlined but should be followed without fail to legally protect your company.

The first step in the process is to confirm that your company name isn't currently in use or already reserved by another party. Though time-consuming, using both the Illinois Secretary of State's database or performing an Internet search will yield an overview of already taken registered businesses. Doing so can help minimize any confusion among consumers or investors that may mistake your company for another.

The next step is filing an Application for Reservation of Name to the Illinois Secretary of State. This form supplies the company's legal name and every desired alternative in priority if the first choice is unavailable. To prevent any misleading company names, ensure that the secondary options for the name do not conflict with an established worth or over-exaggerate societal impact or mission. Completion of the application requires that the creator's or co-creator's full address details signify clearness within the name application process.

When submitting the application, remember that there is a non-refundable $25 payment involved with exceptions for particular institutions or agencies who benefit citizens – for example, certain educational or religious organizations. Please note, individuals seeking overprotection or financial savings have been known to economize while abolishing their document's legitimacy.

Automated service providers may advertise and allow you to be granted a certificate of reservation of name immediately online with your credit card payment. Avoid deceived and notice that even with this quick convenience, visiting the correct website would be just good. These C100 Extensions websites claim they are the official Secretary of State and cost rate services significantly higher than the Secretary of State's $25 direct online service charged at the IDOR IlTax or a StateDirect America site. The official Illinois website. Signing up with a site like this can result in lost information, thus leaving the buyer not having both the accurate website or any certificate of reservation of name following any overpayment and a potentially failed revision or LLC in the state.

In conclusion, hiring a truly professional and honest assistance service tailored towards LLC formations is important. The most reliable route for reservation ideas and expertise will be the LLC corporation's own attorney advice, with unmatched knowledge and security provisions to prevent unnecessary service legitimacy consequences. Through a familiarization of the Illinois contents' for a hassle-free reservation in the state and knowledge across potential oversights' application, you are sure to have a protected LLC and recognized entity for years relevantly.
F.A.Qs
What is a Trade Name?
A trade name (doing business as (DBA) name) is the official name under which a proprietor or company chooses to do business.
Is having a domain name necessary?
Having a domain isn't necessary, but it is recommended. If you have a domain name, customers will find you more accessible through online means with your online website.
What if my name is unavailable?
For domestic LLC, you can simply brainstorm for another name if the one you pick is no longer available. For foreign LLC, you must think up a "fictitious name," which you'll use only in the state.
In Conclusion
LLC names are important as it is the main identity of your business. While naming your LLC make sure to choose the one that suits the nature of your business. Follow the naming guidelines before you start filing your LLC name