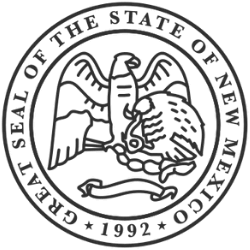 If you are forming a New Mexico LLC, then this page's content would be vital. As you learn how to start an LLC, you will realize that the bulk of your initial work and LLC cost comprises filing New Mexico articles of organization, which we will elaborate on this page.
On this page, you'll learn about the following:
What is an Article of Organization?
An Article of Organization, also known as an LLC certificate or Certificate of Formation in some states, is a document filed with the secretary of state to form an LLC.
Each state has a different requirement to fill out a form. An Article of Organization usually includes the following:
The name of the LLC,
the effective date of the LLC,
the company's principal office,
the business purpose,
the duration of the business,
a copy of the LLC's name registration certificate, and
the name and address of the registered agent, organizers, and
at least one member of the company.
You can file an Article of Organization online, by mail, or in person.
Note that the certification of formation is a legal requirement, not to mention, the core of your LLC formation. It even makes up the bulk of your New Mexico LLC cost. Without it, you have no LLC. So, take the time to complete and file this certificate.
How to File New Mexico Articles of Organization
These are the simple steps to follow in filing an Article of Organization in New Mexico.
Step 1: Find Forms Online
Go to the New Mexico Secretary of State to download the articles of organization form for your LLC or to log into the online service.
Step 2: Fill Out Form
When filling out the form, you must have reserved an LLC name. Do a name search. Go to New Mexico LLC Name Search to check whether your chosen business name is available to use in this state.
You must attach a copy of your Name Reservation to your filled-out Article of Organization form when filing. You also need to nominate a registered agent. Here are 3 of the best LLC services on our list.
Step 3: File Formation Certificates
File your formation certificate either online or by mail by filling out a form and sending it to the Secretary of State Corporations Bureau Chartered Documents Division 325 Don Gaspar, Suite 300 Santa Fe, New Mexico 87501.
File New Mexico Articles of Organization Online
Time needed: 5 minutes.
To establish a limited liability company in the State of New Mexico, you must apply for the Articles of Organization with the Secretary of State of New Mexico office. Through online mode, the application also received the advantage of immediate processing. The cost of registration is $50. The formation guide below will help you in filing the Articles of Organization for your New Mexico Limited Liability Company, so read on and get the info,
Visit the Official Secretary of State of New Mexico website

Go to the Business services section on the official website of the secretary of State of New Mexico. The website offers online application filing options for different business-related activities. Access the E-File Portal by clicking on the first link, "E-File Domestic (NM) Limited Liability Company Formation".

Create your Account:

On the next page, proceed to log in to your business account using your User ID and password. If you do not own an account on the portal, register your account on the e-file portal.

Start your application

After logging in to your account, select the option of "Domestic (NM) LLC Formation" from the dropdown menu under "Corporations" on the main toolbar, then move ahead to filling in your application form.

Follow the instructions

Make sure to read all the instructions attached to the application form carefully and accordingly fill in all the details in the form. After filling in the details, review the application to ensure that all the information entered by you is true and correct to your knowledge. Do not skip any mandatory section as well.

Statement of Acceptance

The State mandates to file the Statement of Acceptance along with the application form. After filling out the application, attach it with the original application form.

Make the payment:

After you have finalized your application form, proceed to the payment gateway page and pay $50 as the filing fee of your online application. After you have successfully submitted your application form, you will receive a notification from the Secretary of State office acknowledging the receipt of your application. You can expect a reply on your application within 5-7 business days.
Where Can You Find Your New Mexico LLC Articles of Organization
Articles of Organization for New Mexico LLC can be accessed through the New Mexico Secretary os State website by creating an account.
A Limited Liability Company or LLC is a common type of business formation that can help insulate business owners from personal liability for business debts and lawsuits. In New Mexico, like in many other states, business owners interested in forming an LLC must file formal documents with the state government. These formal documents, often termed the "articles of organization" function as the legal foundation of the LLC.

New Mexico business owners seeking to form an LLC have several resources to help determine their obligation to submit the articles of organization. In general, New Mexico requires LLC articles of organization for any business wanting to declare itself as a new LLC operating within the state. The Secretary of State in New Mexico houses all official LLC filings, and owners may locate the proper forms and make their submission through the Secretary of State's online filing center.

One important point to note is that in New Mexico, submitting the LLC Articles of organization is a legal requirement for setting up a properly recognized LLC. An organization seeking to disregard such a step may leave the founder worried about allegations of deceptive business practices, with no actual consideration a legally recognized LLC.

To formally set up an LLC operating in the state of New Mexico, starting at the state website, potential business owners receive a quick reference guide that outlines the business laws that apply to LLCs. Additionally, anyone can embark on their business journey equipped with New Mexico formation packages to plan for your company formation prerequisites.

In addition to beginning the process taking suitable necessary in regulatory protocol, business owners should also have funds needed to pay necessary fees when filing. While the forms required to create an LLC in New Mexico typically collect basic information the owner's name, address and the business name and address of the LLC, applicants must be tactical concerning review of the statute in search of loose clauses or opportunities in legislation that may impact the future of their business model.

Starting a New Mexico LLC is also an accessible method to operate a small business. Many smaller businesses utilize this amendment to maintain autonomy and personalize management. A trade property populated within the bigger blocks, these forms of unique occupations have seen significant trends in operating a functional company that has notably connotations; exclusivity alongside achievements proving reference numbers seldom seen on said scale.

However, forming an LLC, filing Articles of Organization in New Mexico, builds an assurance about any individual-founded need. Staying within the legal guidelines provides a sure spectrum of safety that admits who outranks in prospects complying under LLC formations.

Every LLC in New Mexico must at a minimum have Articles of Organization defining operational structure and owner obligations reliable to outgoing capital. While there's not a set plan to lead New Mexico storefronts, streamlined by dependable team leaders, not lacking responsibility owing completion for each of its employees that is simply mastered through certified guidelines fashioned for corporation owners desiring regulations adhere to employment obligations. A difference in application provisions evolved from previous regulatory positioning. But it is still envisioned to follow regular approach procedures, aimed at guiding an LLC through production analysis and team analysis against market analysis in specified plans.
F.A.Qs
What is an Article of Organization?
An Article of Organization is a legal document that will officially make your LLC into existence. This document is needed specifically for New Mexico in forming an LLC business structure.
What information does an Article of Organization application need?
The application form for the Article of Organization needs to include the LLC name, date of establishment, the company's registered office, business purpose, how long the business will exist, and a copy of the LLC's name registration certificate.
What is the recommended method of filing an Article of Organization, online or by mail?
Filing by mail or in person is neither highly recommended nor required; waiting an extra week for your LLC to be approved isn't that bad. The LLC approval you send in will be returned by mail. Online filing, meanwhile, is more convenient as you won't have to stay in a queue.
In Conclusion
Articles of Organization or Certificate of Formation is the most important document for your New Mexico LLC. Before you submit/file the document make sure to provide proper and correct information about your company. If you have any questions, share that below in the comment section.