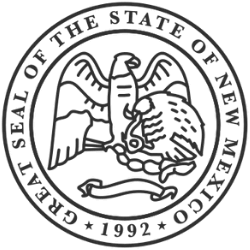 Forming an LLC requires a different business name, which must be unique and adheres to the guidelines. The great thing is New Mexico's Secretary of State page includes a name availability checker. Check out LLC Name Search to learn more.
Meanwhile, if you're interested in learning more about starting a New Mexico LLC or forming an LLC in general, you can check out How to Start an LLC.
How to Name an LLC in New Mexico
Time needed: 5 minutes
There are guidelines to follow in doing a New Mexico LLC name search. To learn more, check out LLC Naming Guidelines or read Foreign LLC Application for Registration if you're planning to register a foreign LLC.
Check Name Availability

Search the Business Entity Records in New Mexico's Official Secretary of State page to check if your chosen business name is available. You may also try typing your trademark, business, or domain name on any search engine to generate businesses with similar names and to ensure your trademark is unique and meets the state's requirements.

Check out How to File a DBA to learn more about registering a DBA or trademark. For social media pages, use Social Searcher to avoid using similar page names.

Check Domain Availability

If your business name is still available, you must register for a domain name using Namecheap, Google Workspace, or other domain name sites. So customers can easily find your business over the Internet. Use the Kinsta app to manage your domains efficiently.

File Name Reservation

A Name Reservation Certificate is required along with a Certificate of Formation. You can reserve a name online, by mail, or in-person with a $20 filing fee (plus tax for online).

File your Certificate of Formation and Name Reservation online on the Secretary of State Online Services page of New Mexico. You may also download the pdf file of the Name reservation form and submit it with the processing fee to Secretary of State Corporations Bureau Chartered Documents Division 325 Don Gaspar, Suite 300 Santa Fe, New Mexico 87501.
Guidelines to Follow in Naming LLC
Use a business name with the abbreviation "LLC" or the phrase "Limited Liability Company."
Your decided business name must not coincide with any existing government entity. Otherwise, you might have to face legal lawsuits when filing your LLC.
Use the LLC name availability checker to ensure your business name is unique.
Get a license first if you plan on using restricted words to avoid any complications.
Note that you must put adequate effort into naming your LLC because this name will be with your business for a long time. Making your LLC name unique is vital as it would prevent people from confusing your business with others, not to mention it would be easier for them to recall your business, products, or services.
How to do a New Mexico LLC Online Name Search
It is critical to choose the name of your LLC carefully. If you have a unique name for your LLC and no other business is using it, you must search it up on the New Mexico state website. Consider the following tips to learn more.
Utilize the New Mexico states' search tool for commercial entities.
New Mexico's Secretary of State will soon launch an online business directory. This tool can help you determine whether the name you're interested in purchasing is available for use by your business. It is just essential to maintain backup names in order to make the selection process easier.
Enter your name
You can perform two kinds of searches on the search page. You can look up the name of the entity or its six-digit code. It is necessary to fill the empty area with the entity's name or the number of the entity in order to start the search procedure.
Do the lookup
There are two methods for conducting a name search. Enter the keyword in the search field and then click "contains." It will list opponents in New Mexico. Additionally, you can select the "begins with" option. This will return businesses with similar names or that begin with similar terms to yours.
Searches will disclose information about a company's current state. A status may be voluntary or involuntary dissolution, or it may be in good standing. Among all conceivable statuses, only voluntary dissolution is permissible for your company's name.
How Do I Reserve an LLC Name in New Mexico
To reserve an LLC name in New Mexico you need to submit a name reservation request form to the New Mexico Secretary of State by mail or online by paying a filing fee of $20.
How Do I Reserve an LLC Name in New Mexico

Starting a business is an exhilarating experience, full of possibilities and anticipation. However, before plunging into the world of entrepreneurship, it is crucial to lay a solid foundation for your venture. One of the first steps in establishing a successful Limited Liability Company (LLC) in New Mexico is reserving a name for your business. While this may seem like a minor task, it holds considerable significance in protecting your company's identity and ensuring a smooth legal process. Understanding how to reserve an LLC name in New Mexico is essential knowledge for any aspiring business owner.

Before diving into the intricacies of the name reservation process, it is vital to comprehend the importance of a proper LLC name. Your business name is much more than a mere title; it serves as the public face of your company, capturing its essence and conveying its message. Therefore, it is worth investing time and thought into crafting a name that reflects your brand identity, values, and long-term goals.

In New Mexico, reserving an LLC name involves a relatively straightforward procedure with key aspects that need to be adhered to. First, it is necessary to confirm that the name you desire is available for registration, ensuring that it hasn't already been claimed by another business entity in the state. The office of the New Mexico Secretary of State provides an easy-to-use database that you can access online to conduct a preliminary search. Taking this initial step will save you valuable time, prevent potential conflicts, and reduce any potential stumbling blocks down the road.

Properly searching for name availability is only half the battle. Once you have ensured that your chosen name is open for reservation, the next step is submitting the necessary paperwork to secure it officially. Article three of the New Mexico Business Corporations Act specifies that an LLC name reservation is valid for a period of 120 days. However, it is crucial to note that a name reservation does not automatically establish your LLC; it merely guarantees exclusivity for the chosen name during that buffer period.

To reserve your desired LLC name, you need to formally complete the "Application for Reservation of Business Name" form, available on the Secretary of State's website. When filling out the form, be meticulous and accurate, ensuring that there are no mistakes or omissions. Additionally, paying the prescribed fee, as stated by the New Mexico Secretary of State, is mandatory.

It is essential to have patience during this process, as it may take several days to receive a response regarding the reservation's approval or rejection. Once confirmed, you will be awarded the exclusive right to use and legally protect your chosen LLC name in New Mexico.

Ensuring that your LLC name is properly registered and reserved is a vital aspect of building a strong foundation for your business. It safeguards the essence of your brand and its reputation, offering you peace of mind as you embark on your entrepreneurial journey. Appreciating the relatively simple yet crucial steps involved in reserving an LLC name in New Mexico will help you navigate the bureaucratic landscape with ease and confidence.

In conclusion, reserving an LLC name is an integral part of forming and protecting your business entity. As you begin the exciting endeavor of establishing your own LLC in New Mexico, familiarize yourself with the detailed process of name reservation. By investing time and effort into securing your desired name, you are setting the stage for a solid foundation that will firmly establish your presence in the competitive business landscape.
F.A.Qs
What is a Trade Name?
A trade name (doing business as (DBA) name) is the official name under which a proprietor or company chooses to do business.
Is having a domain name necessary?
Having a domain isn't necessary, but it is recommended. If you have a domain name, customers will find you more accessible through online means with your online website.
What if my name is unavailable?
For domestic LLC, you can simply brainstorm for another name if the one you pick is no longer available. For foreign LLC, you must think up a "fictitious name," which you'll use only in the state.
In Conclusion
LLC names are important as it is the main identity of your business. While naming your LLC make sure to choose the one that suits the nature of your business. Follow the naming guidelines before you start filing your LLC name