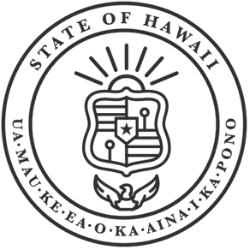 Forming an LLC requires a different business name, which must be unique and adheres to the guidelines. The great thing is Hawaii's Secretary of State page includes a name availability checker. Check out LLC Name Search to learn more.
Meanwhile, if you're interested in learning more about starting a Hawaii LLC or forming an LLC in general, you can check out How to Start an LLC.
On this page, you'll learn about the following:
How to Name an LLC in Hawaii
Time needed: 5 minutes
There are guidelines to follow in doing a Hawaii LLC name search. To learn more, check out LLC Naming Guidelines or read Foreign LLC Application for Registration if you're planning to register a foreign LLC.
Check Name Availability

Search the Business Entity Records in Hawaii's Official Secretary of State page to check if your chosen business name is available. You may also try typing your trademark, business, or domain name on any search engine to generate businesses with similar names and to ensure your trademark is unique and meets the state's requirements.

Check out How to File a DBA to learn more about registering a DBA or trademark. For social media pages, use Social Searcher to avoid using similar page names.

Check Domain Availability

If your business name is still available, you must register for a domain name using Namecheap, Google Workspace, or other domain name sites. So customers can easily find your business over the Internet. Use the Kinsta app to manage your domains efficiently.

File Name Reservation

A Name Reservation Certificate is required along with a Certificate of Formation. You can reserve a name online, by mail, or in-person with a $10 filing fee (plus tax for online).

File your Certificate of Formation and Name Reservation online on the Secretary of State Online Services page of Hawaii. You may also download the pdf file of the Name reservation form and submit it with the processing fee to the Department of Commerce and Consumer Affairs. Business Registration Division, 335 Merchant Street, P.O. Box 40, Honolulu, Hawaii 96810.
Guidelines to Follow in Naming LLC
Use a business name with the abbreviation "LLC" or the phrase "Limited Liability Company."
Your decided business name must not coincide with any existing government entity. Otherwise, you might have to face legal lawsuits when filing your LLC.
Use the LLC name availability checker to ensure your business name is unique.
Get a license first if you plan on using restricted words to avoid any complications.
Note that you must put adequate effort into naming your LLC because this name will be with your business for a long time. Making your LLC name unique is vital as it would prevent people from confusing your business with others, not to mention it would be easier for them to recall your business, products, or services.
Hawaii LLC Name Search (Online)
Naming an LLC is a vital part when it comes to starting an LLC in Hawaii. Before you name your LLC, it is necessary to check if the desired name is available to use. To check the availability of your business name online, one must visit the Hawaii Government website. Here's how you can search for your LLC name online if you are starting a Hawaii LLC.
Steps to Check LLC Names Online
Visit the Hawaii Business Express site. On the home page, you will get the option of searching LLC names. There are two ways to search for the desired business name. Enter the LLC name you desire to have. Any name that begins with the word/name can be searched.
2. As one hits the Search button, any LLC or business with similar names will appear in the search list. If there is no such name, then easily you can have the name for your LLC.
3. Another option for searching an LLC name is to mention important terms that contain in the name. Same way, you can hit the Search button to get the list of Entity names in Hawaii.
4. Once you will get the list, you can select what will be the name of your LLC. You can also build an Entity List online on the Hawaii Government website.
LLC names are the most important part while forming an LLC in Hawaii. One can read the naming guidelines in Hawaii. Depending on the guidelines, you can name your LLC. You can also file the naming request easily in Hawaii.
How Do I Reserve an LLC Name in Hawaii
To reserve an LLC name in Hawaii you need to submit a name reservation request form to the Hawaii Secretary of State by mail for $10 or online by paying a filing fee of $7.50.
First and foremost, it's important to recognize the significance of a business's name. It not only serves as an identity but also reflects its values, mission, and overall brand image. With that in mind, securing the perfect name for your burgeoning business becomes even more crucial.

To reserve an LLC name, aspiring entrepreneurs in Hawaii must navigate a straightforward process offered by the Hawaii Department of Commerce and Consumer Affairs (DCCA). Using the DCCA's Business Registration Division online portal, you can conveniently take the necessary steps from the comfort of your own home or office.

The process begins by accessing the "Business Express" page on the DCCA website. You'll find a handy search feature that helps confirm if the desired name for your LLC is available. A preliminary search is a prudent first move as it ensures your chosen name hasn't already been registered by someone else. This search eliminates any potential conflicts, confusion, or legal issues down the line, thereby streamlining the entire registration process.

Once you have completed the preliminary search, and your desired name is available, the next step is to submit a Name Reservation with the DCCA. This comprehensive online service simplifies the LLC name reservation process, saving you valuable time and resources. The reservation secures the name for 120 days, giving you ample time to finalize all the necessary paperwork and solidify your business plans.

While there is a modest $10 fee for reserving a name, it is a worthwhile investment that safeguards your chosen LLC name from being claimed by others during the four-month period. Consider it a small price to pay for securing your unique identity in the world of commerce.

Remember, however, that name reservation in and of itself is not the same as registering your LLC. During the name reservation process, you don't provide all the necessary information to fully register your business. It serves as a preliminary step, buying you time to produce required documentation and complete the actual registration process.

It's crucial to note that LLC name reservation isn't compulsory in Hawaii, but it is certainly highly recommended. By securing a name early on, you can avoid unnecessary delays and ensure that no other business interceptor dashes your plans. Furthermore, it grants you the peace of mind of knowing that your chosen name is yours and yours alone.

In conclusion, starting an LLC in Hawaii is an exciting venture, and reserving a name is an integral part of the early stages of that journey. The Hawaii DCCA provides a user-friendly online platform to help you swiftly reserve your selected name, thereby protecting your business's identity and future. With this important step out of the way, you can focus on the myriad other tasks required to turn your business aspirations into reality.
F.A.Qs
What is a Trade Name?
A trade name (doing business as (DBA) name) is the official name under which a proprietor or company chooses to do business.
Is having a domain name necessary?
Having a domain isn't necessary, but it is recommended. If you have a domain name, customers will find you more accessible through online means with your online website.
What if my name is unavailable?
For domestic LLC, you can simply brainstorm for another name if the one you pick is no longer available. For foreign LLC, you must think up a "fictitious name," which you'll use only in the state.
In Conclusion
LLC names are important as it is the main identity of your business. While naming your LLC make sure to choose the one that suits the nature of your business. Follow the naming guidelines before you start filing your LLC name