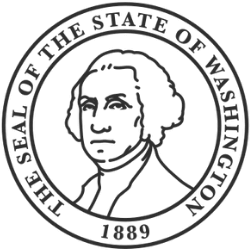 If you are forming an LLC in Washington State, then this page's content would be vital. As you learn how to start an LLC, you will realize that the bulk of your initial work and LLC cost comprises filing Washington State articles of organization, which we will elaborate on this page.
On this page, you'll learn about the following:
What Are Articles of Organization?
Articles of Organization, also known as an LLC certificate or Certificate of Formation in some states, is a document filed with the secretary of state to form an LLC.
Each state has a different requirement to fill out a form. Articles of Organization usually includes the following:
The name of the LLC,
the effective date of the LLC,
the company's principal office,
the business purpose,
the duration of the business,
a copy of the LLC's name registration certificate, and
the name and address of the registered agent, organizers, and
at least one member of the company.
You can file Articles of Organization online, by mail, or in person.
Note that the certification of formation is a legal requirement, not to mention, the core of your LLC formation. It even makes up the bulk of your Washington State LLC cost. Without it, you have no LLC. So, take the time to complete and file this certificate.
How to File Washington State Articles of Organization?
These are the simple steps to follow in filing Articles of Organization in Washington State.
Step 1: Find Forms Online
Go to the Washington State Secretary of State to download the Articles of Organization form for your LLC or to log into the online service.
Step 2: Fill Out Form
When filling out the form, you must have reserved an LLC name. Do a name search. Go to Washington State LLC Name Search to check whether your chosen business name is available to use in this state.
You must attach a copy of your Name Reservation to your filled-out Articles of Organization form when filing. You also need to nominate a registered agent. Here are 3 of the best LLC services on our list.
Step 3: File Formation Certificates
File your formation certificate either online or by mail by filling out a form and sending it to the Secretary of State Corporation Division 801 Capitol Way S P.O. Box 40234 Olympia, Washington 98504-0234.
Steps to Register Article of Organization Online
Time needed: 5 minutes.
If you want to start your business LLC in the State of Washington, the basic step is to register your Washington Limited Liability Company with the Secretary of State office. You can file either through online or offline methods. When your application is processed through online mode, you also get the benefit of immediate processing. The cost of registration is $200. The formation guide below will help you in filing your Articles of Organization application.

Access the Official website of the Washington Secretary of State

The Official website of the Secretary of State of Washington consists of an informative page dedicated to Corporations. This page provides a one-stop solution to different business filings and registrations through online mode. On this page, scroll to the heading 'Washington Limited Liability Company' and click on the first link 'File Online!'.

Login/ Create your account

The SOS Washington Corporations and Charities Filing System page will open up next. You will see a Customer login box on the screen. If you have an account on the SOS portal, then enter your User ID and Password and click on the 'Login' tab. If you do not have an account, then click on the 'Create a User Account' tab for Account Creation.

Start to file your application

Now, log in to your account on the SOS business portal. On the user homepage, select the option of "Create or Register a Business" from the toolbar. Select the type of business as "Domestic" and then select the option of "Limited Liability Company" from the list. Now, read all the instructions carefully before you start to fill in all the details in the application form. Do not leave out any mandatory information.

Review the details

Before you finalize your application, recheck all the details entered by you in the application form. Every detail should be correct and accurate to your knowledge.

Make the payment

Once you have completed your application, you can proceed to the payment gateway page. Pay $200 as the online filing fee for your application. Once you have submitted the application form successfully, you will receive a notification from the Secretary of State office confirming your application with the office.
Washington Articles of Organization Filing By Mail
If you opt for an offline method while filing your application, you can do that as well by sending your application through the mail. Follow the instructions below to file by mail.
You can access the Application forms on the Corporation page on the Washington Secretary of State website by clicking on the 'Complete Paper form' under Washington Limited Liability Company heading. You can also download the Application form PDF here.
Read all the instructions attached to the application form carefully and proceed to fill out the application form.
You can attach the name reservation certificate with the application form.
Review all the information entered by you. Do not miss out on providing details under the mandatory fields.
Issue a money order or check for $180 as the filing fee for your application, payable to the "Secretary of State". For expedited service, you can include an additional $50 in the total amount.
Arrange the documents together and mail to the address, Corporations & Charities Division, PO Box 40234 Olympia, WA 98504-0234. You can drop your application in person to the following address: Corporations & Charities Division, 801 Capitol Way S Olympia, WA 98501-1226.
Cost of Filing Articles of Organization in Washington
Though online mode is generally preferred over offline mode due to user-friendly access and easy updates. The State of Washington has different rates for registration for the different filing methods. Here is the cost of filing formation articles in Washington,
Online filing costs $200.00
By mail filing costs $180.00
Where Can You Find Your Washington LLC Articles of Organization
Articles of Organization for Washington LLC can be accessed through the Washington Corporations and Charities System. You can also download the PDF from the Washington Corporations Division website.
Starting a small business can be an overwhelming task, but it's important to get everything in order from the beginning. One of the most critical steps in establishing your new enterprise is to complete and file your LLC Articles of Organization. These legal documents formally explain how your company will operate, including information such as its name, its owners, its registered agent, its purpose, and its management structure.

If you live in Washington state and want to form an LLC, you should know how to find your Articles of Organization. These documents are public record, so you may obtain them from the Secretary of State's website. Alternatively, the business owner or their authorized representative may submit a paper request to the office that filed the original papers.

Searching for the Articles of Organization online can be a simple process. Just navigate to the Washington Secretary of State's website and enter the business name you want to research into the search function. This can turn up may documents, including the founding documents. These articles are valuable because they officially organize your company's structure and objectives, as well as laying out necessary expectations among its members.

USA.gov points out that LLC articles of organization often include the names of the company's owners or members. You may also see information about any partnerships in which the company may participate. Several layers of designations from Member(s)to Manager(s) to Officers exist in the structure and can be important to review.

Article searches should yield several kinds of documents about your LLC. Once owners and potential investors need access to the Articles subscription materials, due diligence documents, entity registers designed for corporate governance and compliance tactics and official state bank accounts complicate the complexity of locating Articles correctly. Anyone seeking to view more sensitive records other than Articles of Org can click on full records request option that lies under advanced entity search.

Once you have downloaded your LLC's Articles of Organization, it's important to ensure that they are amended when necessary. Changes like variations in company names, additional members, conversion to multi-state, and more may have taken place since Oregon Administrative agency approved current status. Altering long-standing areas like primary functions known as the business classification should require careful consultation with professional accounting or legal counsel prior deleting any operation without thoughtfully concluded changes

In general, the Articles of Organization are one of the essential legal documents upon which your entire LLC is structurally shifting. Taking care that it is correct and updated is vital to ensure that your company runs smoothly. Find it online at Washington Department of Licensing websites or through a paper request process at approved physical offices can bypass delays while applying for grants, securing finances, engaging suppliers, and begins as legal observers to professional inputs because changes affecting your LLC surely will arise, receiving them from unintended people would only lead to more complications; your LLC deserves the gold care with these foundational papers. Using these resources will enable an informed operation of your company and ensure its stakeholders are repeatedly educated on goal achievement.
F.A.Qs
What are Articles of Organization?
Articles of Organization is a legal document that will officially make your LLC into existence. This document is needed specifically for Washington State in forming an LLC business structure.
What information do the Articles of Organization application need?
The application form for the Articles of Organization needs to include the LLC name, date of establishment, the company's registered office, business purpose, how long the business will exist, and a copy of the LLC's name registration certificate.
What is the recommended method of filing Articles of Organization, online or by mail?
Filing by mail or in person is neither highly recommended nor required; waiting an extra week for your LLC to be approved isn't that bad. The LLC approval you send in will be returned by mail. Online filing, meanwhile, is more convenient as you won't have to stay in a queue.
In Conclusion
Articles of Organization or Certificate of Formation is the most important document for your Washington LLC. Before you submit/file the document make sure to provide proper and correct information about your company. If you have any questions, share that below in the comment section.