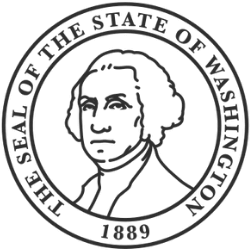 Perhaps you are hoping to form an LLC in Washington State. People assume that starting an LLC is difficult and costly. However, it's generally not difficult, and the cost would vary across states. We have all the info you need to know about the cost of forming an LLC, particularly the LLC cost in Washington State.
Washington State LLC Cost of Filing
Here are the costs involved in forming an LLC in Washington State.
Cost of Filing Formation Certificates
The Washington State Certificate of Formation is responsible for the majority of the cost, which could also vary depending on whether you're forming a domestic LLC or a foreign LLC. Still, you can file both at the Washington State Secretary of State.
Washington State Domestic LLC
Online Filing costs $200.
Annual Report filing costs $60
Name Reservation fee costs $30
By Mail: Fill out the application form, and send it to Secretary of State Corporation Division 801 Capitol Way S P.O. Box 40234 Olympia, Washington 98504-0234. Costs $180.
Washington State Foreign LLC
Online Filing costs $200.
Annual Report filing costs $60
Name Reservation fee costs $30
By Mail: Fill out the application form, and send it to Secretary of State Corporation Division 801 Capitol Way S P.O. Box 40234 Olympia, Washington 98504-0234. Costs $180.
Note that filing online is ideal, not only because you need to go to the Secretary of State office, but also it would be faster. You won't have to wait in a queue in doing so.
Washington State LLC Formation Service or Registered Agent Fee
You need a registered agent to form an LLC in Washington State, hence, added costs for service fees. Here are three of the best LLC services on our list that will provide you with registered agents to ease your worries.
Business Permits and Licenses
The business licenses depend on your business's activity and location and are renewed yearly. As such, the cost will vary. Check the Washington State Department of Revenue for regulatory boards or agencies requiring licensing.
Taxes Payable to the Washington Department of Revenue
To incorporate and register an LLC in Washington, one has to pay taxes to State & Federal Government. Some of the essential business taxes are enlisted below.
State Income Tax
As the LLC owner, you don't have to pay state tax on any amount you earn via your LLC. Businesses may have to pay a Business & Occupation tax on all the earnings in Washington. Some companies are also subjected to the public utility tax. The gross receipts drawn by the businesses define the amount of tax they have to pay.
State Sales & Use Tax
Any seller of tangible goods such as cars, electronics, etc. & any service provider company has to collect taxes at the time of the purchase and then has to pay those to the Washington Department of Revenue. The state sales & use tax rate on LLC in Washington is 6.5%.
Federal Self-Employment Tax
The Federal Self Employment Tax is often called Social Security or Medicare tax, is paid by all the LLC Business members or managers. The self-employment tax caters to the well-being of the members of the company. The Federal self-employment tax rate in Washington is 15.3%.
Federal Income Tax
The rate of the Federal Income Tax is calculated after carefully observing: your earnings, the income tax bracket your LLC falls, the deductions, & the manner/ mode of filing. Federal Income Tax is paid on all the profits your LLC makes in a year.
Employee & Employer Taxes
LLCs that have appointed several employees have to pay Employee & Employer Taxes too. The tax rate is calculated on the basis of the amount they earn, the number of employees, etc.
Cost Comparison between states
Washington shares its border with the Pacific Ocean, British Columbia, Canada. It has only two American states that share the same boundaries, namely Idaho & Oregon. Each of these states has a different rate of taxes levied on LLCs. Let us take a look at this comparative chart.
| | | | |
| --- | --- | --- | --- |
| States | Filing Fee | Annual/Biennial Fee | Sales Tax |
| Washington | $200 | $60 | 6.5% |
| Idaho | $100 | None | 6% |
| Oregon | $105 | $30 | None |
Based on the kind of industry you LLC operated in, your LLC will be liable to some other taxes & duties. You should seek regional help to verify the tax rates or business costs of registering an LLC in Washington.
Other Costs
How Much Does It Cost to Maintain an LLC in Washington
To maintain an LLC in Washington you will need to pay an annual fee of $60 along with sales & use tax at 6.5%, and federal taxes.
Maintaining an LLC in Washington may seem like an overwhelming and expensive task, but it can lead to numerous benefits that are worth your investment. There are different costs associated with having an LLC, some of which are mandatory, while others may depend on the specific needs and requirements of your business.

First and foremost, the state of Washington requires all LLCs to file an annual report, which costs about $60 per year. This report is due by the end of the month that your LLC was formed, and failure to file it can result in a late fee, as well as possible dissolution of your LLC. Additionally, you may need to file other documents with the state, such as articles of organization and operating agreements, which could incur additional fees.

Another cost to consider is the business license tax, which is based on the gross revenue of your LLC for the previous year. The annual tax rates for businesses in Washington vary depending on their respective industries, but they are typically low. Moreover, LLC owners may be required to pay the state's minimum business tax fee, which is $800 per year.

On a more local level, individual cities or counties may impose additional fees and taxes on LLCs. For example, Seattle's Business and Occupation (B&O) tax is levied on any business engaging in activities within the city limits, and rates vary based on the type of business. Other areas may have their own occupation taxes, utilities taxes, or other permits that the LLC has to apply and pay for.

Of course, various operational expenses also contribute to the overall cost of running an LLC. Depending on the size and activities of your business, one may have to bear costs for their workspace rental, advertising, bookkeeping, and tax preparation. While they can accumulate, many of these necessary expenses should be viewed as benefits to keep your business growing smooth and legally compliant.

Despite the costs, an LLC structure offers an asset protection blanket to business owners. Personal financial protection is also the main reason many entrepreneurs choose the LLC structure rather than running as a sole proprietor or a partnership. With an LLC, business assets are shielded from personal liability in a lawsuit, or some debts arising from business activities may affect the owner's investment but not the proprietor's personal accounts unless an error occurred on personal responsibilities. Another benefit of LLCs is their pass-through tax structure. An LLC itself is exempted from paying federal income tax, and instead, profits or losses on business transactions are passed onto the LLC holders, making it not a double tax on both personal and business portions.

Ultimately, correctly establishing and maintaining your LLC will provide you with ongoing legal, tax, and financial support for your business. Moreover, starting and maintaining your LLC with the assistance of a qualified accountant and legal counsel can provide you with insight and guidance on how to avoid potential costs and pitfalls, prepare the most effective financial and tax strategies, and set up your LLC growth plans at a manageable cost.

In conclusion, while there may be fixed expenses associated with running an LLC in Washington, maintaining proper annual filing and documentation and seeking financial and legal counsel will enable owners to navigate the legal and financial paperwork in the most effective and cost-smart way possible. With patience and strategic budget planning, maintaining an LLC will be a worthwhile and asset shielding experience that protects the owner's investment and personal financial planning in the long haul of their business venture.
F.A.Qs
Can I start an LLC for free?
It is possible to form an LLC without professional help, but forms still have associated costs, regardless of where your LLC is formed.
Is an LLC expensive?
It is difficult to say whether forming an LLC is expensive. Nevertheless, the cost could be anywhere from $40 to $500. If you refuse to hire professionals, you'll still have expenses like form fees to cover.
Does an LLC need a bank account?
The need to separate personal money from business funds, thus necessitating the creation of a business bank account for your LLC.
In Conclusion
The cost of Washington is much lower compared to other forms of business. Apart from the state filing fees and annual taxes, you might bear the cost of the registered agent. Compare the price of professional LLC services and choose the most affordable one.