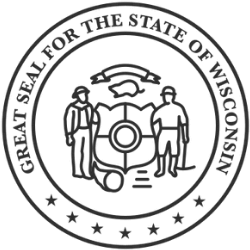 If you are forming an LLC in Wisconsin, then this page's content would be vital. As you learn how to start an LLC, you will realize that the bulk of your initial work and LLC cost comprises filing Wisconsin articles of organization, which we will elaborate on this page.
On this page, you'll learn about the following:
What is an Article of Organization?
An Article of Organization, also known as an LLC certificate or Certificate of Formation in some states, is a document filed with the secretary of state to form an LLC.
Each state has a different requirement to fill out a form. An Article of Organization usually includes the following:
The name of the LLC,
the effective date of the LLC,
the company's principal office,
the business purpose,
the duration of the business,
a copy of the LLC's name registration certificate, and
the name and address of the registered agent, organizers, and
at least one member of the company.
You can file an Article of Organization online, by mail, or in person.
Note that the certification of formation is a legal requirement, not to mention, the core of your LLC formation. It even makes up the bulk of your Wisconsin LLC cost. Without it, you have no LLC. So, take the time to complete and file this certificate.
How to File Wisconsin Articles of Organization
These are the simple steps to follow in filing an Article of Organization in Wisconsin.
Step 1: Find Forms Online
Go to the Wisconsin Department of Revenue to download the articles of organization form for your LLC or to log into the online service.
Step 2: Fill Out Form
When filling out the form, you must have reserved an LLC name. Do a name search. Go to Wisconsin LLC Name Search to check whether your chosen business name is available to use in this state.
You must attach a copy of your Name Reservation to your filled-out articles of organization form when filing. You also need to nominate a registered agent. Here are 3 of the best LLC services on our list.
Step 3: File Formation Certificates
File your formation certificate either online or by mail by filling out a form and sending it to the State of WI – Dept. of Financial Institutions P.O. Box 93348 Milwaukee, WI 53293.
File Wisconsin Articles of Organization Online
Time needed: 5 minutes.
If you want to form an LLC in Wisconsin, you are required to file for the Articles of Organization. The State website offers the option of online filing too. When applying through the online mode, it eases the overall process and helps with immediate processing as well. The guide in the following steps will help you file for the Certificate of Organization, so read below to get the info.
Visit the Official Website of the Wisconsin Department of Revenue

Go to the Business Registration portal on the Wisconsin Department of Revenue page. The website will guide you in forming an LLC in the State, in an easy online mode.

Online Registration

Scroll down to the Online Registration section. Click on the 'One Stop Business Registration' available in the second option.

Start your Business

The link will navigate you to the Wisconsin One Stop Business portal. Scroll down on the page and select the option of 'Start your Business'.

Check the boxes

On the next page, you need to tick the boxes to further access the One-Stop Business portal. Check the boxes that match your requirements, preferably select all the boxes. After selecting all the boxes, click on the 'Login/Register' tab.

Login to your Account

If you already have an account on the OSB portal, enter your login credentials and proceed to file for articles of organization of your business LLC. If you do not have an account, click on the 'Register' tab.

Register your Account

Accept the terms and conditions on the Registration page. On the self-registration page, proceed to fill in the required details and click on the 'submit' tab.

Follow the instructions

After your account has been created on the website, continue to log in with your username and password. Proceed to file for the Articles of Organization of your business LLC as directed on your User Account page. Fill in all the required information.

Review the information

Before proceeding to submit your application, review the information to be accurate and correct to your knowledge to avoid any future rejections.

Make the payment

After you complete all the details and thoroughly review your application, proceed to make the payment for the filing fee of your LLC Application.
Filing Wisconsin Articles of Organization by Mail
If you want to file the Articles of Organization by mail, then you can easily do that. By following the instructions below, one can file the Articles of Organization in Wisconsin,
Download the Application form PDF on your computer system.
Read the instructions attached to the form carefully and proceed to fill in the details.
Attach the name reservation form.
Make the check of $170 payable in the name of the Wisconsin Department of Financial Institutions.
Send the documents to the following mail address: State of WI-Department of Financial Institutions, Box 93348, Milwaukee, WI 53293.
Cost of Filing a Wisconsin Articles of Organization
It is more convenient to file an Articles of Organization online than by mail. The cost of filing an LLC in Wisconsin is slightly higher for offline filing by mail than online filing. Here is the cost of filing formation certificate in Wisconsin,
Online filing costs $130
By mail filing costs $170
Where Can You Find Your Wisconsin LLC Articles of Organization
Articles of Organization for Wisconsin LLC can be accessed through the Wisconsin Department of Financial Institutions website. You can also download the PDF from the same website.
Starting an LLC in Wisconsin is fairly easy. One essential step that you need to undertake before you can officially operate is filing your Articles of Organization. Your LLC Articles of Organization contains valuable information regarding your business, like its name, address, registered agent, and member details. On top of these, there are certain requirements that you need to adhere to when crafting your Articles of Organization details.

Every state has its special requirements when it comes to Articles of Organization for LLCs, whereas these also differ based on the type of business. Wisconsin LLCs are not exceptional; they have to come up with their own Articles of Organization that meets the state requirements. In Wisconsin, the Department of Financial Institutions handles the filing of LLC Articles of Organization. Here is an updated and comprehensive guide on how to go about obtaining your Wisconsin LLC Articles of Organization.

1. Head to the State of Wisconsin Department of Financial Institutions website.

One fact that Wisconsin residents need to be aware of is that the said articles are only available in electronic formats. You will, therefore, not find physical copies in their offices. When on the Department of Financial Institution site, you should keep an eye out for "LLC Formation HoME"; this will direct you to LLC filing information on the site. Comb through the website and find the articles of the organization link before progressing to the next step.

2. Begin your LLC Articles of Operating Period Form.

For proper organization of your records, you need to exclusively complete the LLC Articles of Organization form. Ensure that you accurately input details about your Wisonsin LLC to avoid unfavorable setbacks.

Some of the things that you consider include business name, mailing and street address, organizer and member information. Be careful precisely about providing details relating to your registered agent information; otherwise, too many inconveniences may come piled up for you. Currently, electronic filing requires LLC formation filers in the state of Wisconsin to have a signed declaration as sworn electronically to establish the LLCs, so keep an eye out.

3. Obtain your Certificate of Formation!

Once customers file their Articles of Formation; verification and further processing might take longer, or it may be completed swiftly, as a turnaround is not streamlined. Nevertheless, once you're filing is accepted and processed, you will receive a Certificate of Formation, confirming your business' legal status as operating. You can later keep or require the "plain-language" as per preferable. However, the department typically will not accept a copy of that document for review because it is associated with limited-purpose entities.

Setting up an LLC in Wisconsin is relatively straightforward but achieving individual success hinges on doing things legally. With the assistance of the State of Wisconsin Department of Financial Institution, entrepreneurs can ensure their record-keeping and legal requirements are handled reliably. Obtaining your Articles of Organization speaks ease in the formation of any business. Therefore, if you plan on starting your limited liability company, it's best you follow these simple steps and start on the right foot. With electronic processing on top, strict compliance allows convenient review by affiliated parties for registered strengths but far less intrusive access online for minimizing the risks of financial scam/immorality is crucial but thankfully enforced, even at Article, Certificate, and other levels.
F.A.Qs
What is an Article of Organization?
An Article of Organization is a legal document that will officially make your LLC into existence. This document is needed specifically for Wisconsin in forming an LLC business structure.
What information does an Article of Organization application need?
The application form for the Articles of Organization needs to include the LLC name, date of establishment, the company's registered office, business purpose, how long the business will exist, and a copy of the LLC's name registration certificate.
What is the recommended method of filing an Article of Organization, online or by mail?
Filing by mail or in person is neither highly recommended nor required; waiting an extra week for your LLC to be approved isn't that bad. The LLC approval you send in will be returned by mail. Online filing, meanwhile, is more convenient as you won't have to stay in a queue.
In Conclusion
Articles of Organization or Certificate of Formation is the most important document for your Wisconsin LLC. Before you submit/file the document make sure to provide proper and correct information about your company. If you have any questions, share that below in the comment section.