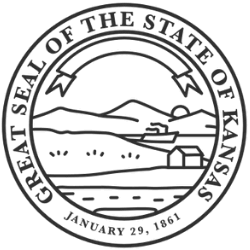 Forming an LLC requires a different business name, which must be unique and adheres to the guidelines. The great thing is Kansas's Secretary of State page includes a name availability checker. Check out LLC Name Search to learn more.
Meanwhile, if you're interested in learning more about starting a Kansas LLC or forming an LLC in general, you can check out How to Start an LLC.
How to Name an LLC in Kansas
Time needed: 5 minutes.
There are guidelines to follow in doing a Kansas LLC name search. To learn more, check out LLC Naming Guidelines or read Foreign LLC Application for Registration if you're planning to register a foreign LLC.
Check Name Availability

Search the Business Entity Records in Kansas' Official Secretary of State page to check if your chosen business name is available. You may also try typing your trademark, business, or domain name on any search engine to generate businesses with similar names and to ensure your trademark is unique and meets the state's requirements.

Check out How to File a DBA to learn more about registering a DBA or trademark. For social media pages, use Social Searcher to avoid using similar page names.

Check Domain Availability

If your business name is still available, you must register for a domain name using Namecheap, Google Workspace, or other domain name sites. So customers can easily find your business over the Internet. Use the Kinsta app to manage your domains efficiently.

File Name Reservation

A Name Reservation Certificate is required along with a Certificate of Formation. You can reserve a name online, by mail, or in person with a $30 filing fee (plus tax for online).

File your Certificate of Formation and Name Reservation online on the Secretary of State Online Services page of Kansas. You may also download the pdf file of the Name reservation form and submit it with the processing fee to the Kansas Office of the Secretary of State, Memorial Hall, 1st Floor, 120 S.W. 10th Avenue, Topeka, KS 66612.
Guidelines to Follow in Naming LLC
Use a business name with the abbreviation "LLC" or the phrase "Limited Liability Company."
Your decided business name must not coincide with any existing government entity. Otherwise, you might have to face legal lawsuits when filing your LLC.
Use the LLC name availability checker to ensure your business name is unique.
Get a license first if you plan on using restricted words to avoid any complications.
Note that you must put adequate effort into naming your LLC because this name will be with your business for a long time. Making your LLC name unique is vital as it would prevent people from confusing your business with others, not to mention it would be easier for them to recall your business, products, or services.
How To Do a Kansas LLC Online Name Search
Before you establish your LLC in Kansas, you must know if the proposed name of your LLC is unique and available to use. You can check and file the LLC name online. Here's how to do that.
Access the Business Entities Search Tool of the State of Kansas
The State of Kansas offers a Business Entity Search Station to guide you in deciding an appropriate name for your business LLC. This search tool assists you in deciding whether the proposed business name is available for use in Kansas or not. In addition, keep a list of backup names ready, so you can finalize a suitable name in a few attempts.
Name Availability
In the following section, click on the option of "name availability (check to see if a business name is available)". The link navigates to the "Kansas Business Filing Center" page. Next, scroll down and select the option of "Name Availability".
Enter the name
The Kansas Name Availability Status page will open up. Enter the proposed name of your business in the following section: "Enter Business Name". The page also links to the Naming Guidelines and restrictions page by the Secretary of State of Kansas.
Perform the Search
Search the availability of the chosen name on the website. If the proposed business name is already in use, the page will display the relevant details of the business using the same name. Conduct thorough research of the name by adhering to the name search guidelines before filing it with the Authorities to avoid any future rejection or delays.
If you are planning on taking your business online by setting up a website, you should also check if a domain name similar to your chosen business name is available for your business.
Next, if you also wish to use a Trademark for the distinct identity of your business, you can run a search on the Trademark Database of the U.S. Patent and Trademark Office to check if the chosen name is already in use by some other business entity.
How Do I Reserve an LLC Name in Kansas
To reserve an LLC name in Kansas you need to submit a name reservation request form to the Kansas Secretary of State by mail for $35 or online by paying a filing fee of $30.
In Kansas, starting your own Limited Liability Company (LLC) is a convenient and seamless process. One essential aspect involved in setting up your LLC is reserving a unique name for your business. Reserving an LLC name provides assurance that no other business in Kansas claims the same name. If you're unsure of the steps required to achieve this, the process is effortless, and this editorial recommendation shows you the process step by step.

To reserve an LLC name, visit the online portal at the Kansas Secretary of State's website. On the website, you'll find a section labeled Business Services, which will guide you directly to the Business Name Reservation form. After reading the provisions and privacy notice, tick the option 'agree' to proceed.

In the name reservation form, fill up the required sections accordingly. The applicant's full name, address, phone number, and email address must be provided in the first section. Ensure all information corresponds with your billing address as the provided information will be referenced during legal framework processes.

In the second section of the form, fill out your requested business name. You're aware that the name must be unique, and it can only be reserved in sessions of 120 days with a non-refundable filing fee of $35 in Kansas. In selecting a business name, ensure that it is relevant, easy to pronounce, memorable, and illustrates your firm's culture. Still, importantly, verify that a matching option doesn't exist already to prevent legal complications.

The third section of the form is optional. However, adding this clause helps ensure trademark infringement issues remain as low-caution as possible. If you decide to use the business name for a brand or trademark, fill the required information necessary for the priority date and the specific kind(s) of goods or services you plan to use. This section would require some legal finesse and branding strategy-mindedness.

Once complete entries are made, review the reservation name submitted to ensure there are no mistakes, typos or information that compromises prospects of registration. After all, the aspects are adequately reviewed; click on the review button to assess application.

Revenue digital forms necessitate advanced technologies to sift through hundreds of applications in reservation or submission processes. The Kansas Secretary of State guarantees a retrieval process email expectation following the deliberation sessions outcome, generally being within 24-48 hours. While all reservations variables, history of use, clarity of intended usage can affect outcomes negatively or positively, ensure you make the name application the right way from sifting through matchy-matchy business names to demanding strong keywords for prioritization in listings.

In summary, Kansas's LLC name reservation process is straightforward and doesn't require time-consuming processes. The system's common, easy-to-navigate layout enhances the confidence in applicants for name reservation. Venturing into creating your organization guarantees welcoming commerce services, if you acquaint yourself with the brief experience of the process better. The Kansas Secretary of State office equally assures customers friendly assistance should the provision of necessary aspects prove difficult to submission or encountering errors.
F.A.Qs
What is a Trade Name?
A trade name (doing business as (DBA) name) is the official name under which a proprietor or company chooses to do business.
Is having a domain name necessary?
Having a domain isn't necessary, but it is recommended. If you have a domain name, customers will find you more accessible through online means with your online website.
What if my name is unavailable?
For domestic LLC, you can simply brainstorm for another name if the one you pick is no longer available. For foreign LLC, you must think up a "fictitious name," which you'll use only in the state.
In Conclusion
LLC names are important as it is the main identity of your business. While naming your LLC make sure to choose the one that suits the nature of your business. Follow the naming guidelines before you start filing your LLC name