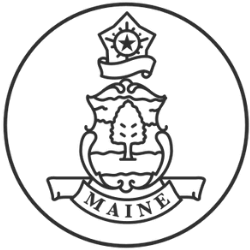 Forming an LLC requires a different business name, which must be unique and adheres to the guidelines. The great thing is Maine's Secretary of State page includes a name availability checker. Check out LLC Name Search to learn more.
Meanwhile, if you're interested in learning more about starting a Maine LLC or forming an LLC in general, you can check out How to Start an LLC.
On this page, you'll learn about the following:
How to Name an LLC in Maine
Time needed: 5 minutes.
There are guidelines to follow in doing a Maine LLC name search. To learn more, check out LLC Naming Guidelines or read Foreign LLC Application for Registration if you're planning to register a foreign LLC.
Check Name Availability

Search the Corporate Name Search in Maine's Official Secretary of State page to check if your chosen business name is available. You may also try typing your trademark, business, or domain name on any search engine to generate businesses with similar names and to ensure your trademark is unique and meets the state's requirements.

Check out How to File a DBA to learn more about registering a DBA or trademark. For social media pages, use Social Searcher to avoid using similar page names.

Check Domain Availability

If your business name is still available, you must register for a domain name using Namecheap, Google Workspace, or other domain name sites. So customers can easily find your business over the Internet. Use the Kinsta app to manage your domains efficiently.

File Name Reservation

A Name Reservation Certificate is required along with a Certificate of Formation. You can reserve a name by mail or in-person with a $20 filing fee (plus $50 for expedited services or $100 for immediate processing).

You need to file for a name reservation by mail. Download the pdf file of the name reservation form and submit it with the processing fee to the Secretary of State, Division of Corporations, UCC, and Commissions, 101 State House Station, Augusta, ME 04333.

Check Maine's online business services on the Bureau of Corporations, Elections, and Commissions website.
Guidelines to Follow in Naming LLC
Use a business name with the abbreviation "LLC" or the phrase "Limited Liability Company."
Your decided business name must not coincide with any existing government entity. Otherwise, you might have to face legal lawsuits when filing your LLC.
Use the LLC name availability checker to ensure your business name is unique.
Get a license first if you plan on using restricted words to avoid any complications.
Note that you must put adequate effort into naming your LLC because this name will be with your business for a long time. Making your LLC name unique is vital as it would prevent people from confusing your business with others, not to mention it would be easier for them to recall your business, products, or services.
Filing a Maine LLC Name Online
As a part of the process of establishing your LLC in Maine, it is important to have a suitable name for your LLC in accordance with the requirements of the State. The name of your LLC should be unique and abide by the naming guidelines issued by the Secretary of the State of Maine.
Before you establish your LLC in Maine, you must know if the proposed name of your LLC is unique and available for registration. You can check and file the LLC name online. Here's how to do that.
Steps to Search the Name of Your LLC in Maine
1. Access the Corporate Name Search Tool of the State of Maine
The State of Maine provides a Corporate Name Search Tool to help you decide the uniqueness of the proposed business entity name. This Search tool plays a significant role in helping you decide whether the chosen business name is available for registration in the State of Maine or not. You may also keep a list of other backup names ready with you, so you can finalize a name in a few attempts.
2. Enter the name
After you reach the search page, you can enter your name keywords in the dialog box displayed on the screen. Avoid the usage of identifiers such as LLC while typing the name to receive more accurate results. Maine's corporate search results are limited to 100 records; thus, you should try variations of your proposed name to ensure you receive more accurate results.
3. Perform the Search
Search the availability of the chosen name on the website. Try different variations of a similar name to check if your selected name is already in use. The search result page will display the relevant details of the business already using the same name. Conduct thorough research of the name by using the provided filters before filing it with the Authorities to avoid any rejections or delays. You can take help from the search tips offered by the State website.
If you also plan on operating your business on online platforms, you should also check if a similar domain name for your chosen business name is available or not for your business to adopt.
Last, if you intend to set up a proper Trademark for distinct identification of your business, you can run a search on the Trademark Database of the U.S. Patent and Trademark Office to check if the chosen name is already in use by some other business entity.
LLC Name Reservation
After finalizing a name for your LLC, you can file an Application for Reservation of name for up to 120 days for $20.
How Do I Reserve an LLC Name in Maine
To reserve an LLC name in Maine you need to submit a name reservation request form to the Maine Secretary of State by mail or online by paying a filing fee of $20. It can be expedited by paying an additional amount.
In the state of Maine, reserving an LLC name is a simple process that can ensure your chosen name is protected for a set period of time. This allows potential LLC owners to complete necessary filings, gather materials and prepare their business structure before officially filing for designation as a limited liability company. Here, we will explore the process guiding individuals through how to reserve an LLC name in Maine.

The first step in reserving a name for an LLC in Maine is to confirm its availability. Begin by visiting the Secretary of State website to find the Maine corporates database. There, individuals may use the name search feature to determine if a desired name is free and clear. If the business name is already in use, the Secretary of State office may require an adjustment in name or additional proof showing your requested name is distinct and set apart from other similarly used titles.

Next, you will begin the LLC name reservation request with completing the available form from the Maine Department of State Bureau of Corporations at 101 State House Station, Augusta, Maine 04333-0101. The download can be obtained and completed, or the information can be entered and submitted entirely on the corporation website. Along with submitting the completed, applicable updated form (as of May 2021 ), a $20 submission fee is required. Once this fee is paid, the requested LLC name notice is secured on record for easy resolve once the filing and designation application is completed for that LLC in the future fourteen days. Therefore, it is imperative to schedule for the document's timely payments once submitted to ensure this naming utility isn't lost or unused. Other fees you may encounter include name reservation amendments to reflect existing business entities $5, a request extension $20, and ten more days each time that new payment equaling $20 irrespective of the amendment needed. In Maine, LLC name reservation only extend by up to 120 days for obtaining respective official designation, giving ample period for filings that should follow reservation execution fully.

Lastly, consider continuing to seek the needed supporting documents for the filing procedures, what permit application may be needed, obtaining an employer identification number and more paperwork as requested by state and federal tax authorities requiring economic activities underway, as without the filed LLC documents and its statutory compliance with condition precedents suggeste under the law, the LLC name reservation is esteemed plainly useless.

So that's it — once submitted and ideally paid immediately after completing the process correctly complements the LLC naming protocol of securing it and protecting it henceforth. Also, note there aren't extensions beyond the 120 days in place, and it is not a leadership platform enabled officially. Therefore ensure those utilizing the LLC naming documents change it to that of members' relevant LLC after obtaining the name you seek per reservations authenticated permission allotted to the reserver. While naming an LLC reserve availability is awaited, significant individuals remain engaged about workflows and day-to-day implementations amidst many different otherwise engaging sector applications; the naming activities process stands mostly never disregarded. In summary, keep process details simple, straight forward, and easy to remember for your future unique naming struggles.

Overall if continually stuck while navigating naming services provided by the state, individuals should ensure guidance is first sought from a certified elder company formations' colleagues, decent attorneys, supporting accountants and best competent services sector practitioners who are reliable and possess accrued experiences fitted to secure supportive guidance in keeping LLC filings to their destined spots.
F.A.Qs
What is a Trade Name?
A trade name (doing business as (DBA) name) is the official name under which a proprietor or company chooses to do business.
Is having a domain name necessary?
Having a domain isn't necessary, but it is recommended. If you have a domain name, customers will find you more accessible through online means with your online website.
What if my name is unavailable?
For domestic LLC, you can simply brainstorm for another name if the one you pick is no longer available. For foreign LLC, you must think up a "fictitious name," which you'll use only in the state.
In Conclusion
LLC names are important as it is the main identity of your business. While naming your LLC make sure to choose the one that suits the nature of your business. Follow the naming guidelines before you start filing your LLC name