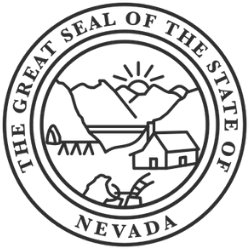 Forming an LLC requires a different business name, which must be unique and adheres to the guidelines. The great thing is Nevada's Secretary of State page includes a name availability checker. Check out LLC Name Search to learn more.
Meanwhile, if you're interested in learning more about starting a Nevada LLC or forming an LLC in general, you can check out How to Start an LLC.
On this page, you'll learn about the following:
How to Name an LLC in Nevada
Time needed: 5 minutes
There are guidelines to follow in doing a Nevada LLC name search. To learn more, check out LLC Naming Guidelines or read Foreign LLC Application for Registration if you're planning to register a foreign LLC.
Check Name Availability

Search the Business Entity Records in Nevada's Official Secretary of State page to check if your chosen business name is available. You may also try typing your trademark, business, or domain name on any search engine to generate businesses with similar names and to ensure your trademark is unique and meets the state's requirements.

Check out How to File a DBA to learn more about registering a DBA or trademark. For social media pages, use Social Searcher to avoid using similar page names.

Check Domain Availability

If your business name is still available, you must register for a domain name using Namecheap, Google Workspace, or other domain name sites. So customers can easily find your business over the Internet. Use the Kinsta app to manage your domains efficiently.

File Name Reservation

A Name Reservation Certificate is required along with a Certificate of Formation. You can reserve a name online, by mail, or in person with a $25 filing fee (plus tax for online).

File your Certificate of Formation and Name Reservation online on the Secretary of State Online Services page of Nevada. You may also download the pdf file of the Name reservation form and submit it with the processing fee to the Secretary of State, 202 North, Carson Street, Carson City, Nevada 89701-4201.
Guidelines to Follow in Naming LLC
Use a business name with the abbreviation "LLC" or the phrase "Limited Liability Company."
Your decided business name must not coincide with any existing government entity. Otherwise, you might have to face legal lawsuits when filing your LLC.
Use the LLC name availability checker to ensure your business name is unique.
Get a license first if you plan on using restricted words to avoid any complications.
Note that you must put adequate effort into naming your LLC because this name will be with your business for a long time. Making your LLC name unique is vital as it would prevent people from confusing your business with others, not to mention it would be easier for them to recall your business, products, or services.
How To Do a Nevada LLC Online Name Search
It is important to have a name for the LLC and it also needs to be according to the guidelines of the state. So, when you get a name for the LLC, you need to search on the Nevada state website if it is unique and there is no business running by that name. Look at the following points and know about them.
1. Access the Business Entity Search Tool on the Official Website of Secretary of State
The 'Businesses' page on the Nevada State website offers a Business Entity Search Tool. This tool assists you in selecting a suitable name for your business LLC. This Search tool helps you in deciding the uniqueness and availability of the name. Also, keep a list of backup names ready, so you can finalize a name for your business LLC in a few attempts.
2. Enter the name
When you get to the search page, you will see four different search options under 'Business Entity Search Criteria', i.e., Entity Name, NV Business ID Number, Officer Name, and Registered Agent Name. You can conduct the search with either of the given options. To begin the process, you need to enter the name in the first blank space under the heading 'I would like to search by'.
3. Perform the Search
To select a name, you can use different search criteria available on the page. You can also change the filters according to your needs such as starts with, contains, or exact match, or all words. An effective strategy can be to check the filter option "contains" and then type the proposed name. This way, you will get a list of all the business names that contain those particular words. Or you can also run the search with the "Starts with" filter. It will give you the list of competing business names that starts with your proposed name.
4. Advanced Search
The tool also provides an advanced search option where you can run the entity search as per your requirements after filing the primary details in the first section of the page.
5. Marks search
You can also lookup for trademarks, trade names, or service marks on the search tool page by filling in the details such as mark number, classification, goods and services, and applicant name.
If you also plan on conducting your business online through a website, you should also check if a domain name similar to your chosen business name is available or not.
How Do I Reserve an LLC Name in Nevada
To reserve an LLC name in Nevada you need to submit a name reservation request form to the Nevada Secretary of State by mail or online by paying a filing fee of $25.
To begin, when reserving an LLC name in Nevada, remember that the process ensures that no other entities can subsequently adopt the identical or deceptively similar name. It provides you with the peace of mind that your potential name will be secured. A reservation can be easily obtained by following a few key steps, without bearing significant costs or spending excessive amounts of time. It is crucial to understand that name reservations in Nevada generally last for a period of ninety days. However, it is not renewable, and you only have one opportunity to extend it within the same ninety-day period.

To reserve your desired LLC name in Nevada, you must first access the Secretary of State's official website or visit their offices physically. The website offers an online option that enables you to complete the name reservation process from the comfort of your own home or office, thus saving you valuable time and effort. Once on the website, search for the appropriate division or department responsible for managing business registrations. Usually, this department is titled something similar to "Business Portal" or "Entities Division."

Locate the section for LLC name reservation and select the corresponding link. There, you will find detailed information about the reservation process, including the necessary documents and payment details. The name reservation form should be readily available for download, typically presented in a fillable PDF format. These documents will provide you with an outline of the information that must be provided to secure the reservation successfully.

Thoroughly read the guidelines, rules, and restrictions specified on the name reservation form. Pay close attention to any specifics related to the naming of your LLC, ensuring it complies with all requirements. For instance, names must include the words "Limited-Liability Company," "Limited Company," or their corresponding abbreviations, "LLC" or "LC." Furthermore, your chosen name cannot deceive consumers or be confusingly similar to existing LLCs operating in Nevada.

Upon completion of the reservation form, carefully review all the entered information for accuracy. Double-check that your contact details are correct, allowing the Secretary of State's office to promptly get in touch with clarifications or updates if necessary. Attach any required supporting documents such as photocopies of your identification, if requested. Lastly, submit your reservation form and pay the corresponding fees, which are typically modest and reasonable.

In conclusion, reserving an LLC name in Nevada is notably uncomplicated and efficient. By following these straightforward steps and adhering to the specified guidelines, you can ensure the uniqueness and exclusivity of your chosen name. Additionally, by correctly completing and promptly submitting the reservation form, you will secure your desired LLC name and take an essential stride toward establishing your business.
F.A.Qs
What is a Trade Name?
A trade name (doing business as (DBA) name) is the official name under which a proprietor or company chooses to do business.
Is having a domain name necessary?
Having a domain isn't necessary, but it is recommended. If you have a domain name, customers will find you more accessible through online means with your online website.
What if my name is unavailable?
For domestic LLC, you can simply brainstorm for another name if the one you pick is no longer available. For foreign LLC, you must think up a "fictitious name," which you'll use only in the state.
In Conclusion
LLC names are important as it is the main identity of your business. While naming your LLC make sure to choose the one that suits the nature of your business. Follow the naming guidelines before you start filing your LLC name