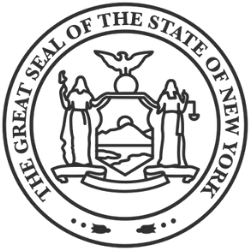 New York is one of the states where a Limited Liability Company must publish a notice for a specific period of time as soon as the LLC in New York is formed. To do so, the LLCs must follow some rules the State of New York set. In this article, you read about the New York publication requirements for an LLC. Read this guide to know the requirements in detail.
On this page, you'll learn about the following:
New York Publication Requirements
In New York, after filing the formation documents with the New York Secretary of State, every LLC has to publish a notice in the newspaper for a certain period of time. As the publication run ends, the LLC can start operating in the state. Here are the requirements for New York LLC publication,
Requirements – What to Do
Every LLC in New York has to meet the publication requirements within 120 days of forming the LLC.
This notice of LLC formation should be published for 6 weeks consecutively.
The notice should be published in two newspapers, one daily and one weekly.
After 6 weeks, both newspapers will issue a New York Certificate of Publication as proof of compliance. That certificate should be filed with the New York Secretary of State.
The filing fee is $50.
What to include in The Notice
The notice LLCs have to publish needs to have the following information,
LLC name
Name of the New York Registered Agent
Address of the Registered Agent
Address of the LLC (if it is different from the address of the registered agent or the LLC is not using a registered agent service)
Whether your LLC is a professional LLC or not.
Approved Newspapers
As mentioned above, LLCs should choose a newspaper that is approved by the New York Secretary of State. These newspapers should be legal and in circulation. There are a number of newspapers in New York to publish your notice. The newspaper should meet the following requirements,
It must be in circulation in the county your LLC is located in.
It must be published around the year every week (i.e., 52 times in one year) OR every day (i.e., 365 days in one year)
Choose your newspaper wisely to get the job done as well as save some money. You can find the list of newspapers (daily and weekly) based on counties here – New York Approved Newspapers Available for Notice Publication.
Cost of Publication in New York
New York, unlike other states, is quite expensive regarding the cost of publications. The cost can go up to $2,000 for 6 weeks of publication in 2 leading newspapers in some of the leading counties. On the other side, after the newspaper runs are done, the LLC has to file the Certificate of Publication by paying a filing fee of $50.
As the cost of publication in New York is way too much, it can be difficult for a small business to cope with the budget. In this case, LLCs can go for one option. If they hire a registered agent service that has several offices in New York State, then they can help you save some chunk of money here. There are some counties where the cost of publication is as low as $100 for 6 weeks of publication (including the issue of the publication certificate). If your registered agent has an official address in one of those counties, then you can use the address and local newspapers there to save your money.
If you want to hire a professional service for your LLC formation, you might get this service at a lesser price. You can explore the best LLC services to know about the professionals.
Expedited Fees
LLCs can expedite the process by paying additional expedited fees. In three ways LLCs can expedite the affidavit filing process,
Additional $25 per document if you want to process it within 24 hours of filing
Additional $75 per document if you want to process it within the same day of filing
Additional $150 per document if you want to process it within 2 hours of filing
Effect of Non-compliance
In New York, if an LLC fails to comply with the publication requirements, they have to face two major consequences. The first thing is that it affects their good standing which means that if they are being sued, they won't be able to use the corporate veil. That is it will be pierced.
On the other side, failing to comply with the requirements, they won't be able to sue anyone using New York Court system. They will have to wait till the publication requirements are met to do so.
After the Publication of LLC formation
Once the Notice of LLC formation is published for 6 weeks in the approved newspaper, you will receive a New York Certificate of Publication. This document is proof that you complied with the publication requirements in New York. Once you receive the Certificate, you can file it along with the form of publication to the New York Department of State. You need to download the PDF form from below, fill it up and send it to the following mailing address.
Mail to,
New York Department of State,
Division of Corporations,
One Commerce Plaza,
99 Washington Avenue,
Albany, NY 12231
FAQ
What is an LLC publication in New York?
In New York, all the LLCs have to publish a notice of LLC formation in a state-approved newspaper. It should run for six weeks consecutively. This is a mandatory requirement for all the LLCs that are formed in the state of New York.
When does LLC in New York have to publish the notice?
Within 120 days of the formation, LLCs have to go for publication. If they fail to comply, they will get another 30 days extension to get it done, or else, the LLC will be terminated.
How much does it cost to publish of LLC formation notice in New York?
The publication cost depends on the newspaper LLC is selecting. The cost can go up to $2000 on average.
Why New York Publication Requirements is So Important
New York, widely regarded as the media capital of the world, teems with publications that cover a variety of topics, from politics and business to entertainment and culture. The city's robust media landscape has nurtured a sense of healthy competition among different outlets, driving them to uphold honesty and integrity in their reporting. This keen sense of journalistic responsibility has been further fortified by the implementation of stringent publication requirements.

One of the core reasons why New York's publication requirements are so crucial is their ability to foster transparency in the city's governance. By mandating that official state and city agencies publish important documents, budgets, and legal notices in local newspapers, the government ensures that citizens have access to comprehensive information about the inner workings of their city. This inclusive approach plays an integral role in reinforcing the principles of democracy and facilitating an informed citizenry capable of making informed decisions in local elections.

Furthermore, New York's publication requirements help to ensure that an independent and objective check on governmental actions is present. It guarantees that important decisions and policy changes are not swept under the rug and remain hidden from public scrutiny. It offers a valuable safeguard against abuse of power and shady practices, fostering a sense of accountability that helps to perpetuate and re-establish trust between citizens and their elected officials.

The dissemination of crucial data and vital public information through newspapers also adds a tangible and physical aspect to this process. By providing hard copies of records in public places and libraries, New York's publication requirements extend vital information to those who may not have access to the internet or digital platforms. This inclusivity and democratically-minded approach help bridge the gap between different segments of society, enabling everyone to have equal access to essential information.

Additionally, complying with publication requirements by advertising public procurement contracts not only fosters transparency but also plays a role in bolstering local businesses and promoting economic growth. By mandating the advertisement of bidding opportunities in newspapers, the city leverages its local media outlets to spread the word among diverse businesses and ensure that the competition is fair and transparent. This approach benefits New York as a whole by minimizing corruption, encouraging a level playing field, and facilitating economic development.

In conclusion, New York's publication requirements function as a crucial pillar of transparency, accountability, and informed decision-making in our bustling metropolis. By adhering to these standards, the city guarantees that its citizens can access accurate information, verify the actions of their government, and hold elected officials accountable. Ensuring the dissemination of public information in local newspapers serves as a testament to the city's commitment to truth, democracy, and inclusivity. It remains an essential component of a flourishing media landscape, cherished not only by New Yorkers but by readers across the world who strive for honest journalism and open societies.
In Conclusion
As soon as your formation process is done, the publication must be done too. Else, you can lose your LLC in New York. It is recommended that you hire an LLC service provider to take care of all these things for you. If you have any questions do let us know by commenting below. We appreciate your suggestions and feedback.