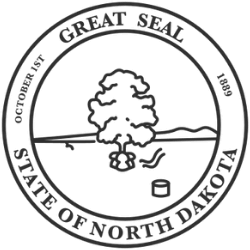 If you are forming a North Dakota LLC, then this page's content would be vital. As you learn how to start an LLC, you will realize that the bulk of your initial work and LLC cost comprises filing North Dakota articles of organization, which we will elaborate on this page.
On this page, you'll learn about the following:
What is an Article of Organization?
An Article of Organization, also known as an LLC certificate or Certificate of Formation in some states, is a document filed with the secretary of state to form an LLC.
Each state has a different requirement to fill out a form. An Article of Organization usually includes the following:
The name of the LLC,
the effective date of the LLC,
the company's principal office,
the business purpose,
the duration of the business,
a copy of the LLC's name registration certificate, and
the name and address of the registered agent, organizers, and
at least one member of the company.
You can file an Article of Organization online, by mail, or in person.
Note that the certification of formation is a legal requirement, not to mention, the core of your LLC formation. It even makes up the bulk of your North Dakota LLC cost. Without it, you have no LLC. So, take the time to complete and file this certificate.
How to File North Dakota Articles of Organization
These are the simple steps to follow in filing an Article of Organization in North Dakota.
Step 1: Find Forms Online
Go to the North Dakota Secretary of State to download the Article of Organization form for your LLC or to log into the online service.
Step 2: Fill Out Form
When filling out the form, you must have reserved an LLC name. Do a name search. Go to North Dakota LLC Name Search to check whether your chosen business name is available to use in this state.
You must attach a copy of your Name Reservation to your filled-out Article of Organization form when filing. You also need to nominate a registered agent. Here are 3 of the best LLC services on our list.
Step 3: File Formation Certificates
File your formation certificate either online or by mail by filling out a form and sending it to the Secretary of State State of North Dakota 600 E Boulevard Ave Dept 108 Bismarck, ND 58505.
Filing North Dakota Articles of Organization Online
Time needed: 5 minutes.
To operate your North Dakota Limited Liability Company, you must apply for the Articles of Organization with the Secretary of State office. The State offers both, online and offline methods of filing. When applied through online mode, your application gets the benefit of immediate processing. The filing fee for Articles of Organization in North Dakota is $135.00. The formation guide in the following steps will guide you with filing the Articles of Organization, so read on and get the info.
Visit the Official website of the North Dakota Secretary of State

Go to the North Dakota Secretary of State FirstStop portal. The State website offers a one-stop solution to different business filings and related online services. Click on the option of 'Start a Business' under the heading of 'Business'.

Start a New Business

On the next page, click on the option of 'In-State or Out-of-State'. Next, select the option of 'Yes, the business will originate in North Dakota'. Click on the 'Next Step' tab.

Define the Business Structure

In the next step, select the type of business structure as 'Limited Liability Company'. Next, select your choice of Limited Liability Company as Business LLC, Farm/ranch LLC, Nonprofit or Professional LLC. Click on the tab 'Next Step' and proceed to the next step.

Select the Online form

On the next page, click on the provided link 'Business Limited Liability Company Articles of Organization'. The login page opens us. If you already have an account on the portal, proceed to enter your login credentials and click on the 'Login' tab. If you do not have an account, read the next step to know more about it.

Create your account

On the login page, select whether you want to create a personal account or a business account. Accordingly, proceed to fill in the required details on the Create Account page, such as User ID, password, personal information, and security questions. Select all the terms and conditions on the page and click on the 'Create Account' tab.

Proceed to complete your application

After creating your account, log in to the North Dakota FirstStop portal again. Access the user homepage and select the business filing options accordingly. Follow the guidelines on the page and proceed to fill out the form as per the guidelines and instructions.

Review the application

Before you submit the application form on the portal, review all the information entered by you thoroughly to be correct and accurate.

Make the payment

On the final stage, proceed to pay $135 as a filing fee for your articles of organization with the North Dakota Secretary of State office. You will receive a notification from the State office confirming your successful completion of the form.
The North Dakota Secretary of State office does not accept offline forms anymore. The website directs you to file the application online.
Where Can You Find Your North Dakota LLC Articles of Organization
Articles of Organization for North Dakota LLC can be accessed through the North Dakota Secretary of State website. You can also download the PDF from the same website.
Aspiring entrepreneurs and small business owners aiming to expand their venture in North Dakota must start by forming an LLC, limited liability company. This legal structure offers flexibility in operation, asset protection, tax benefits, and minimizes personal liability for the business debts. In line with that, one of the essential documents to get started in LLC formation in North Dakota is the Articles of Organization.

The Articles of Organization, also known as Certificate of Formation in some states, is a document that contains basic information about the LLC. It includes the LLC's name, purpose, registered agent, initial members or managers, and filing due date, among others. Essentially, it is a legit certification that authenticates the existence and compliance of a business as an LLC in North Dakota.

For entrepreneurs wondering where to find their LLC Articles of Organization in North Dakota, the solution is fairly simple and accessible in several locations. Firstly, the North Dakota Secretary of State's office is the primary go-to resource for obtaining LLC forms online and walk-in visits. The state established an Office of Business Registration that caters to registering, modifying or dissolving businesses in the state online or physically. It provides downloadable Articles of Organization forms and various other business registration forms containing rules, procedures, and state requirements. Most importantly, they carefully outline the LLC's filing fees and crucial deadlines that ensure prompt LLC approval after successful submission. The physical North Dakota Secretary of State office consists of State of North Dakota, Secretary of State Office and State Capitol, 600 East Boulevard Ave, Bismarck, ND 58505-0500.

Entrepreneurs can also obtain their Articles of Organization through third-party legal firms or authorized business filing services. They provide reliable and efficient LLC solutions, laws, registration guidelines, and detailed information on business formalities that heavily leans on their know-how in the field. They also give entrepreneurs the luxury of having authorized professional experts handling documentation and paperwork at their comfort, and their involvement minimizes foreseeable human errors that arise from overburdening administrative tasks. However, third-party service provision depends on reliability, pricing, and efficiency in service delivery, and as such, entreprenuers should conduct proper due diligence to ensure they are dealing with reputable providers.

People can also seek business consultation services from professionals such as accountants or lawyers who specialize in business formation. They provide technical assistance, a platform to receive legal advice, and ensure LLC compliance with state laws and regulations. The consultation services, however, can be relatively costly for business accountants or legal practitioners.

In synchronicity with all the above options, entrepreneurs in North Dakota can browse and access various online legal document services tailored for backing start-up business needs. These are websites that provide forms that they source from the North Dakota Secretary of State's office but give support in filling legit forms. Most of the is advanceoptionswill come at a cost. The anonymous protection that these legal document services render has seen increased entrepreneurship opportunities in North Dakota and eased the realm of financial insecurity that comes with trying to launch a business.

In conclusion, for any entrepreneur looking to form an LLC in North Dakota, getting your Articles of Organization in our digital era is not as complicateda process as it may seem. Therefore, North Dakota entrepreneurs have an array of platforms, whether digitally or in-person, that cater to streamlining the LLC formation process. The only requirement is familiarization of State and North Dakota LLC rules in the formation of their business.
F.A.Qs
What is an Article of Organization?
An Article of Organization is a legal document that will officially make your LLC into existence. This document is needed specifically for North Dakota in forming an LLC business structure.
What information does an Article of Organization application need?
The application form for the Article of Organization needs to include the LLC name, date of establishment, the company's registered office, business purpose, how long the business will exist, and a copy of the LLC's name registration certificate.
What is the recommended method of filing an Article of Organization, online or by mail?
Filing by mail or in person is neither highly recommended nor required; waiting an extra week for your LLC to be approved isn't that bad. The LLC approval you send in will be returned by mail. Online filing, meanwhile, is more convenient as you won't have to stay in a queue.
In Conclusion
Articles of Organization or Certificate of Formation is the most important document for your North Dakota LLC. Before you submit/file the document make sure to provide proper and correct information about your company. If you have any questions, share that below in the comment section.