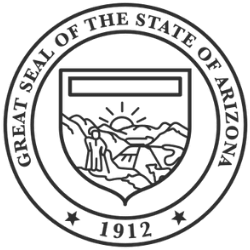 Forming an LLC requires a different business name, which must be unique and adheres to the guidelines. The great thing is Arizona's Secretary of State page includes a name availability checker. Check out LLC Name Search to learn more.
Meanwhile, if you're interested in learning more about starting an Arizona LLC or forming an LLC in general, you can check out How to Start an LLC.
On this page, you'll learn about the following:
How to Name an LLC in Arizona
Time needed: 10 minutes
There are guidelines to follow in forming an LLC. To learn more, check out LLC Naming Guidelines or read Foreign LLC Application for Registration if you're planning to register a foreign LLC.
Check Name Availability

Search the Business Entity Records in Arizona's Official Secretary of State page to check if your chosen business name is available. You may also try typing your trademark, business, or domain name on any search engine to generate businesses with similar names and to ensure your trademark is unique and meets the state's requirements.

Check out How to File a DBA to learn more about registering a DBA or trademark. For social media pages, use Social Searcher to avoid using similar page names.

Check Domain Availability

If your business name is still available, you must register for a domain name using Namecheap, Google Workspace, or other domain name sites. So customers can easily find your business over the Internet. Use the Kinsta app to manage your domains efficiently.

File Name Reservation

A Name Reservation Certificate is required along with a Certificate of Formation. You can reserve a name online, by mail, or in-person with a $45 filing fee (plus tax for online).

File your Certificate of Formation and Name Reservation online on the Secretary of State Online Services page of Arizona. You may also download the pdf file of the Name reservation form and submit it with the processing fee to 1300 W. Washington Street Phoenix, AZ 85007-2996
Guidelines to Follow in Naming LLC
Use a business name with the abbreviation "LLC" or the phrase "Limited Liability Company."
Your decided business name must not coincide with any existing government entity. Otherwise, you might have to face legal lawsuits when filing your LLC.
Use the LLC name availability checker to ensure your business name is unique.
Get a license first if you plan on using restricted words to avoid any complications.
Note that you must put adequate effort into naming your LLC because this name will be with your business for a long time. Making your LLC name unique is vital as it would prevent people from confusing your business with others, not to mention it would be easier for them to recall your business, products, or services.
How to do an Arizona LLC Online Name Search
We all know that it is so important to have a unique and distinguishable name for the LLC. Without the name, it won't be possible for customers to have good knowledge about the company. So, selecting a name can be a very tricky yet confusing process for a lot of people. But what if the name you decided was already taken by some other LLC? That can be bad.
But what if you choose some options of names and check on a prior basis if they are available or not? That can help a lot and it can also help the owner not to waste any time filing for the certificate of formation too. So here, check out how you can search for the potential names on the official website of the Secretary of State of Arizona
By name
You can search for the business entity by searching for the name. You just have to type in the potential name that you think goes well for the company. Once you do that, just press the search button and you will get the results.
By File number
You can add the file number, trademark, or partnership file number in this one. Once you fill in the file number, all you have to do is press the search option and the results would pop up.
By the name of the owner or the agent
If you select the option of owner or agent and fill in the name of the people, you will get the results of business entities that are related. You will be able to check the name of the entity and other information about it with the help of this.
Things to keep in mind
If a message about no search results pops up, then it means that the name is not being issued by any other company.
If the name you searched for brings out a result, then the name is not available for use.
If the results have similar names but not exactly what you were looking for, then the name is not unique and distinguishable at all.
How Do I Reserve an LLC Name in Arizona
To reserve an LLC name in Arizona you need to submit a name reservation request form to the Arizona Secretary State by mail, in person by paying a filing fee of $10 or online by paying $45.
One of the most crucial steps in starting your own business is the process of reserving a name for your Limited Liability Company (LLC). In Arizona, as in many other states, this is an important step that ensures your chosen business name is protected before you officially form your LLC. Understanding and mastering this process is crucial for aspiring business owners looking to establish their presence in the state.

First and foremost, it is essential for entrepreneurs in Arizona to grasp the significance of naming their LLC appropriately. The chosen name will represent the identity of the business in the marketplace and often serves as the initial point of contact with potential customers. Selecting a clear, memorable, and legally compliant name is crucial to building your brand and gaining the trust of your target audience.

To reserve your preferred name, Arizona offers a simple and straightforward process. This process can be completed either online or by mail, providing convenience and flexibility to suit an individual's needs and preferences.

Beginning with online reservations, the Arizona Corporation Commission's website serves as a convenient platform to start this process. After accessing the website, look for the 'Name Reservation Forms' section, where you will find the necessary information and documents required to reserve your desired LLC name. Generally, the application form will ask for basic details, such as the proposed LLC name, your personal information as the applicant, and the desired timeframe for the reservation.

While submitting the form, it is essential to consider a few key factors. Firstly, it is worthwhile to verify the availability of the chosen business name beforehand to ensure it hasn't been taken by another entity. Conducting a thorough search keeps you from reserving a name that may be deceptively similar to an existing LLC in Arizona. Secondly, it is vital to adhere to the guidelines outlined by the Arizona Corporation Commission regarding acceptable and unacceptable naming practices. This includes avoiding restricted words or phrases and complying with certain regulatory requirements.

If the online reservation process feels less intuitive or a hard copy application is more preferable, Arizona provides options for mail-in submissions. By visiting the Arizona Corporation Commission's website or office physically, you can obtain the necessary paperwork to complete and mail your reservation. Chances are, applicants may still be required to perform a preliminary name search to ensure its availability, since submitting an incorrect or unavailable name may lead to delays or even rejection of the reservation request.

Overall, it is best to approach the handle of an LLC name reservation in Arizona diligently and promptly. If your chosen name satisfies all legal requirements and isn't already in use, reserving it early is a prudent move to prevent others from claiming, copying, or benefiting from your well-thought-out business name. By securing a reservation, prospective business owners can proceed with confidence, knowing that their preferred LLC name is safeguarded and available to use upon formal registration.

Future entrepreneurs venturing into the world of Arizona business should equip themselves with proper knowledge of LLC name reservation procedures. Appreciating the significance of a well-chosen name, conducting necessary searches, and understanding the formalities involved paves the way for a smooth transition into owning and operating a successful business in the Grand Canyon State.
F.A.Qs
What is a Trade Name?
A trade name (doing business as (DBA) name) is the official name under which a proprietor or company chooses to do business.
Is having a domain name necessary?
Having a domain isn't necessary, but it is recommended. If you have a domain name, customers will find you more accessible through online means with your online website.
What if my name is unavailable?
For domestic LLC, you can simply brainstorm for another name if the one you pick is no longer available. For foreign LLC, you must think up a "fictitious name," which you'll use only in the state.
In Conclusion
LLC names are important as it is the main identity of your business. While naming your LLC make sure to choose the one that suits the nature of your business. Follow the naming guidelines before you start filing your LLC name