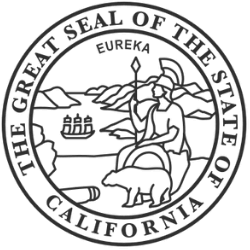 Forming an LLC requires a different business name, which must be unique and adheres to the guidelines. The great thing is California's Secretary of State page includes a name availability checker. Check out LLC Name Search to learn more.
Meanwhile, if you're interested in learning more about starting a California LLC or forming an LLC in general, you can check out How to Start an LLC.
On this page, you'll learn about the following:
How to Name an LLC in California
Time needed: 10 minutes.
There are guidelines to follow in forming an LLC. To learn more, check out LLC Naming Guidelines or read Foreign LLC Application for Registration if you're planning to register a foreign LLC.
Check Name Availability

Search the Business Entity Records in California's Official Secretary of State page to check if your chosen business name is available. You may also try typing your trademark, business, or domain name on any search engine to generate businesses with similar names and to ensure your trademark is unique and meets the state's requirements.

Check out How to File a DBA to learn more about registering a DBA or trademark. For social media pages, use Social Searcher to avoid using similar page names.

Check Domain Availability

If your business name is still available, you must register for a domain name using Namecheap, Google Workspace, or other domain name sites. So customers can easily find your business over the Internet. Use the Kinsta app to manage your domains efficiently.

File Name Reservation

A Name Reservation Certificate is required along with a Certificate of Formation. You can reserve a name online, by mail, or in-person with a $10 filing fee (plus tax for online).

File your Certificate of Formation and Name Reservation online on the Secretary of State Online Services page of California. You may also download the pdf file of the Name reservation form and submit it with the processing fee to Secretary of State Business Services P.O. Box 5616, Montgomery, California 36103-5616.
Guidelines to Follow in Naming LLC
Use a business name with the abbreviation "LLC" or the phrase "Limited Liability Company."
Your decided business name must not coincide with any existing government entity. Otherwise, you might have to face legal lawsuits when filing your LLC.
Use the LLC name availability checker to ensure your business name is unique.
Get a license first if you plan on using restricted words to avoid any complications.
Note that you must put adequate effort into naming your LLC because this name will be with your business for a long time. Making your LLC name unique is vital as it would prevent people from confusing your business with others, not to mention it would be easier for them to recall your business, products, or services.
How To Do a California Name Search Online
LLC name is one crucial part of forming an LLC in California. To continue with the name you have decided for your LLC, you need to go to the Business Entity Search website to check for the business name availability.
There are three ways you can search for business entity names online while forming a California LLC. Here are the following ways,
Search by Corporation Name
The first option you will get is to Search by "Corporation Name". In here, enter the corporation name you are looking for in the 'Search Criteria' box. You can select the 'Exact' option or 'Keyword' to find that particular name in California. Hit the 'Search' button to get the list of Entities with the same/similar names in California.
Search by LP/LLC Name
The next option to search business name is 'LP/LLC Name' search. Enter the LLC name you are searching for in the box given and hit the search button to get the list of entities with the same/similar names in the state. Like Corporation Name search, you can select whether to search by 'Exact' name, 'Keyword' or 'Begin with' the name you are looking for.
Search by Entity Number
Entity number is the unique identification number given to the formed entity in California. It is an alpha-numeric 8-digit number starting with the letter 'C'. To search by Entity Number, you have to enter the exact number to search.
In these three ways, one can go for Business Entity Search in California. Once the name search is done, you can register your LLC name in California by getting the Name Reservation Request Form.
How Do I Reserve an LLC Name in California
To reserve an LLC name in California you need to submit a name reservation request form to the California Secretary State by mail, in person or online by paying a filing fee of $10.
If you live in California and have decided to start a business, it's essential to register a Limited Liability Company (LLC) name. This way, you can begin operating under that name and ensure that nobody else can claim it. Registering an LLC name in California is a straightforward event, but there are a few steps you should follow.

The first thing you need to decide is the name that you want your LLC to have. Your business's name should be unique and cannot match another company's name or be closely confusingly identical to an existing name registered at the California Secretary of State office. To make sure you're selecting an available name, search to see if it's unique by looking through the California Secretary of State's records. They have a Business Search feature on their website under the 'Business Programs' tab. You can also try a traditional search engine or social media sites like Facebook or LinkedIn, where similar companies will typically have profiles for public confirmation.

Once you've confirmed that the name you want is available, you may secure it through the California Secretary of State's website (businessportals.sos.ca.gov). Enter the name as youwant it spelled and select yes to indicate your next move; 'when you submit online, it'll cost you $10 to reserve the name. Select the type of statement or commitment, adopted at the meeting of your local company's board of directors associated with the name reservation, you will want to file to complete the reservation.

Your name reservation is effective for 60 days after the date of registration. You must file your LLC documents before this 60 days expired. Even the documents could be submitted through online forms you found through the Business Programs tab on the California Secretary of State website or printed forms, about $85 fees apply for a mail application sent to the website address listed on those papers.

Once your submission package has been logged and processed successfully by the California Secretary of State's office, the time period might be as little as ten or close to the date of transmission. They send you back a confirmation letter, let you know that you've officially registered. Waiting for response paperwork might just be the most suspenseful moment of any innovative LLC company launching.

Opening a company in California can seem troublesome, yet naming decision-making and reservation are painless and an essential first step. Successfully register a name before launching your LLC allows you to secure your business name and make progress toward your objectives while still following California operating regulations. Ensuring the company's identity distinguishes itself from the various brand identities used every day by people having corporate titles publicly trademarked. Customers associate LLC names with various formative differences such as reputation or brand distinction, free association to better fundamental marketing behavior, specific services and products vendored, and reach, among others. It is the very cornerstone of both commerce and business representation and is our first impression. As you would suspect, great importance must be considered mindfully throughout the company identification selection process. After this ground-level linguistic performance analysis standard has been shelved, hopefully, opening your everyday working routine will come to fruition as seamlessly as possible!
F.A.Qs
What is a Trade Name?
A trade name (doing business as (DBA) name) is the official name under which a proprietor or company chooses to do business.
Is having a domain name necessary?
Having a domain isn't necessary, but it is recommended. If you have a domain name, customers will find you more accessible through online means with your online website.
What if my name is unavailable?
For domestic LLC, you can simply brainstorm for another name if the one you pick is no longer available. For foreign LLC, you must think up a "fictitious name," which you'll use only in the state.
In Conclusion
LLC names are important as it is the main identity of your business. While naming your LLC make sure to choose the one that suits the nature of your business. Follow the naming guidelines before you start filing your LLC name