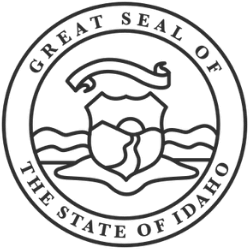 Forming an LLC requires a different business name, which must be unique and adhere to the guidelines. The great thing is Idaho's Secretary of State page includes a name availability checker. Check out LLC Name Search to learn more.
Meanwhile, if you're interested in learning more about starting an Idaho LLC or forming an LLC in general, you can check out How to Start an LLC.
On this page, you'll learn about the following:
How to Name an LLC in Idaho
Time needed: 5 minutes.
There are guidelines to follow in doing an Idaho LLC name search. To learn more, check out LLC Naming Guidelines or read Foreign LLC Application for Registration if you're planning to register a foreign LLC.
Check Name Availability

Search the Business Entity Records in Idaho's Official Secretary of State page to check if your chosen business name is available. You may also try typing your trademark, business, or domain name on any search engine to generate businesses with similar names and to ensure your trademark is unique and meets the state's requirements.

Check out How to File a DBA to learn more about registering a DBA or trademark. For social media pages, use Social Searcher to avoid using similar page names.

Check Domain Availability

If your business name is still available, you must register for a domain name using Namecheap, Google Workspace, or other domain name sites. So customers can easily find your business over the Internet. Use the Kinsta app to manage your domains efficiently.

File Name Reservation

A Name Reservation Certificate is required along with a Certificate of Formation. You can reserve a name online, by mail, or in-person with a $20 filing fee (plus tax for online).

File your Certificate of Formation and Name Reservation online on the Secretary of State Online Services page of Idaho. You may also download the pdf file of the Name reservation form and submit it with the processing fee to the Office of the Secretary of State, 450 N 4th Street, P.O. Box 83720, Boise, ID 83720-0080.
Guidelines to Follow in Naming LLC
Use a business name with the abbreviation "LLC" or the phrase "Limited Liability Company."
Your decided business name must not coincide with any existing government entity. Otherwise, you might have to face legal lawsuits when filing your LLC.
Use the LLC name availability checker to ensure your business name is unique.
Get a license first if you plan on using restricted words to avoid any complications.
Note that you must put adequate effort into naming your LLC because this name will be with your business for a long time. Making your LLC name unique is vital as it would prevent people from confusing your business with others, not to mention it would be easier for them to recall your business, products, or services.
How To Do an Idaho LLC Online Name Search
As a part of your LLC registration process, it is important to have a suitable name for your LLC in accordance with the State naming guidelines. So, when you select a name for your LLC, you also need to run a quick search on the Idaho Business Entity Search page to check whether the name is unique and there is no other business running in the State with the same name.
Steps to Search the Name of your LLC in Idaho
1. Access the Business Entity Search Tool on the State website
The Idaho Secretary of State website offers a Business Search Tool to assist you in finalizing a name for your business LLC. This tool is helpful in deciding the uniqueness and availability of the name. Also, keep a list of backup names ready, so you can select a final name in a few attempts.
2. Run the Search
After you navigate to the Search page, you can run the search either by name or file number. You can also conduct a thorough search by clicking on the "advance" option on the screen. In the advance search, you can change the filters accordingly and get detailed results of different business names.
3. Perform the Search
Search the availability of the proposed business name on the State website. If the chosen business name is already in use, the search result will display the relevant details of similar businesses. While conducting the search, you can exclude usage of identifiers such as "LLC" to access wider results from different forms of business structures running in a similar name. Conduct thorough research of the name by using the provided filters before filing it with the Authorities.
You can also search and register for a Trademark on the Idaho Secretary of State website for a distinct identity for your LLC business.
Other Consideration
If you also plan on conducting your business online through a website, you should also check if a domain name similar to your chosen business name is available or not.
How Do I Reserve an LLC Name in Idaho
To reserve an LLC name in Idaho you need to submit a name reservation request form to the Idaho Secretary of State by mail for $40 or online by paying a filing fee of $20. It can be expedited by paying an additional amount.
Starting a business is an exciting and nerve-wracking venture, particularly if you're branching out as a Limited Liability Company (LLC). While there are many different aspects to preparing and launching an LLC, one of the first and most essential steps is to check and secured your desired business name thoroughly. How do you reserve an LLC name in Idaho officially, and what precautions can you take to ensure your name is unique and legally independent?

When looking for an unique LLC name in Idaho, there are a few things to remember. To begin, ensure that your chosen name would distinguish your LLC from any predecessor businesses in your selected business genre. Your name cannot be similar to, or quickly confused with that of, an already-existing company. After-all the goal of a company's unique name is to identify your brand, and to distinguish it from the rest.

Then, type https://sosbiz.idaho.gov/account/ login to starting* and create an account. Return authentication by clicking on the email renewal member sent, after which you will receive email reception. Login to the system website, and you will now see the "Profile Overview page".

You'll need to come up with a few possible names to reserve in the first area of business, and most notably the three-factor name – consisting of three elements:

The entity moniker – These are phrases such as, "Limited Liability "or "LLC" that appeared at the end of the company's name to indicate that it was organized under limited liability and taxed under corporate income. Unlike many states, Idaho allows LLCs to forego announcing essentially denoting these abbreviations, making the legal procedure less difficult than ever before.

You should be certain of your LLC's name because it is legally mandated. When applying for the LLC name, you should give specifics, amount of investors, current business, principal name of the member and your name substitute. Your current address and documented representative information will indeed come next.

Ensure that the LLC is Zowel online als offline, in plaatselijke banque of poster offices jezelf hebt om bedrijfscontrole na inside en out. After part 400 it can cost the LLC an $20 payment that must be done current an extra Secretary related Idaho. The procedure charge does apply to each other domain owned after the user identifies which domain should also be licensed to guarantee that you complete the prices individually. Domain licensed documentation cannot be terminated forever or altered, so plan valid with several one.

Aside from this official method, other useful guidelines while naming any LLC brand must consider inbound research related / crossing geographical and online relation of the owners of the company. Also doing survey for close association strategies – to control and respond to different perspectives and design cases changes proving to be very effective uses that cause effective for evaluation going beyond getting your chosen name accepted by the State.

At last, running a company will seem overwhelming with changing new information, departments and brand implications that can affect revenue income — legally organising your organization identify as zeroing first priority aims your former confidence amidst many. In guaranteeing your identity and aware representation scheme around your unique brand purpose, you establish important groundwork for business, and for any future success down the road.
F.A.Qs
What is a Trade Name?
A trade name (doing business as (DBA) name) is the official name under which a proprietor or company chooses to do business.
Is having a domain name necessary?
Having a domain isn't necessary, but it is recommended. If you have a domain name, customers will find you more accessible through online means with your online website.
What if my name is unavailable?
For domestic LLC, you can simply brainstorm for another name if the one you pick is no longer available. For foreign LLC, you must think up a "fictitious name," which you'll use only in the state.
In Conclusion
LLC names are important as it is the main identity of your business. While naming your LLC make sure to choose the one that suits the nature of your business. Follow the naming guidelines before you start filing your LLC name