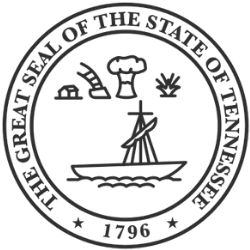 Forming an LLC requires a different business name, which must be unique and adheres to the guidelines. The great thing is Tennessee's Secretary of State page includes a name availability checker. Check out LLC Name Search to learn more.
Meanwhile, if you're interested in learning more about starting an LLC in Tennessee or forming an LLC in general, you can check out How to Start an LLC.
On this page, you'll learn about the following:
How to Name an LLC in Tennessee
Time needed: 5 minutes.
There are guidelines to follow in doing a Tennessee LLC name search. To learn more, check out LLC Naming Guidelines or read Foreign LLC Application for Registration if you're planning to register a foreign LLC.
Check Name Availability

Search the Business Entity Records in Tennessee's Official Secretary of State page to check if your chosen business name is available. You may also try typing your trademark, business, or domain name on any search engine to generate businesses with similar names and to ensure your trademark is unique and meets the state's requirements.

Check out How to File a DBA to learn more about registering a DBA or trademark. For social media pages, use Social Searcher to avoid using similar page names.

Check Domain Availability

If your business name is still available, you must register for a domain name using Namecheap, Google Workspace, or other domain name sites. So customers can easily find your business over the Internet. Use the Kinsta app to manage your domains efficiently.

File Name Reservation

A Name Reservation Certificate is required along with a Certificate of Formation. You can reserve a name online, by mail, or in-person with a $20 filing fee (plus tax for online).

File your Certificate of Formation online on the Secretary of State Online Services page of Tennessee. You may also download the pdf file of the Name reservation form and submit it with the processing fee to the Secretary of State's office at 6th FL – Snodgrass Tower ATTN: Corporate Filing, 312 Rosa L. Parks AVE, Nashville, TN 37243.
Guidelines to Follow in Naming LLC
Use a business name with the abbreviation "LLC" or the phrase "Limited Liability Company."
Your decided business name must not coincide with any existing government entity. Otherwise, you might have to face legal lawsuits when filing your LLC.
Use the LLC name availability checker to ensure your business name is unique.
Get a license first if you plan on using restricted words to avoid any complications.
Note that you must put adequate effort into naming your LLC because this name will be with your business for a long time. Making your LLC name unique is vital as it would prevent people from confusing your business with others, not to mention it would be easier for them to recall your business, products, or services.
How to Do Tennessee LLC Online Name Search
Naming any business is a vital step in establishing an LLC. The name you wish to choose needs to adhere to the guidelines along with being appealing to the consumers. Tennessee LLC name search may prove helpful in searching for the name availability. Here are the steps you can follow to search for any business name if your LLC is based in Tennessee:
Step 1: Visit Tennessee's Secretary of State's website
Step 2: The webpage displays the list of Business Services available, like 'Form or register a new business', 'Find and update a business record', and so on. Click on the 'Search business availability' option.
Step 3: A business information search page will appear. You need to fill in the details in the search tabs provided. You can also provide the control number. 'Starts with' and 'contains' options may help you in refining your search.
How Do I Reserve an LLC Name in Tennessee
To reserve an LLC name in Tennessee you need to submit a name reservation request form to the Tennessee Secretary of State by mail or online by paying a filing fee of $20.
If you are starting a new business or want to change your existing company name, you need to learn how to reserve an LLC name in Tennessee. Using an LLC name ensures that your business will be unique from other companies in the state, and helps you to avoid confusion. It also protects your personal assets from lawsuits. However, you will need to make sure that you choose a good name.

You can reserve a name online, by mail, or in person. Some name reservation forms require a fee, and others are free. Once you have a name in mind, you can use the Business Information Search to check if it is available. This tool will tell you if other companies are using the name you are looking for, and will give you information on any trademarks that are associated with the name you are choosing.

The name you choose for your company will have a significant impact on how customers view your business. It is also the first thing people will see. Your business name will be with you for a long time, so it is important to pick a good one. A unique name will make it easier for customers to remember your company.

When you decide to form an LLC in Tennessee, you will need to make sure you don't infringe on a trademark. Fortunately, the Secretary of State's business database and name search will help you find the right name.

When you do a name search, you can check on domain names, social media pages, and phone directories. In addition, you should check if the name you choose is registered in another state. Also, you can use a search engine such as Google or Yahoo to search for businesses that have similar names. Having a good name is the first step to establishing your brand in Tennessee.

To reserve an LLC name in Tennessee, you will need to fill out an Application for Reservation of Limited Liability Company Name (Form ss-4228). Forms ss-4228 are available online. You can also call the office at 312 Rosa L. Parks AVE, Nashville, TN 37243, or visit the business services section at the official secretary of state website.

The business services division of the Secretary of State offers free services to help you find the right name. You can check the name availability of your choice with the Business Information Search, or you can use the Name Availability Checker to ensure that the name you want isn't already being used by other companies.

If you decide to use an LLC to run your business, you will need to have a registered agent. A registered agent will receive correspondence on behalf of your company, and will file reports with the Secretary of State. They can be an individual or a business entity. You will need to provide your registered agent with a physical address in Tennessee. Additionally, your registered agent will need a valid Employer Identification Number from the Internal Revenue Service.
F.A.Qs
What is a Trade Name?
A trade name (doing business as (DBA) name) is the official name under which a proprietor or company chooses to do business.
Is having a domain name necessary?
Having a domain isn't necessary, but it is recommended. If you have a domain name, customers will find you more accessible through online means with your online website.
What if my name is unavailable?
For domestic LLC, you can simply brainstorm for another name if the one you pick is no longer available. For foreign LLC, you must think up a "fictitious name," which you'll use only in the state.
In Conclusion
LLC names are important as it is the main identity of your business. While naming your LLC make sure to choose the one that suits the nature of your business. Follow the naming guidelines before you start filing your LLC name