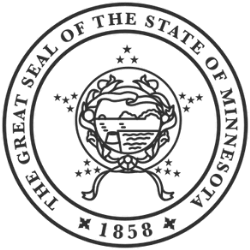 Perhaps you are hoping to form a Minnesota LLC. People assume that starting an LLC is difficult and costly. However, it's generally not difficult, and the cost would vary across states. We have all the info you need to know about the cost of forming an LLC, particularly the LLC cost in Minnesota.
On this page, you'll learn about the following:
Minnesota LLC Cost of Filing
Here are the costs involved in forming an LLC in Minnesota.
Cost of Filing Formation Certificates
The Minnesota Certificate of Formation is responsible for the majority of the cost, which could also vary depending on whether you're forming a domestic LLC or a foreign LLC. Still, you can file both at the Minnesota Secretary of State.
Minnesota Domestic LLC
Online filing costs $155
Annual Report filing costs $0
Name Reservation fee costs $55 (online) and $35 (mail)
By Mail: Fill out the Application Form PDF and submit it to the following address: Minnesota Secretary of State – Business Services Retirement Systems of Minnesota Building 60 Empire Drive, Suite 100 St Paul, MN 55103, costs $135
Minnesota Foreign LLC
Online filing costs $205
Annual Report filing costs $0
Name Reservation fee costs $55 (online) and $35(mail)
By Mail: Fill out the Application Form PDF and submit it to the following address: Minnesota Secretary of State – Business Services Retirement Systems of Minnesota Building 60 Empire Drive, Suite 100 St Paul, MN 55103, costs $185
You can visit the Official Secretary of State of Minnesota website to learn more about Business Forms and Fees.
Note that filing online is ideal, not only because you need to go to the Secretary of State office, but also it would be faster. You won't have to wait in a queue in doing so.
Minnesota LLC Formation Service or Registered Agent Fee
You need a registered agent to form an LLC in Minnesota, hence, added costs for service fees. Here are three of the best LLC services on our list that will provide you with registered agents to ease your worries.
Business Permits and Licenses
The business licenses depend on your business's activity and location and are renewed yearly. As such, the cost will vary. Check the Minnesota Department of Revenue for regulatory boards or agencies requiring licensing.
Minnesota LLC Taxes to be Paid
Though the annual report filing in the State of Minnesota is free of cost, the LLCs in the State are subject to different State Tax filing obligations. Though the taxes vary from county to county.
Minnesota State Income Tax
This is the State Tax levied on any income you pay to yourself. The tax rate varies between 5.35% to 9.85%, depending on the total amount of taxable income.
Minnesota Sales Tax
The standard rate of sales tax applicable is at the rate of 6.875% and after the addition of local taxes, the rate can go as high as 8.375%.
Minnesota Federal Self- Employment tax
Any profit that Minnesota LLC Business members draw out from the business is liable to pay self-employment tax. The standard tax rate is 15.3%.
Employer Payroll Tax Withholding
If you hire employees in Minnesota, you must withhold payroll tax from their salaries. The standard rate of withholding is 7.65% of the taxable salary of the employees.
Cost Comparison among States
Every state has different costs of filing for an LLC to their respective State Authorities. If you wish to gain a better understanding of the costs of opening an LLC in a different state in comparison to Minnesota, read the table below:
| | | | |
| --- | --- | --- | --- |
| State | Filing Fee | Annual Fee/Biennial Fee | Sales Tax |
| Minnesota LLC | $135 (mail)$155 (online) | $0 | 6.875% |
| Wisconsin LLC | $130 (online)$170 (mail) | $25 | 5.00% |
| North Dakota LLC | $135 | $50 (annual) | 5.00% |
| Iowa LLC | $50 | $45 (online) (biennial)$60 (mail) (biennial) | 6.00% |
| South Dakota LLC | $150 | $50 (annual) | 4.50% |
The State of Minnesota's economy has flourished in the previous decade with impressive wealth and low poverty rates. The major contributing industries are agriculture, manufacturing, and mining.
Other Costs
How Much Does It Cost to Maintain an LLC in Minnesota
To maintain an LLC in Minnesota you do not need to pay an annual fee. However, state income tax at 5.35% to 9.85%, sales tax at 6.875% and federal taxes are levied.
Maintaining a Limited Liability Company (LLC) in Minnesota is not an insignificant expense, and understanding the costs involved can help in planning and budgeting for your business. While some costs are required by law, others may be optional or depend on specific needs of your business.

One of the required costs is the annual fee paid to the Minnesota Secretary of State for registering and maintaining your LLC. The fee is assessed based on your company's net income and may vary year-to-year. There is also a one-time filing fee at the time of formation of your LLC.

Other required costs include taxes, licenses, permits and insurance. As a business owner, it is critical to make sure these are paid on time to avoid penalties and legal actions.

In addition, there may be other ongoing costs that your business may choose to invest in for added benefit. These can include accounting, legal services, website maintenance, marketing, and professional development for employees. It is important to budget for these costs and work with experienced professionals to ensure a positive return on investment for your business.

One factor that can influence the cost of maintaining your LLC is if it has other owners or partners. This is because agreements must be established between the owners, clearly defining roles, responsibilities, and profit distributions, which will incur legal and consultation fees. It is important that addresses the needs and goals of all parties to minimize potential disputes or even dissolution down the road.

Another factor that impacts the cost is the nature and location of your business. While some states have higher ongoing maintenance requirements or fees for an LLC, others may have lower requirements/ fees, leading to differences in the overall cost of an LLC. Additionally, the size and complexity of your business can drive increases in ongoing expenses.

All businesses are different, thus the cost of maintaining an LLC can differ drastically. The financial regulations mandate several mandatory payments. In an LLC, it is of utmost significance to allocate and account for expenses right from its foundation. Careful planning of these costs should be included from the company's formation to the retirement. Failing to account for the tax and maintenance expenses could expose your company to spiraling expenses, which grow out of control over time, therefore deflating the bottom line properly forecasted.

In conclusion, considering all overhead expenses helps ensure the financial viability of your LLC throughout its lifecycle. From creating a reasonable budget to making funds available for expenses, managing ongoing and unexpected costs can help less the chance of stumbling at the next level of the business. The relevance of the different expenses, such as accounting and license maintenance, depends usually on the size and sequence of the business activities. There are a lot of collaborations between filing paperwork, tackling taxes, handling legal fees, administrative, and even publication fees. So the topmost priority is developing and equilibrium of all expense budgeting. By understanding and preparing for expenditure heads, entrepreneurs can ensure the long-term financial success of their business in Minnesota.
F.A.Qs
Can I start an LLC for free?
It is possible to form an LLC without professional help, but forms still have associated costs, regardless of where your LLC is formed.
Is an LLC expensive?
It is difficult to say whether forming an LLC is expensive. Nevertheless, the cost could be anywhere from $40 to $500. If you refuse to hire professionals, you'll still have expenses like form fees to cover.
Does an LLC need a bank account?
The need to separate personal money from business funds, thus necessitating the creation of a business bank account for your LLC.
In Conclusion
The cost of Minnesota is much lower compared to other forms of business. Apart from the state filing fees and annual taxes, you might bear the cost of the registered agent. Compare the price of professional LLC services and choose the most affordable one.