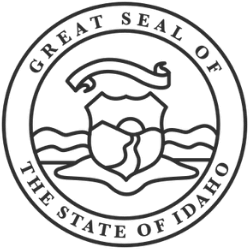 Perhaps you are hoping to form an Idaho LLC. People assume how to start an LLC is difficult and costly. However, it's generally not difficult, and the cost would vary across states. We have all the info you need to know about the cost of forming an LLC, particularly the LLC cost in Idaho.
On this page, you'll learn about the following:
Idaho LLC Cost of Filing
Here are the costs involved in forming an LLC in Idaho.
Cost of Filing Formation Certificates
The Idaho Certificate of Formation is responsible for the majority of the cost, which could also vary depending on whether you're forming a domestic LLC or a foreign LLC. Still, you can file both at the Idaho Secretary of State.
Idaho Domestic LLC
Online Filing costs $100
Annual Report filing costs $0 (online filing)
Name Reservation Fee costs $20
By mail: Fill out the Application Form PDF, and submit it to the following address: Office of the Secretary of State, 450 N 4th Street, P.O. Box 83720, Boise, ID 83720-0080, costs $120
Idaho Foreign LLC
Online Filing costs $100
Annual Report Filing costs $0 (online filing)
Name Reservation Fee costs $60
By mail: Fill out the Application Form PDF, and submit it to the following address: Office of the Secretary of State, 450 N 4th Street, P.O. Box 83720, Boise, ID 83720-0080, costs $120
Visit the Official Idaho Secretary of State website to learn more about the Business Entity Filings. You can also access the File Paper Forms section on the Secretary of State website to access the forms you wish to submit via mail.
Note that filing online is ideal, not only because you need to go to the Secretary of State office, but also it would be faster. You won't have to wait in a queue in doing so.
Idaho LLC Formation Service or Registered Agent Fee
You need a registered agent to form an LLC in Idaho, hence, added costs for service fees. Here are three of the best LLC services on our list that will provide you with registered agents to ease your worries.
Business Permits and Licenses
The business licenses depend on your business's activity and location and are renewed yearly. As such, the cost will vary. Check the Idaho Department of Revenue for regulatory boards or agencies requiring licensing.
Idaho LLC Taxes to be Paid
Though the annual report filing in the State of Idaho is free of cost, the LLCs in the State are subject to different State Tax filing obligations. Though the taxes vary from county to county.
Idaho Sales Tax Rate
The standard rate of sales tax applicable is at the rate of 6.00% and the maximum local or county rate that applies additionally is 3.00%.
Idaho State Income Tax
This is the State Tax levied on any income you pay to yourself. The tax rate varies between 1.125% to 6.925%, depending on the total amount of taxable income.
Federal Self Employment Tax
Any profit that an Idaho LLC Business members draw out from the business is liable to pay self-employment tax. The standard tax rate is 15.3%.
Employer Payroll Tax Withholding
If you hire employees in Idaho, you must withhold payroll tax from their salaries. The standard rate of withholding is 7.65% of the taxable salary of the employees.
Cost Comparison Among States
Every state has different costs of filing for an LLC to their respective State Authorities. If you want to get a better understanding of the costs of opening an LLC in a different state in comparison to Idaho, read the table below:
| | | | |
| --- | --- | --- | --- |
| State | Filing Fee | Annual Fee/Biennial Fee | Sales Tax |
| Idaho LLC | $100 (online)$120 (mail) | $0 | 6% + local county rates |
| Washington LLC | $200 | $60 (annual) | 6.5% + local county rates |
| Oregon LLC | $100 | $100 (annual) | 0% |
| Nevada LLC | $425 | $350 (annual) | 4.6% + local county rates |
| Montana LLC | $70 | $20 (annual) | 0% |
The State of Idaho has seen significant economic growth in recent years. The major contributing sectors are science and technology such as computers, recreational, and innovation. Other sectors include manufacturing, energy, and food production.
Other Costs
How Much Does It Cost to Maintain an LLC in Idaho
To maintain an LLC in Idaho you do not need to pay an annual fee. However, state income tax at 1.125% to 6.925%, sales tax and federal taxes are levied.
Maintaining a Limited Liability Company (LLC) in Idaho can be daunting not just for beginners but also for experienced business owners. Most businesses opt for the LLC model due to its benefits, including protection against personal liability, tax advantages, and flexibility. Still, there's an overriding need to keep costs in check to ensure profitability. Here is an outline of some key factors to consider while determining the cost of maintaining an LLC in Idaho:

The first cost to establish an LLC in Idaho is the filing fee, which costs $100. Filings can be done online, and the application takes 30 minutes to complete. Some additional paperwork may be necessary depending on your business's industry, including licenses, permits, and registrations. Together these costs will run higher for companies that operate in specialized industries and have unique requirements.

While Idaho doesn't require companies to hire a registered agent, many opt for one to avoid the legal paperwork to be accessible to business owners and operators during business hours. These services can vary from several hundred dollars a year up to a few thousand. Similarly, businesses may choose to hire accounting and bookkeeping services to help keep their finances organized. These services can cost from a few hundred to several thousand dollars per year based on your needs.

Another important cost to consider is liability insurance, which is compulsory for all Idaho-based Limited Liability Companies. Liability coverage doesn't only protect businesses in case of damage, accidents, or injury suits, it also fulfills legal obligations companies must fulfill when operating in the United States. Premiums on liability insurance typically range between $500 to $1,000 annually.

Finally, Idaho Limited Liability Companies might have expense guidance if, as part of the company's finances, loans are dealt with or employees receive pay. With online payroll software, handling both observations is employed. The payroll cost for an LLC in Idaho is assumed extravagantly, doing accurate payroll functions properly, which one has to expect up to a few hundred dollar-wide-ranging and depending on how much labor is managed.

Overall, the cost of maintaining an LLC In Idaho can range broadly, with operating businesses finding that cost can escalate if care isn't taken while handling structural expenses. That being the case, a safer bargain will provide compliance consultation to minimizes any inconveniences in accordance with the registered area's codified litigation.

In conclusion, maintaining a LLC in Idaho can involve a range of costs depending on industry, gross revenue, and required services. While incorporation processes and insurance and permit requirements are an initial outlay, for any reliable company successes and profitability sustained coverage and support aren't always within charity budget-wise while bringing good practices to keep the controls. Smart business owners maintaining the LCC model in Idaho must balance the costs with additional state-, county- and city-specific obligations, keeping a long view concerning growth opportunities for emergent success and longevity assurance.
F.A.Qs
Can I start an LLC for free?
It is possible to form an LLC without professional help, but forms still have associated costs, regardless of where your LLC is formed.
Is an LLC expensive?
It is difficult to say whether forming an LLC is expensive. Nevertheless, the cost could be anywhere from $40 to $500. If you refuse to hire professionals, you'll still have expenses like form fees to cover.
Does an LLC need a bank account?
The need to separate personal money from business funds, thus necessitating the creation of a business bank account for your LLC.
In Conclusion
The cost of Idaho is much lower compared to other forms of business. Apart from the state filing fees and annual taxes, you might bear the cost of the registered agent. Compare the price of professional LLC services and choose the most affordable one.