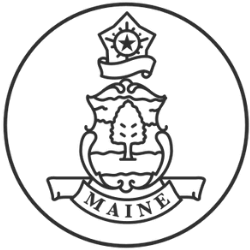 Perhaps you are hoping to form a Maine LLC. People assume that starting an LLC is difficult and costly. However, it's generally not difficult, and the cost would vary across states. We have all the info you need to know about the cost of forming an LLC, particularly the LLC cost in Maine.
On this page, you'll learn about the following:
Maine LLC Cost of Filing
Here are the costs involved in forming an LLC in Maine.
Cost of Filing Formation Certificates
The Maine Certificate of Formation is responsible for the majority of the cost, which could also vary depending on whether you're forming a domestic LLC or a foreign LLC. Still, you can file both at the Maine Secretary of State.
Maine Domestic LLC
Maine Foreign LLC
Note that filing online is ideal, not only because you need to go to the Secretary of State office, but also it would be faster. You won't have to wait in a queue in doing so. Unfortunately, there is no online filing in Maine.
Maine LLC Formation Service or Registered Agent Fee
You need a registered agent to form an LLC in Maine, hence, added costs for service fees. Here are three of the best LLC services on our list that will provide you with registered agents to ease your worries.
Business Permits and Licenses
The business licenses depend on your business's activity and location and are renewed yearly. As such, the cost will vary. Check the Maine Department of Revenue for licenses required for certain types of businesses.
Maine LLC Taxes to be Paid
In Maine, other than the filing fee, LLCs have to pay some taxes. Overall, the tax burden on LLCs is much lesser than the other corporates. Here are some of the taxes to be paid when you are in Maine.
Sales and Use Tax
The State of Maine imposes a sales tax at the standard rate of 5.50% with no additional local or county rates. If your business includes products selling, the sales tax is imposed on the total amount of your taxable sales.
State Income Tax
Any money that you pay to yourself in the form of salary as a business owner in Maine, you will be required to pay State Income Tax at the rate of 5.8% to 7.15%, depending on the amount of income earned.
Employer Tax
If you hire employees in the State of Maine, you are required to register for Employee Withholding Tax on behalf of your employees.
Federal Self-Employment Tax
The LLC business owners in Maine are required to pay self-employment tax on their business profits. The current tax rate for self-employment is 15.3%.
Other Costs
How Much Does It Cost To Maintain An Llc In Maine
To maintain an LLC in Maine you will need to pay an annual fee of $85 along with sales tax at 5.5%, income tax at 5.5% to 7.15% and federal taxes.
If you want to start a business in Maine, you may be wondering how much does it cost to maintain an LLC. There are various fees associated with starting and maintaining a business in the state, and the costs vary depending on the industry, location, and business activity.

Most entrepreneurs know that the state requires a certain fee when forming an LLC, but not everyone knows about the additional costs that are involved. If you don't pay your annual report, you could lose the legal status of your LLC. In addition, you might have to pay taxes, such as self-employment taxes. These fees can be very expensive, and failing to pay them can jeopardize the health of your business.

One of the best ways to avoid unnecessary fees is to form your LLC through a company that handles all of your filings and maintenance. Many companies offer a variety of services, including the yearly renewal of your LLC, and provide compliance assistance. Depending on the type of business you plan to operate, you may need to hire a professional to manage your licenses and paperwork. The fees can be steep, but the services you receive will help ensure that your company meets all of the state's regulations.

A Maine LLC needs to file an Annual Report, which must be filed by June 1. This report consists of two parts. First, you will need to submit your Certificate of Formation to the Secretary of State. Next, you will need to name a registered agent. You can choose to have your own attorney do this for you, or you can find a commercial registered agent service to handle the process. It is important to have a registered agent available during normal business hours, so that they can respond to state notices.

Another important aspect of an LLC is an Operating Agreement. An Operating Agreement is a legal document that details your business's activities, management, and ownership. Not only does an Operating Agreement help protect your limited liability, it also helps define the responsibilities of your members. Having a written agreement also enables you to resolve disagreements with other members of the LLC, should the need arise.

If you're planning on running a professional service, such as a doctor or lawyer, you will need to obtain a license from the state. Business licenses and tax rates are determined by the type of industry you operate in. To find out more about the state's business tax requirements, visit the Department of Revenue's website.

As with many businesses, your Maine LLC may need to renew its business license each year. Each industry has specific requirements for license renewals. If you're not sure how to apply for a license, check with your local municipal government. They will be able to tell you which types of licenses are required and how to pay for them. However, some businesses do not need to have a license.

The Maine LLC cost is relatively low compared to other corporate entities. But if you're looking to expand your business, or you need to add employees, you might need to pay for more business permits and licenses.
F.A.Qs
Can I start an LLC for free?
It is possible to form an LLC without professional help, but forms still have associated costs, regardless of where your LLC is formed.
Is an LLC expensive?
It is difficult to say whether forming an LLC is expensive. Nevertheless, the cost could be anywhere from $40 to $500. If you refuse to hire professionals, you'll still have expenses like form fees to cover.
Does an LLC need a bank account?
The need to separate personal money from business funds, thus necessitating the creation of a business bank account for your LLC.
In Conclusion
The cost of Maine is much lower compared to other forms of business. Apart from the state filing fees and annual taxes, you might bear the cost of the registered agent. Compare the price of professional LLC services and choose the most affordable one.