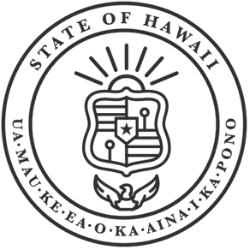 Perhaps you are hoping to form a Hawaii LLC. People assume how to start an LLC is difficult and costly. However, it's generally not difficult, and the cost would vary across states. We have all the info you need to know about the cost of forming an LLC, particularly the LLC cost in Hawaii.
On this page, you'll learn about the following:
Hawaii LLC Cost of Filing
Here are the costs involved in forming an LLC in Hawaii.
Cost of Filing Formation Certificates
The Hawaii Certificate of Formation is responsible for the majority of the cost, which could also vary depending on whether you're forming a domestic LLC or a foreign LLC. Still, you can file both at the Hawaii Secretary of State.
Hawaii Domestic LLC
Online filing costs $50
Annual Report filing costs $12.50
Name Reservation fee costs $10
By mail: Fill out the Application form PDF, and submit it to the following address: Business Registration Division, 335 Merchant Street, P.O. Box 40, Honolulu, Hawaii 96810
Hawaii Foreign LLC
Online filing costs $50
Annual Report filing costs $12.50
Name Reservation fee costs $10
By mail: Fill out the Application form PDF, and submit it to the following address: Business Registration Division, 335 Merchant Street, P.O. Box 40, Honolulu, Hawaii 96810
Visit the Official Hawaii of State Hawaii Business Express website to learn more about business services and forms and fees.
Note that filing online is ideal, not only because you need to go to the Secretary of State office, but also it would be faster. You won't have to wait in a queue in doing so.
Hawaii LLC Formation Service or Registered Agent Fee
You need a registered agent to form an LLC in Hawaii, hence, added costs for service fees. Here are three of the best LLC services on our list that will provide you with registered agents to ease your worries.
Business Permits and Licenses
The business licenses depend on your business's activity and location and are renewed yearly. As such, the cost will vary. Check the Hawaii Department of Revenue for regulatory boards or agencies requiring licensing.
Hawaii LLC Taxes to be Paid
The business LLCs in the State are subject to different State Tax filing obligations. Though the taxes may vary from county to county.
Hawaii State Income Tax
This is the State Tax levied on any income you pay to yourself. The tax rate varies between 1.4% to 8.25%, depending on the total amount of taxable income.
Hawaii Sales Tax
Hawaii does not have a sales tax. Instead, it has a General Excise Tax (GET) which is fixed differently for different sales activities, such as 0.15% for Insurance commission, 0.5% for wholesaling, manufacturing, producing, wholesaling, and 4% for all others.
Hawaii Federal Self-Employment Tax
Any profit that a Hawaii LLC Business members draw out from the business is liable to pay self-employment tax. The standard tax rate is 15.3%.
Hawaii LLC Employer Payroll Tax Withholding
If you hire employees in Hawaii, you must withhold payroll tax from their salaries. The standard rate of withholding is 7.65% of the taxable salary of the employees.
Cost Comparison Among States
Every state has different costs of filing for an LLC to their respective State Authorities. If you want to get a better understanding of the costs of opening an LLC in a different state in comparison to Hawaii, read the table below:
| | | | |
| --- | --- | --- | --- |
| State | Filing Fee | Annual Fee/Biennial Fee | Sales Tax |
| Hawaii LLC | $50 | $12.50 (Annual) | Varying General Excise Tax |
| Alaska LLC | $250 | $100 (Biennial) | 0% |
| Oregon LLC | $100 | $100 (Annual) | 0% |
| California LLC | $70 | $800 (Annual) | 7.25% |
| Washington LLC | $200 | $60 (Annual) | 6.5% |
Tourism is the largest contributing sector to Hawaii's economy. Other major industries include service, transportation, retail trade, healthcare, and education.
Other Costs
How Much Does It Cost to Maintain an LLC in Hawaii
To maintain an LLC in Hawaii you will need to pay an annual fee of $12.50 along with income tax at 1.4% to 8.25%, general excise tax at 9% and federal taxes.
Maintaining a limited liability company, or LLC, can be an added cost for small business owners in Hawaii. The cost of maintaining the LLC depends on several factors, including the type of company, size of the business, and state where it operates. Nevertheless, it is important to understand that the cost of maintaining an LLC can vary significantly, depending on different factors and business needs.

One of the most significant costs of maintaining an LLC in Hawaii is the annual filing fee with the state. In Hawaii, LLCs need to file an annual report with the state's Department of Commerce and Consumer Affairs Business Registration Division. For small businesses with limited financial targets, the cost of filing an annual report may represent a considerable deduction from the business budget. It is important to remember, however, that failure to file the annual report in Hawaii on time results in penalties and fines that may outweigh an annual filing fee.

Another possible cost associated with maintaining an LLC in Hawaii concerns taxes. As LLCs are not taxed on a federal level, they still face state-level taxes in certain jurisdictions such as Hawaii. On the island, Hawaii-based LLCs are required to pay taxes based on their business income earned in the state. The flat tax rate for an LLC with annual revenue of up to $100,000 ranges from 4.4 to 6.4 percent, depending on revenue brackets.

The cost of seeking professional help to manage the bookkeeping and accountancy aspects of owning an LLC can be an added expense worth considering. Accountants and bookkeepers can provide benefits to new businesses struggling with startup activities such as tax filings in Hawaii. They can provide helpful financial guidance, making the process of accounting and bookkeeping smoother overall. Utilizing their help may help a business owner avoid penalties for missed filings and costly oversights.

LLC owners should also consider the cost of purchasing umbrella or excess liability insurance, in order that the LLC is better, uniquely protected against business litigation as many environments overlap in the Hawaiian islands. Even though LLCs often enjoy some insulation against player's lawsuits against other lines of business besides property, without the addition of excess insurance requiring significant hiring and research.

In summary, costs connected to maintaining an LLC in Hawaii can range from minimal fees such as the annual filings to significant expenses. Small business owners need to consider various factors such as their unique business needs and get advice from trusted consultants. By keeping up to date with annual fee filings and building themselves a practical back of financial knowledge, they can take proactive, confident steps towards maintaining an LLC and make sure they are not closing doors— but opening many instead.
F.A.Qs
Can I start an LLC for free?
It is possible to form an LLC without professional help, but forms still have associated costs, regardless of where your LLC is formed.
Is an LLC expensive?
It is difficult to say whether forming an LLC is expensive. Nevertheless, the cost could be anywhere from $40 to $500. If you refuse to hire professionals, you'll still have expenses like form fees to cover.
Does an LLC need a bank account?
The need to separate personal money from business funds, thus necessitating the creation of a business bank account for your LLC.
In Conclusion
The cost of Hawaii is much lower compared to other forms of business. Apart from the state filing fees and annual taxes, you might bear the cost of the registered agent. Compare the price of professional LLC services and choose the most affordable one.