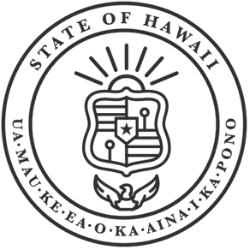 Perhaps you are hoping to form a Hawaii LLC. People assume how to start an LLC is difficult and costly. However, it's generally not difficult, and the cost would vary across states. We have all the info you need to know about the cost of forming an LLC, particularly the LLC cost in Hawaii.
On this page, you'll learn about the following:
Hawaii LLC Cost of Filing
Here are the costs involved in forming an LLC in Hawaii.
Cost of Filing Formation Certificates
The Hawaii Certificate of Formation is responsible for the majority of the cost, which could also vary depending on whether you're forming a domestic LLC or a foreign LLC. Still, you can file both at the Hawaii Secretary of State.
Hawaii Domestic LLC
Online filing costs $50
Annual Report filing costs $12.50
Name Reservation fee costs $10
By mail: Fill out the Application form PDF, and submit it to the following address: Business Registration Division, 335 Merchant Street, P.O. Box 40, Honolulu, Hawaii 96810
Hawaii Foreign LLC
Online filing costs $50
Annual Report filing costs $12.50
Name Reservation fee costs $10
By mail: Fill out the Application form PDF, and submit it to the following address: Business Registration Division, 335 Merchant Street, P.O. Box 40, Honolulu, Hawaii 96810
Visit the Official Hawaii of State Hawaii Business Express website to learn more about business services and forms and fees.
Note that filing online is ideal, not only because you need to go to the Secretary of State office, but also it would be faster. You won't have to wait in a queue in doing so.
Hawaii LLC Formation Service or Registered Agent Fee
You need a registered agent to form an LLC in Hawaii, hence, added costs for service fees. Here are three of the best LLC services on our list that will provide you with registered agents to ease your worries.
Business Permits and Licenses
The business licenses depend on your business's activity and location and are renewed yearly. As such, the cost will vary. Check the Hawaii Department of Revenue for regulatory boards or agencies requiring licensing.
Hawaii LLC Taxes to be Paid
The business LLCs in the State are subject to different State Tax filing obligations. Though the taxes may vary from county to county.
Hawaii State Income Tax
This is the State Tax levied on any income you pay to yourself. The tax rate varies between 1.4% to 8.25%, depending on the total amount of taxable income.
Hawaii Sales Tax
Hawaii does not have a sales tax. Instead, it has a General Excise Tax (GET) which is fixed differently for different sales activities, such as 0.15% for Insurance commission, 0.5% for wholesaling, manufacturing, producing, wholesaling, and 4% for all others.
Hawaii Federal Self-Employment Tax
Any profit that a Hawaii LLC Business members draw out from the business is liable to pay self-employment tax. The standard tax rate is 15.3%.
Hawaii LLC Employer Payroll Tax Withholding
If you hire employees in Hawaii, you must withhold payroll tax from their salaries. The standard rate of withholding is 7.65% of the taxable salary of the employees.
Cost Comparison Among States
Every state has different costs of filing for an LLC to their respective State Authorities. If you want to get a better understanding of the costs of opening an LLC in a different state in comparison to Hawaii, read the table below:
| | | | |
| --- | --- | --- | --- |
| State | Filing Fee | Annual Fee/Biennial Fee | Sales Tax |
| Hawaii LLC | $50 | $12.50 (Annual) | Varying General Excise Tax |
| Alaska LLC | $250 | $100 (Biennial) | 0% |
| Oregon LLC | $100 | $100 (Annual) | 0% |
| California LLC | $70 | $800 (Annual) | 7.25% |
| Washington LLC | $200 | $60 (Annual) | 6.5% |
Tourism is the largest contributing sector to Hawaii's economy. Other major industries include service, transportation, retail trade, healthcare, and education.
Other Costs
How Much Does It Cost to Maintain an LLC in Hawaii
To maintain an LLC in Hawaii you will need to pay an annual fee of $12.50 along with income tax at 1.4% to 8.25%, general excise tax at 9% and federal taxes.
Maintaining an LLC in Hawaii: An Essential Investment in Success

When it comes to doing business in Hawaii, forming a Limited Liability Company (LLC) has proven to be an ideal choice for many entrepreneurs. It combines the benefits of a corporation and a sole proprietorship or partnership, providing liability protection while maintaining a flexible business structure. However, like any business venture, running an LLC requires ongoing dedication, effort, and sufficient financial resources. It is crucial to understand the costs associated with maintaining an LLC in the Aloha State.

First and foremost, every LLC in Hawaii is required to pay an annual fee to the state. This fee covers the basic administrative costs associated with maintaining business records and providing access to essential services that LLCs rely upon. The specific amount varies depending on various factors such as the type of business, the number of members, and annual gross income. As such, it is important for LLC owners to be mindful of these variances and budget accordingly.

In addition to the state fees, maintaining an LLC in Hawaii often necessitates filing an Annual Report. This serves as a way for the state to collect updated information about the LLC, such as any changes in ownership, officers, or registered agent. Just like the initial formation paperwork, failure to file the Annual Report can lead to penalties or, in extreme cases, result in the LLC being dissolved.

In terms of taxation, LLCs in Hawaii enjoy the perk of being a pass-through entity. This means that the LLC itself does not pay income tax; instead, the income "passes through" to the individual members who report the gain or loss on their personal tax returns. Nevertheless, it is important to remember that even if the LLC doesn't pay taxes on its own, certain tax-related responsibilities may still arise, such as obtaining an Employer Identification Number (EIN) for tax reporting purposes or fulfilling employer-related tax obligations.

Additionally, maintaining an LLC in Hawaii can also involve costs related to regulatory and compliance requirements. For example, depending on the nature of your business, you may need to obtain specific licenses or permits from state or local government agencies. Even if your business activities don't demand such special permissions, it is essential to ensure that you are in compliance with Hawaii's general business laws and regulations, which may include periodic reporting and other formalities.

Lastly, LLC owners must consider the financial aspects of maintaining accurate bookkeeping and record-keeping practices. While not necessarily exclusive to Hawaii, these activities play a crucial role in tracking expenses, deductions, revenue, and general financial health. Inaccurate or incomplete records can lead to fines, audits, and potential legal complications. It is worth investing in reliable accounting software, professional bookkeepers, or relevant financial counseling to ensure the company's financial statements are both sound and reliable.

Understanding the cost of maintaining an LLC in Hawaii is integral to effectively manage the financial side of running a business. It is vital to diligently budget for these expenses, always considering potential fluctuations within your specific business or industry. By doing so, entrepreneurs can safeguard their LLCs, ensuring their operational sustainability, and maximizing their chances of achieving long-term success in Hawaii's vibrant and diverse business landscape.
F.A.Qs
Can I start an LLC for free?
It is possible to form an LLC without professional help, but forms still have associated costs, regardless of where your LLC is formed.
Is an LLC expensive?
It is difficult to say whether forming an LLC is expensive. Nevertheless, the cost could be anywhere from $40 to $500. If you refuse to hire professionals, you'll still have expenses like form fees to cover.
Does an LLC need a bank account?
The need to separate personal money from business funds, thus necessitating the creation of a business bank account for your LLC.
In Conclusion
The cost of Hawaii is much lower compared to other forms of business. Apart from the state filing fees and annual taxes, you might bear the cost of the registered agent. Compare the price of professional LLC services and choose the most affordable one.