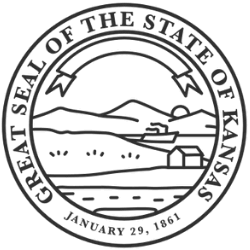 If you are forming a Kansas LLC, then this page's content would be vital. As you learn how to start an LLC, you will realize that the bulk of your initial work and LLC cost comprises filing Kansas articles of organization, which we will elaborate on this page.
On this page, you'll learn about the following:
What is an Article of Organization?
An Article of Organization, also known as an LLC certificate or Certificate of Formation in some states, is a document filed with the secretary of state to form an LLC.
Each state has a different requirement to fill out a form. An Article of Organization usually includes the following:
The name of the LLC,
the effective date of the LLC,
the company's principal office,
the business purpose,
the duration of the business,
a copy of the LLC's name registration certificate, and
the name and address of the registered agent, organizers, and
at least one member of the company.
You can file an Article of Organization online, by mail, or in person.
Note that the certification of formation is a legal requirement, not to mention, the core of your LLC formation. It even makes up the bulk of your Kansas LLC cost. Without it, you have no LLC. So, take the time to complete and file this certificate.
How to File an Kansas Articles of Organization
These are the simple steps to follow in filing an Article of Organization in Kansas.
Step 1: Find Forms Online
Go to the Kansas Secretary of State to download the articles of organization form for your LLC or to log into the online service.
Step 2: Fill Out Form
When filling out the form, you must have reserved an LLC name. Do a name search. Go to Kansas LLC Name Search to check whether your chosen business name is available to use in this state.
You must attach a copy of your Name Reservation to your filled-out Article of Organization form when filing. You also need to nominate a registered agent. Here are 3 of the best LLC services on our list.
Step 3: File Formation Certificates
File your formation certificate either online or by mail by filling out a form and sending it to the Kansas Office of the Secretary of State, Memorial Hall, 1st Floor, 120 S.W. 10th Avenue, Topeka, KS 66612.
Filing Kansas Articles of Organization Online
Time needed: 5 minutes.
The State of Kansas offers online services for filing the Articles. You can file it via mail as well. After approval by the State, you shall receive a certified copy of your Articles of Organization. The formation guide in the following steps will help you file for the articles of the organization so read on and get the info.
Visit the official Kansas Business Center Website

The Secretary of the State of Kansas Office offers a single sign-on solution, KanAccess.

Create your Account

If you have already registered your account on the website, then fill in your login credentials and proceed to "Sign-in" to access your account. If you do not have an account, click on the "Sign-up" option on the page.

Fill in your Sign-up Details

Enter your information to sign up for a new account such as your First and Last name, Organization, Email Address, and password. Click on the tab "Sign-Up".

Proceed with Registration

After confirmation of your account on the State website, log in with your username and password and proceed to register your business in Kansas. After login, select "Business Entity Formation" from the list of businesses displayed on the Kansas Business Center website.

Submit the application

Review your information and submit the application.
Filing Kansas Articles of Organization by Mail
If you wish to file your Articles of Organization via mail, read the instructions below to learn more about filing an application for an article of organization in Kansas via mail.
Download the Application Form PDF from the Kansas State website. You can fill in the details online and print and submit your application form.
Fill in the required information for payment and effective date.
On the next page, continue to provide the accurate details of your business, such as the name of the LLC, details of the resident agent and the registered office address, mailing address, and tax closing month. Put your signatures in the form.
Review the information provided by you thoroughly.
Make a payment of $165 by cheque, money order, or credit card.
Mail your application and filing fee to the following address: Kansas Office of the Secretary of State, Memorial Hall, 1st Floor 120 S.W. 10th Avenue Topeka, KS 66612-1594
Cost of Filing a Kansas Articles of Organization
The filing of Articles can be filed online as well as via mail. It is more convenient to file an article of organization online than by mail.
The cost of filing online is $160
The cost of filing via mail is $165
Where Can You Find Your Kansas LLC Articles of Organization
Articles of Organization for Kansas LLC can be accessed through the Kansas Secretary of State website. You can also download the PDF from the same website.
Starting a business in Kansas can be overwhelming, especially when it comes to legal documentation. One of the essential documents you need to file when forming a Limited Liability Company (LLC) is the Articles of Organization. The Articles of Organization is a legal document filed with the Secretary of State that formally establishes your business entity.

The Articles of Organization outlines crucial information about your business, including your company name, business addresses, the type of services or products you offer, and details about the owners, or members, of the LLC. Once you file your Articles of Organization, your LLC formally exists, and you can proceed to obtain business licenses, open bank accounts, and conduct other business all under the umbrella of the LLC.

Now that you understand the importance of the Articles of Organization let us focus on finding them in Kansas. The good news is that you have several options to obtain your Kansas LLC Articles of Organization, and it's a straightforward process.

The first option you have is to file the Articles of Organization electronically via the Kansas Secretary of State website. This option is by far the fastest and most secure way to file your LLC's Articles of Organization. You will need to create an account on the Kansas Secretary of State website and pay a one-time filing fee, and you're good to go. The website will guide you through the whole filing process, and like we mentioned earlier, once your information is processed, the LLC legally exists and you can move onto the other business establishment requirements like securing territory, marketing etc.

The second option is going physically- mail-and paper filing. With this option, you can print the Articles of Organization form from the Kansas Secretary of State website, fill it out, and mail it with a check to the Secretary of State's Office. The downside of this method is that it takes longer to process and pay a higher filing fee.

The last option you have is through licensed third-party companies offering document filing services that also take a fee. Do your research and vet theses services before using it so as to ensure that they're reliable.

Irrespective of chooses the filing method you choose, it thus couldn't be simpler to obtain your Kansas LLC Articles of Organization from wherever secure location you are. When forming an LLC, you play a different role from the beginning of your business establishment process as you ensure you are serving your goals and objectives as well as making sound decisions for the future of your business and completing incorporation process, deserves comprehensive attention without considering this procedure as trivial task.

In conclusion, forming an LLC in Kansas is easy and filing an Articles of Organization is straightforward. Understanding the LLC documentation procedure and enlisting services rendered by certified advisors together with taking good advantage of the Secretary State website portal could save individuals' great amount of time and money to lay firm and most sustainable business foundations.
F.A.Qs
What is an Article of Organization?
An Article of Organization is a legal document that will officially make your LLC into existence. This document is needed specifically for Kansas in forming an LLC business structure.
What information does an Article of Organization application need?
The application form for the Article of Organization needs to include the LLC name, date of establishment, the company's registered office, business purpose, how long the business will exist, and a copy of the LLC's name registration certificate.
What is the recommended method of filing an Article of Organization, online or by mail?
Filing by mail or in person is neither highly recommended nor required; waiting an extra week for your LLC to be approved isn't that bad. The LLC approval you send in will be returned by mail. Online filing, meanwhile, is more convenient as you won't have to stay in a queue.
In Conclusion
Articles of Organization or Certificate of Formation is the most important document for your Kansas LLC. Before you submit/file the document make sure to provide proper and correct information about your company. If you have any questions, share that below in the comment section.