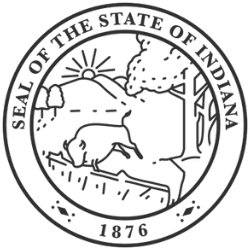 Any business structure or corporation stands firm on its foundation laid by the employees. An LLC is no exception to this rule. Hiring employees in your LLC comes with some rules, regulations. Before understanding the rules of hiring employees in Indiana LLC, we must understand what an LLC means.
A Limited Liability Company is a business structure that protects the owners from any personal responsibility of the debts or liabilities arising out of the LLC. If an employee action succeeds to liabilities, the owners get the protection against it. LLCs are a combination of the characteristics of a partnership firm & a sole proprietorship.
Hiring Employees in Indiana
In order to hire employees in Indiana LLC, there are many requirements that a business has to fulfill. One should keep these points in mind while hiring employees in an LLC. These requirements include:
1. Federal & State Employment posters in Indiana
The employers in Indiana are required to show both Federal & State Employment posters mentioned in Equal Employment Opportunities Act, Americans with Disabilities Act, Fair Labour Standards Act (FLSA), etc. You should seek professional help to fulfill all the norms or requirements.
2. Federal & State Required Forms
Hiring employees is a lengthier process that involves the filing of different forms & applications. Suppose you wish to hire employees in Indiana. In that case, you must ask your employees to submit the Employment Eligibility Form, the Federal Tax withholding form, the W-4 Form, Workers Compensation Claim Form, Disability Self- Identification Form, U.S. Citizenship and Immigration Services Form, etc. These Legal forms are easy and free to download.
3. Requirements of Indiana New Hire Reporting program
Employers of Business owners are bound by Indiana's New Hire Reporting Program, under which they have to submit a report consisting:
Company Name
Company Address
Company federal tax ID number
Employee's Name
Employee's Social Security Number
Employee's Address
First Day of paid Work
In addition to the forms mentioned above, payments, taxes, tax forms, & requirements, there may be some additional compliance for hiring in Indiana; you must adhere to those norms as well.
Can an LLC Hire Employees?
An LLC or a Limited Liability Company can be regarded as a corporation, partnership, or sole owner business. The owners of the LLC are often referred to as members. Individuals, Corporations &, in some cases, other LLCs can form an LLC as members.
The members form LLCs because of their limited or no liability provided to the owners or members. In the event of liabilities arising out of an employee's action, the members of the LLC are not personally liable- the LLC is liable for the actionable claim.
Any LLC (even one with a single owner) can hire unlimited employees on wages or salary. (The single-member owner LLC may have different rules and regulations). In addition to the salaried employees, the LLC can appoint Independent contractors for certain tasks on a contract basis.
Rules to Hire Employees in an LLC in Indiana?
Just like any other business corporation, an LLC is also not immune from certain procedures & rules of hiring. An LLC files many documents & pays a number of taxes to various Government Agencies while hiring employees. Some of the essential rules or steps to hire employees in an LLC are:
Federal Employer Identification Number – Every LLC must obtain an Employer Identification Number (EIN) from the Internal Revenue Service. EIN helps report taxes & a few other documents to the IRS.
Employee Eligibility Form – It is mandatory for an LLC owner to check if the employee is eligible for employment in the U.S. An LLC has to ask the employees to submit the I-9, Employment Eligibility Verification Form to verify the identity of the employee & to authorize the employment. the I-9 form is a mandatory requirement while hiring an employee.
Employee's Social Security Number – The employee has to have a valid Social Security Number (SSN) to work. LLCs have to ask the new employees to submit their SSN before employment. The SSN is helpful in payment & tax purposes.
Setting up a process for collection & payment of the appropriate taxes – There has to be a due process for the employees' future collection & payment of taxes. This process needs to be set up by the employer (in this case, the LLC)
Employee handbook – In the hiring process, one of the crucial elements of hiring paperwork is an Employee Handbook. Although it is not essential in Indiana, it is usually needed as one of the legal documents in many other states. An Employee Handbook consists of a complete list of all the basic rules & policies of the company.
Indiana payroll Taxes – An LLC that is running a business with employees or businesses with employees has to pay many federal taxes & state Taxes. Following the rules on payroll taxes is also an essential requirement. After hiring employees, an LLC is subject to the State Unemployment Compensation Act. Under the said Act, an LLC will have to pay Unemployment tax to the state & to do that; the LLC must register itself with the Indiana Workforce Commission. The process involves simple steps & can be completed in 20 minutes.
Payroll taxes also include Federal Income Tax withholding, an employer can withhold money from the employee's account for the income tax.
Workers' Compensation Insurance An LLC operating in the state of Indiana has to carry workers' compensation insurance & has to display relevant posters.
New Hire Report or Report of the New Employee – An LLC has to

Report about hiring the new employees in the form of "Report of New Employee(s)" to the Indiana Workforce Commission within 20 days from the date of hire.
Deposit and report federal employment taxes as per the IRS procedures for payroll reporting & payment.
Laws Relating To Wages Of Employees
The Labour regulations in Indiana cover all the aspects of employee regulation, such as Wage payment, pay frequency, pay statements, and wage deductions. The provisions relating to the rights of the employees are governed by the federal regulation, Fair Labour Standards Act. The minimum wages are prescribed under the Minimum Wages Act.
The LLCs and business entities in the State have to adhere to the federal and State Labor regulations while employing workers in their businesses.
Structure of The Wages of The Employees
All LLCs and business employees have certain rights with respect to the wages in the State. We have listed down some of the important aspects of the wages in the State of Indiana.
Indiana Minimum Wage
Indiana's minimum wage is $7.25 per hour, which is the same as the national minimum wage. There are certain exceptions, e.g., tipped employees. Employers with two or more workers who are not covered by the federal Fair Labor Standards Act are subject to Indiana's Minimum Wage Law.
For tipped employees, employers must pay tipped workers $2.13 per hour, with the remainder paid in tips. If the tips do not equal the minimum wage at the end of the day, the employer must make up the shortfall by paying the tipped employee extra.
For trainees and learners, Indiana employers can pay a worker under the age of 20 a training salary of $4.25 per hour for the first three months of employment.
For minor employees, A young child under the age of 14 is only permitted to work as a farm labourer, domestic service worker, golf caddie, or newspaper carrier. In Indiana, children between the ages of 16 and 18 are prohibited from working in any occupation that is hazardous to their health or morality. The number of working hours is strictly regulated by the State which depends on the age of the employees.
Indiana Overtime Compensation
Unless otherwise excluded, Indiana labor rules compel companies to pay employees 1.15 times their regular pay rate when they exceed the 40 hours in a workweek threshold, which equals $10.88.
Indiana Employee Rights
For each LLC, employers must know the employee rights before they hire employees. Below are the employee rights set by Indiana state.
Right to Equal Pay
Indiana's Minimum Wage Law forbids pay discrimination based on gender for equivalent labor performed under identical working conditions and requires equal skill, effort, and responsibility. Differences in wages may be based on other non-discriminatory factors by an employer, such as seniority or merit.
Leave of Absence
The Family and Medical Leave Act (FMLA) may apply to the employer even if sick leave isn't compensated. Employees who are eligible can take up to 12 weeks of unpaid leave per year for the birth or adoption of a child, to care for a sick family member, or to deal with medical issues shall be ensured of protection of their job position, without any deductions in the pay structure.
Similarly, under the Federal Uniformed Services Employment and Reemployment Rights Act, employees can take leave for military duty and service. Employees are also entitled to receive leave for witness duty or jury trials.
Final Pay and Health Insurance Coverage
Whether an employee departed freely or was fired involuntarily, an Indiana employer is required to pay the employee's final salary by the following normal payday. In addition, after the conclusion of the employment, the Consolidated Omnibus Budget Reconciliation Act (COBRA) grants rights and protection to the employees to keep their insurance coverage after the end of the employment up to 36 months.
Right to Safe Workplace
Under the Occupational Health and Safety Act, employers are under an obligation to provide a safe and secure workplace to their employees, free from any foreseen risks and hazards. An employee can approach the Health and Safety Authority for assessment of their workplace. Such employees are simultaneously protected from any retaliation and discrimination from their employees as whistle-blowers.
How to Hire Employees Fast in Your Indiana LLC
To hire employees for your Indiana LLC you need to verify if the person is eligible to work in the US and then report him/her as 'new hires' to the state.
Whether you are an existing Indiana LLC or are planning to start a business in the Hoosier state, there are many legal and regulatory requirements that must be followed. For example, you must have a tax identification number (TIN) to open a business bank account and hire employees. You may also need to register your business with the Department of Revenue. However, the actual process is fairly simple, and can be completed in as little as 20 minutes.

The first step is to figure out the type of business structure you will be operating. Typical structures include sole proprietorship, limited liability company, and corporation. When choosing your structure, consider the advantages and disadvantages of each. If you are a small business, a LLC may be the best choice.

Once you have decided on a business structure, the next step is to find a qualified accountant to recommend a good tax arrangement for your business. A qualified accountant can advise you on the tax laws and regulations that apply to your particular type of business. They can also help you navigate the bureaucracy.

Next, you should determine what type of business licenses are required to conduct your business in the state. Different industries require different licenses. Check with your local county clerk's office and the state to find out which licenses are necessary for your specific type of business. Some counties may also require you to obtain additional business permits or licenses.

There are plenty of ways to keep your business up and running, but if you haven't already, you should start setting up a payroll. This is important because it helps you manage your employees and keep your bottom line in check. It also enables you to withhold taxes from your employee's paychecks. Payroll can be done in house or by a third party HR provider.

Fortunately, most states offer a few business tools to assist you in the process of hiring employees. In particular, you should be aware of the state's unemployment compensation law. Specifically, you should have an employment eligibility form and a workers' compensation claimportation services form on file at all times. Additionally, you should display federal employment posters in your workplace.

The Indiana Workforce Commission will require you to report new hires within twenty days of their employment date. It is also important to notify the state of any employee on a break in service. To be more specific, you should make sure you have an employment eligibility form for each person you intend to hire.

Finally, you will need to register with the state. You can do this by completing a simple online application. As an employer, you will be required to provide an Employer Identification Number and an Employee Tax Identification Number. Also, you must have a system for collecting direct deposit information.

Although hiring employees can be a challenge, it's worthwhile. By hiring the right people, you can improve your employee morale and boost your productivity.
FAQs
What Is an LLC?
An LLC is a business entity that can be treated as either a corporation, a partnership, or a sole owner business.
Is the LLC liable for damages caused by employees?
The owners of the company are not personally liable for the actions of the employees, the LLC is liable for any such actions.
What is the IRS Form I-9?
Before hiring an employee, under federal law, the business has to verify an employee's eligibility to work in the United States with the (IRS Form I-9). The business owner also has to make sure the employee has a valid SSN or Social Security Number.
What is LLC self-employment?
LLC members, or LLC owners, are self-employed according to the IRS because they pay themselves through the earnings of LLC.
In Conclusion
All the LLCs with employees are bound by many rules and regulations with reference to wages. It is always advisable to register a registered agent service to understand the laws better. Feel free to share your feedback with us in the comment section below.