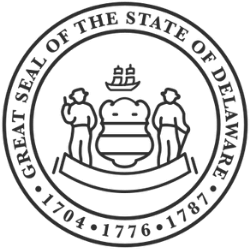 If you already have an LLC in another state and want a Delaware LLC, then how to start an LLC would be somewhat different. You must register as a foreign LLC. We have here a guide on how you can qualify and register for a foreign LLC in Delaware.
Forming an Delaware Foreign LLC
A foreign LLC does not need to be a company from another country but a business formed under the laws of another state. To start a foreign LLC in Delaware, you need to register it with the Delaware Secretary of State.
Step 1: Choose Delaware Foreign LLC Name
Obtain a name reservation certificate and submit it with your foreign qualification requirements at the Delaware Secretary of State. Your LLC's legal name outside of Delaware will be listed on the application, along with the name it will use in Delaware. Take note of the requirements for naming your LLC.
Check name availability at Delaware's business entity names and reserve your LLC name.
Step 2: Select Delaware Foreign LLC Registered Agent
You'll need a registered agent to form a foreign LLC in Delaware and take note that a Delaware registered agent must have a local address. Here are three of the best LLC services on our list that can provide you with registered agents to ease your worries:
Step 3: File Registration of Delaware Foreign LLC
Fill out and submit a Foreign LLC Application for Registration form via email to [email protected] or by mail to:
Regular Mail: Division of Corporations PO Box 898 Dover, DE 19903 or
Express Mail: Division of Corporations John G. Townsend Bldg. 401 Federal Street, – Suite 4 Dover, DE 19901
Include the following:
LLC's full legal name.
A fictitious name or a DBA (only if your LLC's legal name is not available); Attach a statement of adoption of the fictitious name signed by all LLC members.
LLC's principal office and mailing addresses.
LLC formation state and date.
Registered agent's name and address in Delaware
Date when your LLC will start operations in Delaware.
Credit card information on the last page of the form for the $200 application fee.
The LLC cost in Delaware, even for foreign LLCs will differ between online filing and by mail.
Step 4: Determine How Your Delaware Foreign LLC is taxed
Foreign LLCs are also subjected to the Delaware Business Privilege Tax, and they must file LLC annual reports each year.
Note that forming a foreign LLC would be good for your business as you can legally operate in a different state thus reaching a larger market and opening more opportunities for higher profit.
Steps to Filing Delaware Foreign LLC Online
Time needed: 5 minutes
Delaware Secretary of State does not have any provision for online registration of foreign or domestic LLCs. The LLCs have to download the form, fill it up and send it to the official address via mail. However, businesses can upload the form or any documents online to the 'Document Upload Service' page. Here's what you have to do to register Delaware foreign LLC online,
Download and Fill Out Registration Form

To start with one has to download the registration form available on the Delaware Secretary of State portal. Download the form on your computer. Fill it up with the required information. Before start filling up the form, make sure to read all the terms and conditions.



Upload Completed Form

Once the form is done filing, visit the online Document Upload Service portal to submit the form. Select the 'Document Upload' section.

Along with the documents, one has to mention some important information regarding the LLC. The steps are similar to the Delaware Certificate of Formation.

Points to mention in the Document Upload Page:
1. Priority Type
2. Submitter Infor (name, address, city, state, email)
3. Document request type
4. Corporation name, type of document/type of certification
5. Return method
6. Comments

You can upload the document in the document request type section. By clicking the Continue button you will be on the next page.

Points to note about Document Upload:
1. This is a new service by the Delaware Division of Corporations for eFiling
2. For the existing and frequent users, a My eCorp Account will be created. This account should be linked with their existing Division of Corporation account.
3. The service is not available on weekends or on any holidays. The timing of the service is Mon-Thurs from 7.45 am to 11.59 pm (EST) and Fri from 7.45 am to 10.30 pm (EST)
4. Technical Support contact: call at (302) 857-4626 or email at [email protected].


Payment

Once you have done uploading documents, you have to make the payment. The Franchise Tax and other payments can be made online. Payment should be made by using VISA, MasterCard, and American Express cards.
It is convenient plus easy to file for the foreign LLC if you are doing it online. The steps are very easy and that's why it's possible to go along with the steps and form the foreign LLC in Delaware.
After Forming Delaware Foreign LLC
Here are added things you need to accomplish after forming your Delaware Foreign LLC
Obtain Business Licenses. Find the business licenses you'll need using the Business License Search.
File LLC annual reports and Business Privilege Tax.
Pay State Taxes like sales tax; you'll need an EIN for your LLC.
How Much Does It Cost to Register a Foreign LLC in Delaware
To register as a foreign LLC in Delaware, you can file through mail by paying $200 or online by paying a filing amount of $200 payable to the Delaware Secretary of State.
Delaware has long been considered a haven for businesses, both large and small, seeking to establish a presence in the United States. Its reputation as a business-friendly state is primarily due to its favorable tax laws, flexible business laws, and efficient legal system. As a result, many companies, both domestic and foreign, choose to register their Limited Liability Companies (LLCs) in Delaware. However, one crucial question that often arises when considering this option is, "How much does it cost to register a foreign LLC in Delaware?"

The issue of registration fees for foreign LLCs can be quite complex, as it involves a myriad of factors and variables that must be carefully considered. While it is impossible to provide a comprehensive breakdown of all possible costs and fees, it is essential to understand some of the key components that contribute to the overall costs.

To begin with, one must account for the basic registration fee. The Delaware Division of Corporations charges a fee for the registration of a foreign LLC, which varies depending on various factors such as the type of entity, the number of authorized shares, and the number of members/owners. These fees can range from a few hundred dollars to several thousand dollars.

Additionally, some variables can impact the overall cost. For example, if an entity is opting for expedited processing, additional fees may apply. Expedited processing, often chosen by companies with time-sensitive business considerations or tight schedules, can incur substantial charges. It is crucial for companies to evaluate whether the benefits of expedited processing outweigh the extra costs.

Another contributing factor to the cost of registering a foreign LLC in Delaware is hiring a registered agent. Delaware requires LLCs, including those established outside the state, to have a registered agent who can receive legal and official documents on behalf of the LLC. Most often, businesses will choose to work with a registered agent service, which typically comes at an annual cost. Without such representation, carrying out necessary legal tasks and ensuring compliance with Delaware's regulations can be challenging, if not impossible.

Moreover, businesses considering registration must also bear in mind potential recurring costs associated with maintaining a foreign LLC in Delaware. Delaware imposes an annual franchise tax on LLCs, which is based on the entity's number of authorized shares. This tax can have a notable impact on the aggregated costs over time and should not be overlooked when considering the decision to register in Delaware.

Discerning and understanding these cost considerations is imperative for any company evaluating the option of registering a foreign LLC in Delaware. It is essential to take into account all the possible expenses and seek professional advice when necessary, as this decision can have significant financial implications for the business in the long run.

Ultimately, while it is clear that Delaware possesses numerous qualities that make it an attractive business destination, the cost of registering a foreign LLC in the state should not be underestimated. Astute evaluation and planning, with a realistic understanding of all the financial aspects involved, are vital to making an informed decision on whether registering a foreign LLC in Delaware is the right course of action for a particular business.

To summarize, the cost of registering a foreign LLC in Delaware is a multi-faceted issue that depends on several factors including the type of entity, the level of service required, and ongoing maintenance expenses. When considering Delaware as a destination for registering a foreign LLC, businesses must thoroughly analyze the potential costs and benefits, seek expert advice when necessary, and make an informed decision based on their unique circumstances and financial capabilities.
F.A.Qs
What is a foreign LLC in Delaware?
If your LLC is formed under the laws of another state, it is referred to as a foreign LLC in Delaware.
Do I need a foreign LLC?
Businesses incorporated outside of the state where they operate must have "foreign qualifications" issued in the other states.
What is the main difference between domestic and foreign LLC?
A domestic LLC is a company registered in Delaware as an LLC. The entity type that has a physical presence in another state is a foreign LLC.
In Conclusion
Starting a foreign LLC in Delaware does not require a lot of documentation or tasks. However, it is always good to seek help from a professional when it comes to running your business. Get a professional registered agent and form your foreign LLC anywhere without a hassle.