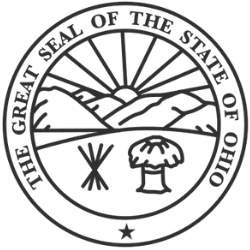 If you already have an LLC in another state and want an Ohio LLC, then starting an LLC would be somewhat different. You must register as a foreign LLC. We have here a guide on how you can qualify and register for a foreign LLC in Ohio.
Forming an Ohio Foreign LLC
A foreign LLC does not need to be a company from another country but a business formed under the laws of another state. To start a foreign LLC in Ohio, you need to register it with the Ohio Secretary of State.
Step 1: Choose Ohio Foreign LLC Name
Obtain a name reservation certificate and submit it with your foreign qualification requirements at the Ohio Secretary of State. Your LLC's legal name outside of Ohio will be listed on the application, along with the name it will use in Ohio. Take note of the requirements for naming your LLC.
Check name availability at Ohio's business entity names and reserve your LLC name.
Step 2: Select Ohio Foreign LLC Registered Agent
You'll need a registered agent to form a foreign LLC in Ohio and take note that an Ohio registered agent must have a local address. Here are three of the best LLC services on our list that will provide you with registered agents to ease your worries:
Step 3: File Registration of Ohio Foreign LLC
Fill out and submit a Foreign LLC Application for Registration form via email to [email protected] or by mail to P.O. Box 670 Columbus, OH 43216 for a regular filing or P.O. Box 1390 Columbus, OH 43216 with the additional fee for an expedited filing.
Include the following:
LLC's full legal name.
A fictitious name or a DBA (only if your LLC's legal name is not available); Attach a statement of adoption of the fictitious name signed by all LLC members.
LLC's principal office and mailing addresses.
LLC formation state and date.
Registered agent's name and address in Ohio
Date when your LLC will start operations in Ohio.
Credit card information on the last page of the form for the $150 application fee.
The LLC cost in Ohio, even for foreign LLCs will differ between online filing and by mail.
Step 4: Determine How Your Ohio Foreign LLC is taxed
Foreign LLCs are also subjected to the Ohio Business Privilege Tax, and they must file LLC annual reports each year.
Note that forming a foreign LLC would be good for your business as you can legally operate in a different state thus reaching a larger market and opening more opportunities for higher profit.
Steps to Filing Ohio Foreign LLC Online
Time needed: 5 minutes
The State permits online as well as offline filing methods for registration. The cost of application for registration of an Ohio Foreign LLC is $99. Once approved by the State authorities, you shall receive a Certified copy of your Application from the Secretary of State office. We have explained the aspects you need to cover while applying for Ohio Foreign LLC.
Visit the official website of the Secretary of State of Ohio

Go to the Secretary of State of Ohio official website. It hosts an online Business Filings portal that provides a convenient mode to access several online business services offered by the State. On the page, click on the tab 'Submit a Business Filing'.


Create your Account

On the next page, the login page opens up. If you already have an account on the portal, proceed to log in by filling in your username, password, and e-signature, and press the 'Click here to log in' tab. In case you do not have an account on the portal, click the 'Click here to Create Profile' tab. Read the next step below to proceed with account creation.


Fill in the required account details

On the Account Information page, fill in the spaces provided with the required information, such as User name, password, first name, last name, street address, and contact details. Next, click on the 'continue' tab. Follow the instructions on the next page and confirm your account on the portal.


Proceed to file the application

After creating your account on the page, login by entering your username and password. Next, on the User homepage, select the option of "File a New Business or Registered Name". Select the option of "Foreign Limited Liability Company (Non-Ohio)" from the dropdown menu. Then continue to fill in the application form in accordance with the State guidelines and instructions.

Review your application

Before you proceed to the payment gateway page, review all the information entered by you in the Ohio Foreign LLC Certificate of Authority Application form. All the information in the application form should be correct and accurate.

Make the payment

After reviewing your application form, proceed to make the online payment of $99 as the filing fee for your Ohio Foreign LLC Certificate of Authority Application form. Once you successfully submit your form, you would receive a notification from the State office confirming your application. You can expect a reply on your application within 5 to 10 business days.
Filing Foreign LLC By Mail:
You can also opt for an offline filing option by submitting your application to the Secretary of State of Ohio via mail.
Download the Application form PDF on your system. Make sure to read all the instructions carefully and proceed to fill in the application form.
The State does not accept an application filled in ink and should necessarily be typed on the system.
Next, attach the cover letter already mentioned in the application form PDF.
Issue a check or money order of $99 as an application filing fee payable to the Ohio Secretary of State.
Arrange all the documents together and send them to the following mailing address in case of regular filing: P.O. Box 670 Columbus, OH 43216.
If you have applied for expedited processing of your application, you must pay an additional $100 and send the documents to the following address: P.O. Box 1390 Columbus, OH 43216.
After Forming Ohio Foreign LLC
Here are added things you need to accomplish after forming your Ohio Foreign LLC
Obtain Business Licenses. Find the business licenses you'll need using the Business License Search.
File LLC annual reports and Business Privilege Tax.
Pay State Taxes like sales tax; you'll need an EIN for your LLC.
It is convenient plus easy to file for the foreign LLC if you are doing it online. The steps are very easy and that's why it's possible to go along with the steps and form the foreign LLC in Ohio.
How Much Does It Cost to Register a Foreign LLC in Ohio
To register as a foreign LLC in Ohio, you can file through mail or online by paying a filing fee of $99 to the Ohio Secretary of State. The process can be expedited by additional payment of $100.
When expanding a business to foreign shores, it is crucial to navigate the legal landscape of the destination country. As a countless number of entrepreneurs have discovered, the process of registering a foreign Limited Liability Company (LLC) can often perplex and overwhelm even the most experienced of individuals. Ohio, nestled amidst the diversity of the United States, serves as a gateway for foreign companies seeking to establish themselves within the dynamic American market. Nonetheless, the question that invariably arises is, "How much does it cost to register a foreign LLC in Ohio?"

The process of registering a foreign LLC in Ohio involves several steps, the foremost being the appointment of a statutory agent with a physical address in the state. This agent acts on behalf of the foreign LLC and is responsible for the prompt receipt of important legal documents and state correspondence. The appointment incurs a limited cost, offering peace of mind to aspiring foreign businesses that their legal matters will be efficiently handled.

Additionally, the completion and submission of several forms are necessary for a foreign LLC to operate legitimately within Ohio's borders. Forms, such as the Application for Certificate of Authority, verify details about the company being registered, including its name and state of origin. While these forms necessitate attention to detail and precision, the associated filing fees are affordable to those foreign investors keen on establishing a presence within Ohio's flourishing economy.

It is notable that the appealing cost structure for registering a foreign LLC in Ohio not only endears entrepreneurial entities seeking growth but also showcases the state's stance toward fostering a positive business environment. The relative affordability of the registration establishes Ohio as a prime destination to etch both an administrative and commercial footprint firmly. And beyond the cost factor, investors can find solace in the comprehensive support and transparency offered by state authorities throughout this process.

Moreover, it is crucial to fully comprehend the expenses incurred after successful registration. Annual reports, required promptly in the year following registration, requir_info.aspx#hornesiances each foreign LLC to file details of its operations, financial status, and organizational structure. Additionally, maintaining a registered agent and a physical presence in Ohio may accrue annual costs; however, these are relatively modest when compared to the rewards of entering into the vibrant Ohio market.

The costs associated with registering a foreign LLC in Ohio should not overshadow the numerous benefits that companies gain from gracing the state's entrepreneurial landscape. Ohio's strategic location as a significant transportation hub ensures the seamless movement of goods and services to nationwide markets. The presence of internationally-renowned research institutions such as The Ohio State University stimulates innovation and collaboration, fostering an ecosystem of growth for enterprising foreigners. Moreover, Ohio offers a competitive tax structure, attracting foreign investors by cultivating an environment supportive of business success.

While the specific costs of registering a foreign LLC in Ohio are undoubtedly crucial considerations, entrepreneurs should look beyond these expenses to fully appreciate the diverse business possibilities in the state. Recognizing that financial ventures involve an array of additional costs—such as expanding infrastructure, hiring talent, and establishing market connections—measuring the expenses of registration solely as a determining factor would be an injustice to the incredible growth opportunities resplendent within Ohio.

In conclusion, understanding the costs associated with registering a foreign LLC in Ohio forms an essential aspect of wider business planning. Providing entrepreneurs with budgetary clarity, Ohio excels in offering a cost-effective route to establishing an overseas business endeavor. By setting a modest monetary barrier and nurturing an environment conducive to growth, Ohio proves to be a destination that truly values the economic contributions of foreign enterprises.
F.A.Qs
What is a foreign LLC in Ohio?
If your LLC is formed under the laws of another state, it is referred to as a foreign LLC in Ohio.
Do I need a foreign LLC?
Businesses incorporated outside of the state where they operate must have "foreign qualifications" issued in the other states.
What is the main difference between domestic and foreign LLC?
A domestic LLC is a company registered in Ohio as an LLC. The entity type that has a physical presence in another state is a foreign LLC.
In Conclusion
Starting a foreign LLC in Ohio does not require a lot of documentation or tasks. However, it is always good to seek help from a professional when it comes to running your business. Get a professional registered agent and form your foreign LLC anywhere without a hassle.