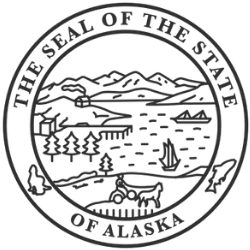 If you already have an LLC in another state and want an Alaska LLC, then starting an LLC would be somewhat different. You must register as a foreign LLC. We have here a guide on how you can qualify and register for a foreign LLC in Alaska.
Forming an Alaska Foreign LLC
A foreign LLC does not need to be a company from another country but a business formed under the laws of another state. To start a foreign LLC in Alaska, you need to register it with the Alaska Secretary of State.
Step 1: Choose Alaska Foreign LLC Name
Obtain a name reservation certificate and submit it with your foreign qualification requirements at the Alaska Secretary of State. Your LLC's legal name outside of Alaska will be listed on the application, along with the name it will use in Alaska. Take note of the requirements for naming your LLC.
Check name availability at Alaska's business entity names and reserve your LLC name.
Step 2: Select Alaska Foreign LLC Registered Agent
You'll need a registered agent to form a foreign LLC in Alaska and take note that an Alaska registered agent must have a local address. Here are three of the best LLC services on our list:
Step 3: File Registration of Alaska Foreign LLC
Fill out and submit a Foreign LLC Application for Registration form via email to [email protected] or by mail to PO Box 110806, Juneau, AK 99811-0806.
Include the following:
LLC's full legal name.
A fictitious name or a DBA (only if your LLC's legal name is not available); Attach a statement of adoption of the fictitious name signed by all LLC members.
LLC's principal office and mailing addresses.
LLC formation state and date.
Registered agent's name and address in Alaska.
Date when your LLC will start operations in Alaska.
Credit card information on the last page of the form for the $200 application fee.
The LLC cost in Alaska, even for foreign LLCs will differ between online filing and by mail.
Step 4: Determine How Your Alaska Foreign LLC is taxed
Foreign LLCs are also subjected to the Alaska Business Privilege Tax, and they must file LLC annual reports each year.
Note that forming a foreign LLC would be good for your business as you can legally operate in a different state thus reaching a larger market and opening more opportunities for higher profit.
Steps to Filing an Alaska Foreign LLC Online
Time needed: 5 minutes
If an LLC is originally made in another state and wants to register itself in Alaska, it will be a foreign LLC. When you're registering for the foreign LLC in this particular state, you will have to pay the filing fee of $200 along with the documents. It is possible to register for Alaska foreign LLC online or offline too. We have explained the aspects you need to cover when you ag for the Alaska foreign LLC online.
Go to the official State of Alaska Website

The official website of the State of Alaska will lead you to the foreign LLC. You need to search for "Division of Corporations," then the website of the Department of commerce, community, and economic development would open up. Just scroll down and click on the "Corporation Section."


Scroll down and search for foreign LLC

Once you scroll down, you will see the heading "To create a new entity". Click on the option of "Limited Liability Company – Foreign(Non-Alaskan)"


Move to "Proceed to online filing"

You need to scroll down and click on the button "Proceed To Online Filing" to get to the next page.


Start with the procedure

You are now officially on the online form of Certificate of Registration for foreign LLC. You can start to apply just by filling in all the information.


Legal Entity Name

The entity's legal name needs to have a Limited Liability Company or abbreviations LLC or L.L.C. in the name. It is an important thing that you need to mention. But, if by any chance the legal name is not available, the option of "assumed name" would appear. You can add the name you want and see if it goes according to the Alaska LLC names guidelines and is available.


Home state

You need to provide the state of domicile, i.e., the home state of the LLC. With that, you have to mention the date when the LLC was incorporated in the original state in the format of mm/dd/yyyy. Be sure to mark the option that the LLC is working actively and has the certificate of compliance (certificate of good standing).


Duration of LLC

People need to add the company's life expectancy in the filing form, and that needs to be less than 100 days. If you don't have a future date for this, you can mark the option of perpetual, i.e., and the company can be in the market for an indeterminable amount of time.


Disclosure of corporate purposes

Don't forget to describe the corporate purpose of the LLC in this option. It is to show the services and goods the LLC is going to provide and what their aim is.


NAICS code

You need to mention the NAICS code because it is a big deal if you form an LLC in Alaska. NAICS code also helps determine the purpose of the business to help not create any conflict in the aspect. You can also get help to know about the business code and just choose it from the options.


Registered agent

The registered agent is the one who is responsible for a lot of decisions for the LLC. The statutory agent can be a person or a business entity, and they should not be an LLC, LP, or LLP. The name and address of the Alaska registered agent need to be provided in the form for filing it according to the guidelines.


Entity addresses

The address of the entity is an important aspect that we have to provide. In this, we have to provide the mailing address and physical address of the company. Both addresses can be the same or different, but they have to be in the United States.


Management

The management structure of the business is a crucial thing. There can be two types of management structures, member-managed or manager-managed. So, whichever you decide, mark that option in this.


Click on Add Officials

There is a need to sign the certificate of formation electronically. There should be no fraud with this, and if that happens, it will be considered a class A misdemeanor. If the LLC is handled under the supervision of the manager(s), even then, you need to provide the information here. Click on the "Add" button and fill up the info. Once you are done with it, press save.


Add the name of the person completing the application

Read the information the page is asking for and check the option that the form is used for a named entity only. Add the name and contact number; after that, press the proceed button.


Review and proceed to payment

Once you are done with the steps mentioned above and proceed, you will get to the review page. You can check the information you have filled in properly and then click the option of "proceed to payment" and pay $350.

It is convenient plus easy to file for the foreign LLC if you are doing it online. The steps are very easy and that's why it's possible to go along with the steps and form a foreign LLC in Alaska.
After Forming Alaska Foreign LLC
Here are added things you need to accomplish after forming your Alaska Foreign LLC
Obtain Business Licenses. Find the business licenses you'll need using the Business License Search.
File LLC annual reports and Business Privilege Tax.
Pay State Taxes like sales tax; you'll need an EIN for your LLC.
How Much Does It Cost to Register a Foreign LLC in Alaska
To register as a foreign LLC in Alaska, you can file through mail, fax, in-person or online by paying a filing amount of $350 to the Alaska Division of Corporations
First and foremost, it is vital to mention that the expenses related to registering a foreign LLC in Alaska are usually composed of two primary components: government filing fees and registered agent fees. Government filing fees mainly comprise the expenses associated with submitting the necessary paperwork to initiate the LLC registration process.

Since foreign LLCs are entities formed outside of Alaska, they are required to file an Application for Registration with the Alaska Division of Corporations, Business, and Professional Licensing. The application typically demands essential information such as the LLC's name, legal structure, contact details, and the name and address of a registered agent in Alaska.

Alaska's government filing fees might differ depending on whether you're processing your application online or through traditional mail. However, keep in mind that additional costs could potentially arise from any expedited processing or cancellation requests.

The second significant cost component during the registration process is the registered agent fee. Foreign LLCs operating in Alaska are mandated by law to have a registered agent—an individual or entity responsible for receiving correspondences and legal documents on behalf of the LLC within the state.

Obtaining the services of a registered agent is frequently accomplished by partnering with a registered agent service or hiring a qualified individual or entity for the role. The associated fees may vary depending on various factors such as the level of experience, reputation, and additional professional services offered by the registered agent.

It is essential to recognize that the expense of registering a foreign LLC in Alaska extends beyond merely the initial fees. Ongoing compliance requirements play a significant role in the overall cost as well. From annual reports to business licenses, foreign LLCs in Alaska must remain up-to-date with their obligations to the state. Failure to do so may lead to penalties and, in extreme cases, dissolution of the LLC.

To avoid potential complications and financial burdens, individuals and businesses seeking to register a foreign LLC in Alaska should thoroughly research and plan their budget in advance. Engaging legal or professional help to navigate through the registration procedures and associated costs can prove tremendously beneficial.

In conclusion, anyone embarking on the journey of registering a foreign LLC in Alaska must be aware of the expenses involved throughout the entire process. While government filing fees and registered agent fees are core components, maintaining ongoing compliance via annual reports and licenses adds to the overall cost. By understanding these financial implications and properly budgeting for registration, potential investors can embark upon establishing and growing their businesses in Alaska's vibrant and booming economic sector.
F.A.Qs
What is a foreign LLC in Alaska?
If your LLC is formed under the laws of another state, it is referred to as a foreign LLC in Alaska.
Do I need a foreign LLC?
Businesses incorporated outside of the state where they operate must have "foreign qualifications" issued in the other states.
What is the main difference between domestic and foreign LLC?
A domestic LLC is a company registered in Alaska as an LLC. The entity type that has a physical presence in another state is a foreign LLC.
In Conclusion
Starting a foreign LLC in Alaska does not require a lot of documentation or tasks. However, it is always good to seek help from a professional when it comes to running your business. Get a professional registered agent and form your foreign LLC anywhere without a hassle.