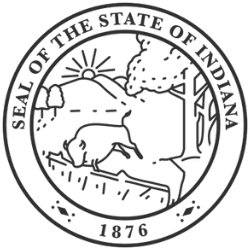 If you already have an LLC in another state and want an Indiana LLC, then starting an LLC would be somewhat different. You must register as a foreign LLC. We have here a guide on how you can qualify and register for a foreign LLC in Indiana.
Forming an Indiana Foreign LLC
A foreign LLC does not need to be a company from another country but a business formed under the laws of another state. To start a foreign LLC in Indiana, you need to register it with the Indiana Secretary of State.
Step 1: Choose Indiana Foreign LLC Name
Obtain a name reservation certificate and submit it with your foreign qualification requirements at the Indiana Secretary of State. Your LLC's legal name outside of Indiana will be listed on the application, along with the name it will use in Indiana. Take note of the requirements for naming your LLC.
Check name availability at Indiana business entity names and reserve your LLC name.
Step 2: Select Indiana Foreign LLC Registered Agent
You'll need a registered agent to form a foreign LLC in Indiana and take note that an Indiana registered agent must have a local address. Here are three of the best LLC services on our list that will provide you with registered agents to ease your worries:
Step 3: File Registration of Indiana Foreign LLC
Fill out and submit a Foreign LLC Application Registration form by mail to the Secretary of State, Business Services Division. 302 West Washington Street Room E018, Indianapolis, IN 46204.
Include the following:
LLC's full legal name.
A fictitious name or a DBA (only if your LLC's legal name is not available); Attach a statement of adoption of the fictitious name signed by all LLC members.
LLC's principal office and mailing addresses.
LLC formation state and date.
Registered agent's name and address in Indiana.
Date when your LLC will start operations in Indiana.
Credit card information on the last page of the form for the $150 application fee.
The LLC cost in Indiana, even for foreign LLCs will differ between online filing and by mail.
Step 4: Determine How Your Indiana Foreign LLC is taxed
Foreign LLCs are also subjected to the Indiana Business Privilege Tax, and they must file LLC annual reports each year.
Note that forming a foreign LLC would be good for your business as you can legally operate in a different state thus reaching a larger market and opening more opportunities for higher profit.
Steps to Register your Indiana Foreign LLC Online
Time needed: 5 minutes
When registering for the foreign LLC in this particular State, you will have to submit your Application for Registration of foreign LLC with the Secretary of State. You can file the application either through online mode or via mail which costs $105 and $125 respectively. After approval, you will receive a Verification Certificate from the State Office. We have explained the aspects you need to cover when you apply for Indiana Foreign LLC.
Visit the INBiz web portal on the State website

Open the InBiz Business Page on the Indiana Secretary of State website.

Start a New Business

Scroll down the page and click on the option "Start a New Business".

Sign In with Access Indiana

If you already registered your account on the website, click on the "login" option and proceed to fill in your login credentials and access your account. If you do not have an account, click on the "Create Account" option on the page.

Create your Account

To create your online account on the portal, fill in your email address, and after verification, proceed to fill in the other required details to create your account.

Proceed to Register

After you create your account on the portal, log in to your INBiz account. Click on "Secretary of State Business Service Division". Next, click on "Out-of-State Business". Then, select the option of "Business Formation".

Fill in the information

On the business formation page, fill in the required information.

Review the information

Before you submit your application to the authorities, review the information to be accurate and correct to avoid any rejection.

Make the payment

Proceed to make the payment of $105 on the portal. After confirmation, you will receive a notification regarding the successful completion of your application for registration of your foreign LLC.

You can also choose to file an application for registration of your Foreign Limited Liability Company OFFLINE via mail by completing the Application form PDF and submitting it to the following address: Secretary of State, Business Service Division, 302 West Washington Street, Room E018, Indianapolis, IN 46204. The filing fee for offline registration is $125 payable to the Secretary of State and the application should be accompanied by a Certificate of Existence issued within the last 60 days by proper authority.
After Forming Indiana Foreign LLC
Here are added things you need to accomplish after forming your Indiana Foreign LLC
Obtain Business Licenses. Find the business licenses you'll need using the Business License Search.
File LLC annual reports and Business Privilege Tax.
Pay State Taxes like sales tax; you'll need an EIN for your LLC.
It is convenient plus easy to file for the foreign LLC if you are doing it online. The steps are very easy and that's why it's possible to go along with the steps and form the foreign LLC in Indiana.
How Much Does It Cost to Register a Foreign LLC in Indiana
To register as a foreign LLC in Indiana, you can file through mail or online by paying a filing amount of $125 to the Indiana Secretary of State.
When it comes to starting a business, entrepreneurs have a myriad of decisions to make, whether it's choosing a suitable location or developing a solid business plan. However, one fundamental aspect that often goes overlooked initially is the process of registering an LLC – a limited liability company. While incorporating a domestic LLC in Indiana is a relatively straightforward task, the procedure differs when it comes to foreign LLCs. So, how much does it really cost to register a foreign LLC in the state of Indiana?

Foreign LLCs refer to companies already established and registered in other states that seek to expand their operations in Indiana. Naturally, these businesses must comply with certain formalities to gain legal existence and ensure smooth operations within their new market shift. One essential requirement for a foreign LLC in Indiana is to obtain a Certificate of Authority.

The associated cost of registering a foreign LLC in Indiana depends on various factors such as the required documents, filing fees, and any optional services that entrepreneurs may desire. For instance, a comprehensive breakdown of the expenses to register a foreign LLC involves the cost of state filing fees, registered agent fees, and possibly the use of expedited processing services.

Beginning with the state filing fees, the cost relies on the amount of authorized shares that the foreign LLC plans to issue in Indiana. The state has a specified calculation method to determine the appropriate cost for this fee, which is primarily based on the maximum number of shares a company is authorized to issue within the state. Needless to say, the complexity of this calculation can vary depending on the structuring of each foreign LLC.

In addition to the state filing fees, establishing a registered agent is another imperative facet of the process. The role of a registered agent is to receive important legal documents on behalf of a foreign LLC, including service of process and official notifications from state authorities. While some entrepreneurs may choose to be their own registered agent, it is commonly recommended to hire a professional registered agent service to ensure prompt and reliable delivery of these essential documents. Unsurprisingly, this optional service comes at a cost.

Entrepreneurs may also find themselves contemplating whether to opt for expedited processing services when registering a foreign LLC in Indiana. Expedited services typically come at a higher expense, but they ensure a faster turnaround time for the processing of documents by the state. This option can be particularly appealing for business owners keen on accelerating their market entry and avoiding delays.

While the specific cost of registering a foreign LLC in Indiana cannot be mentioned without analyzing the intricate details of each case, it is crucial that entrepreneurs recognize that these expenses are part of the investment in setting up their business in the state. By seeking professional guidance from an attorney specializing in business formation, entrepreneurs can garner a clear understanding of the potential costs and make informed decisions while looking to expand their companies into Indiana's thriving market.

In conclusion, understanding the expenses involved in registering a foreign LLC in Indiana is a crucial step for entrepreneurs initiating their business ventures in the state. Navigating the registration process may at times seem complex, but by undertaking proper research and seeking professional advice, vital costs can be accurately planned and managed to ensure a seamless transition into the Indiana market.
F.A.Qs
What is a foreign LLC in Indiana?
If your LLC is formed under the laws of another state, it is referred to as a foreign LLC in Indiana.
Do I need a foreign LLC?
Businesses incorporated outside of the state where they operate must have "foreign qualifications" issued in the other states.
What is the main difference between domestic and foreign LLC?
A domestic LLC is a company registered in Indiana as an LLC. The entity type that has a physical presence in another state is a foreign LLC.
In Conclusion
Starting a foreign LLC in Indiana does not require a lot of documentation or tasks. However, it is always good to seek help from a professional when it comes to running your business. Get a professional registered agent and form your foreign LLC anywhere without a hassle.