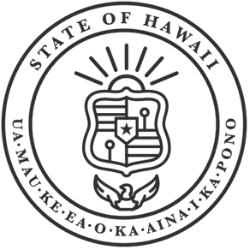 If you already have an LLC in another state and want a Hawaii LLC, then starting an LLC would be somewhat different because you have to register as a foreign LLC. We have here a guide on how you can qualify and register for a foreign LLC in Hawaii.
Forming an Hawaii Foreign LLC
A foreign LLC does not need to be a company from another country but a business formed under the laws of another state. To start a foreign LLC in Hawaii, you need to register it with the Hawaii Secretary of State.
Step 1: Choose Hawaii Foreign LLC Name
Obtain a name reservation certificate and submit it with your foreign qualification requirements at the Hawaii Secretary of State. Your LLC's legal name outside of Hawaii will be listed on the application, along with the name it will use in Hawaii. Take note of the requirements for naming your LLC.
Check name availability at Hawaii's business entity names and reserve your LLC name.
Step 2: Select Hawaii Foreign LLC Registered Agent
You'll need a registered agent to form a foreign LLC in Hawaii and take note that a Hawaii registered agent must have a local address. Here are three of the best LLC services on our list that will provide you with registered agents to ease your worries:
Step 3: File Registration of Hawaii Foreign LLC
Fill out and submit a Foreign LLC Application for Registration form via email to [email protected] or by mail to the Department of Commerce and Consumer Affairs. Business Registration Division, 335 Merchant Street, P.O. Box 40, Honolulu, Hawaii 96810.
Include the following:
LLC's full legal name.
A fictitious name or a DBA (only if your LLC's legal name is not available); Attach a statement of adoption of the fictitious name signed by all LLC members.
LLC's principal office and mailing addresses.
LLC formation state and date.
Registered agent's name and address in Hawaii.
Date when your LLC will start operations in Hawaii.
Credit card information on the last page of the form for the $150 application fee.
The LLC cost in Hawaii, even for foreign LLCs will differ between online filing and by mail.
Step 4: Determine How Your Hawaii Foreign LLC is taxed
Foreign LLCs are also subjected to the Hawaii Business Privilege Tax, and they must file LLC annual reports each year.
Note that forming a foreign LLC would be good for your business as you can legally operate in a different state thus reaching a larger market and opening more opportunities for higher profit.
Steps to Filing Hawaii Foreign LLC Online
Time needed: 5 minutes.
When you are registering for the foreign LLC in the State of Hawaii, you will have to submit your Application for Registration of foreign LLC with the Secretary of State which costs $50. After approval, you will receive a Verification Certificate from the State Office. We have explained the aspects you need to cover when you apply for Hawaii Foreign LLC
Visit the Official Hawaii Business Registration website

Go to the Business Registration page on the Official website of the Department of Commerce and Consumer Affairs by the Hawaii Government. The page offers an easy solution to file business registration documents online.

Scroll down to Registration forms

On the given page, scroll down to the end of the page and click on the link "Registration Forms, fees, and information".

Select 'Foreign LLC'

The Registration Forms, Fees, and Information page opens up. Scroll down to the heading 'Limited Liability Companies' and select the option of "Foreign Limited Liability Company".

Register a new business

The Hawaii Business Express page is displayed on the screen. Under the 'Start' heading, click on "Get Started" to register a New Business.


Login to your account

If you have already created an account on the page, then fill in your username and password and continue to "Log in". If you do not have an account, then click on the "Sign up" option available on the page.

Create your Account

On the Account Services page, fill in your email address to proceed with online account formation on the Hawaii eGov website and then click on the 'continue' tab.

Proceed to Create your Account

On the next page of 'Create an Account', provide your basic details such as first and last name, email, password, and security question and answer. You can also provide your street address. Next, tick the box agreeing to the Terms of Use and then click on "Create Account".

Log in

After your account is successfully created on the website, you will receive a notification about the same. Next, log in with your email ID and Password and proceed with the registration and business filing online. Enter all the important information.

Payment

Complete the payment: Finally, make the payment online. Once done, you will receive a notification regarding the completion of the filing of your Hawaii Foreign LLC.
Steps to Register for your Foreign LLC via Mail
The Secretary of State Office of Hawaii also provides an option to register your Foreign LLC via mail. We have explained the aspects you need to cover when you apply for Hawaii Foreign LLC.
Download the Application Form PDF (Form FLLC-1) on your system.
Read the instructions carefully and fill out the application form. You can either type or print in black ink.
Review the information provided by you in the form thoroughly to avoid any future rejections.
Make the payment of $50.00 payable to the Department of Commerce and Consumer Affairs, State of Hawaii.
Mail the application form along with the filing fee to the following address: Department of Commerce and Consumer Affairs, Business Registration Division, 335 Merchant St., P.O. Box 40, Honolulu, HI 96810.
After Forming Hawaii Foreign LLC
Here are added things you need to accomplish after forming your Hawaii Foreign LLC
Obtain Business Licenses. Find the business licenses you'll need using the Business License Search.
File LLC annual reports and Business Privilege Tax.
Pay State Taxes like sales tax; you'll need an EIN for your LLC.
It is convenient plus easy to file for the foreign LLC if you are doing it online. The steps are very easy and that's why it's possible to go along with the steps and form a foreign LLC in Hawaii.
How Much Does It Cost to Register a Foreign LLC in Hawaii
To register as a foreign LLC in Hawaii, you can file through mail or online by paying a filing amount of $50 to the Hawaii Department of Commerce and Consumer Affairs.
If you're a foreign businessperson looking to get started in Hawaii, you might be wondering how much it costs to register a foreign LLC in Hawaii. Although this may be a daunting task for some, it can be easier than you think. Creating an LLC can protect your assets from being taken and also provide you with some organizational flexibility. It can also be a good idea to check out professional services, since they might have lower costs.

The Department of Commerce and Consumer Affairs (DCCA) has several fee options. You can either file online or pay by mail. Some states require you to have a registered agent. A registered agent is someone who is responsible for accepting and handling any legal documents from your company. These professionals can be pricey, so be sure to shop around for the best deal. Depending on your needs, you might be able to find one for as little as $99 a year.

Another option is to use a professional service to form your foreign LLC. These firms often charge a nominal fee to set up your LLC, as well as another small fee for a certificate of good standing. This document will show you if your LLC is in good standing with the state.

In Hawaii, you can find good standing certificates at various offices. For a small fee, you can have a certified copy of your good standing certificate sent to you by fax or mail. Alternatively, you can purchase a good standing certificate from a website like Hawaii Business Express.

Another option is to hire an attorney. However, if you are a small business owner on a budget, hiring an attorney can be a costly option. Fortunately, there are companies like Inc. Authority that can help you with the paperwork and provide expert guidance. Typically, these firms have great customer reviews and will save you a ton of money.

An EIN is an acronym for a federal tax identification number. You can obtain this by mailing an SS-4 to the IRS. Similarly, you can get an EIN online by filling out a form. Don't forget that the process takes a few days, so make sure you have time for it.

An Articles of Organization, or AMO, is the official document of a limited liability company. This will contain your company's information and summary of your members' duties. While you can use a software program to generate your AMO, you'll likely need to wait at least 7 to 14 days for it to be processed.

Besides the good standing certificate and EIN, you will need to register with the Hawaii Department of Commerce and Consumer Affairs. This department has a detailed fee schedule, along with additional fees for other services. During the filing process, you will need to include the original certificate of good standing from your home state. Having an EIN will make it easier to open a bank account, apply for insurance, and more.
F.A.Qs
What is a foreign LLC in Hawaii?
If your LLC is formed under the laws of another state, it is referred to as a foreign LLC in Hawaii.
Do I need a foreign LLC?
Businesses incorporated outside of the state where they operate must have "foreign qualifications" issued in the other states.
What is the main difference between domestic and foreign LLC?
A domestic LLC is a company registered in Hawaii as an LLC. The entity type that has a physical presence in another state is a foreign LLC.
In Conclusion
Starting a foreign LLC in Hawaii does not require a lot of documentation or tasks. However, it is always good to seek help from a professional when it comes to running your business. Get a professional registered agent and form your foreign LLC anywhere without a hassle.